Menkop Harapkan Kepala Daerah Tidak `Obral` Ijin Pendirian Koperasi
Regional Heads in Indonesia Should Selectively Issue Cooperatives Licenses
Reporter : Gusmiati Waris
Editor : Cahyani Harzi
Translator : Dhelia Gani

PUBLISHED: Kamis, 27 Juli 2017 , 22:42:00 WIB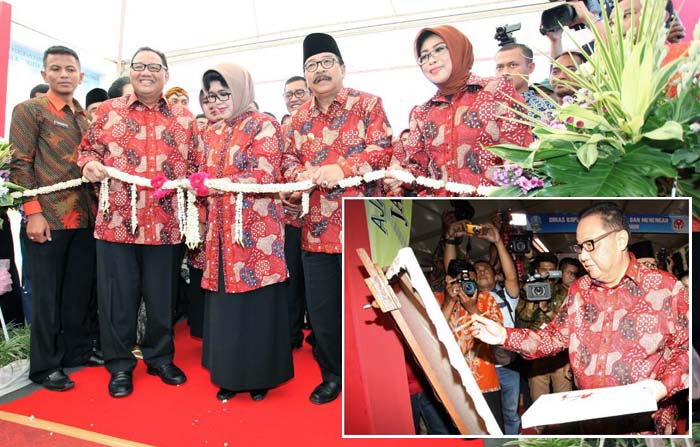 Menkop Puspayoga (ke-2 kiri) dan Gubernur Jatim Soekarwo (ke-2 kanan) saat membuka peringatan Harkopnas di Tulungagung, dan Menteri Puspayoga menorehkan goresan simbolis di lukisan (Foto2: Humas Kemenkop UKM)
Jakarta (B2B) - Pemerintah RI mengharapkan kepala daerah tidak lagi 'mengobral' ijin pendirian koperasi, karena yang lebih penting adalah kualitas ketimbang kuantitas dengan jumlah anggota yang terus meningkat, pasalnya Kementerian Koperasi dan UKM telah membubarkan 43.000 koperasi di seluruh Indonesia dan membina sekitar 76.000 koperasi yang tergolong 'sakit' lantaran salah urus.

Harapan tersebut dikemukakan oleh Menteri Koperasi dan UKM AAGN Puspayoga di Kabupaten Tulungagung, belum lama ini, pada peringatan Hari Koperasi Nasional (Harkopnas) ke-70 tingkat Provinsi Jawa Timur, yang dihadiri oleh Gubernur Soekarwo dan Bupati Tulungagung Syahri Mulyo.

Menteri Puspayoga berharap para kepala daerah di seluruh Indonesia tidak begitu mudah mengeluarkan ijin pendirian koperasi, karena yang lebih penting adalah koperasi yang sehat dari sisi kepengurusan, manajemen bisnis, banyak anggota, dan rutin mengadakan rapat anggota tahunan (RAT).

"Lebih baik sedikit koperasi tapi berkualitas dengan jumlah anggota koperasi yang terus meningkat. Saat ini, kementerian sudah membubarkan 43 ribu koperasi, dan pemerintah tengah membina sekitar 76 ribu koperasi yang sakit. Kalau yang sakit tidak bisa disehatkan, ya akan kita bubarkan, karena ke depan, kita hanya akan melihat dan memiliki koperasi yang sehat saja," kata Puspayoga.

Menkop Puspayoga secara khusus mengapresiasi kemajuan perkembangan koperasi dan usaha mikro kecil dan menengah (UMKM) di Jatim, dan sebagai provinsi pertama di Indonesia yang didukung perusahaan penjaminan kredit, PT Penjamin Kredit Daerah (Jamkrida), dan setelah itu berdiri di Bali sebagai provinsi kedua di Indonesia yang didukung Jamkrida.

"Saat masih menjabat wakil gubernur Bali, saya banyak belajar dari Jatim bagaimana mengembangkan KUMKM, khususnya tentang Jamkrida. Jatim merupakan provinsi pertama punya Jamkrida, setelah itu saya mendirikan Jamkrida di Bali, sebagai Jamkrida kedua di Indonesia. Jadi, saya pikir, kepala daerah lain pun bisa belajar dari Jatim tentang pengembangan ekonomi kerakyatan berbasis KUMKM," kata Puspayoga.
Jakarta (B2B) - Indonesian government expects regional heads to be stricter and selective in issuing cooperatives licenses, And the Ministry of Cooperatives and SMEs until now has revoked the permits of 43,000 cooperatives throughout Indonesia, And about 76,000 cooperatives are still being audited before the government revokes its business license, according to the minister.

It was stated by the Cooperatives and SMEs Minister AAGN Puspayoga in Tulungagung District, recently at the commemoration of the 70th National Cooperative Day of East Java Province, which was attended by Governor Soekarwo and Tulungagung Regent Syahri Mulyo.

Minister Puspayoga hopes the regional heads across the country are not so easy to issue cooperatives licences, as more important are healthy cooperatives related to boards, business management, many members, and regularly hold annual member meetings.

"Currently ministry has revoked license of 43 thousand cooperatives, and about 76 thousand cooperatives are still selected before the government revoked its licenses," Minister Puspayoga said.

Minister Puspayoga appreciated the development of cooperatives and SMEs in East Java, and became the first province in Indonesia supported by credit guarantee companies, PT Penjamin Kredit Daerah (Jamkrindo), and after that Bali became the second province in Indonesia supported by the Jamkrida.

"When I was deputy governor of Bali, I learned a lot from East Java about how to developing cooperatives and SMEs supported by credit guarantee companies such as the Jamkrida. So I think, other regional heads can learn from East Java province about development of cooperatives and SMEs," Puspayoga said.