Mantan Jihadis Bom Bali 2002 Rayakan Dirgahayu Kemerdekaan RI
Reformed ex-militants in Indonesia Mark Independence Day
Editor : Ismail Gani
Translator : Novita Cahyadi

PUBLISHED: Jum'at, 18 Agustus 2017 , 03:42:00 WIB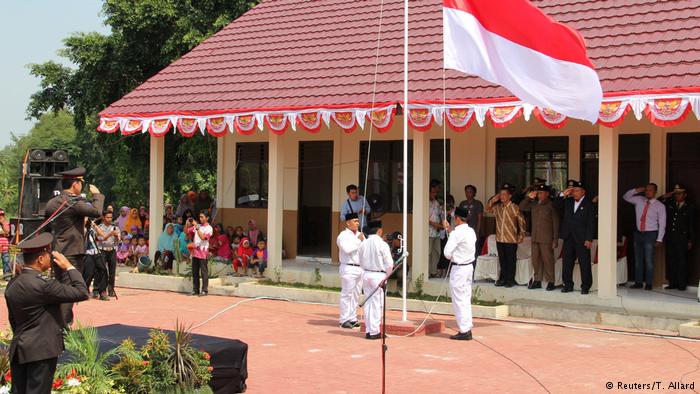 Saat upacara berlangsung di Tenggulun, sebuah acara serupa diadakan di sebuah penjara di dekatnya, di mana gerilyawan Umar Patek, menjadi pembawa bendera merah putih (Foto: Reuters)
LIMA belas tahun sejak mereka menjadi anggota kelompok Islam radikal yang menewaskan 202 orang di Bali, Ali Fauzi dan Sumarno kini merajut damai dengan pendidikan dan bukan lagi bom.

Mantan anggota kelompok militan Jemaah Islamiah tersebut kini sibuk memberi konseling pada mantan militan, mendidik anak-anak mereka, dan mempekerjakan istri mereka sebagai guru - sebagai bagian dari inisiatif Lingkaran Perdamaian yang diluncurkan Fauzi tahun ini untuk menangkal radikalisme.

Di sekolah Lingkar Perdamaian di desa Tenggulun, Jawa Timur pada Kamis, mereka merayakan Hari Kemerdekaan Indonesia dengan upacara pengibaran bendera. Di antara peserta upacara tampak hadir 50 mantan gerilyawan dan militan.

Di depan komandan polisi dan kepala militer setempat, para siswa dan mantan kombatan berbaris rapi, bendera Indonesia dikibarkan oleh tiga mantan militan dengan seragam putih saat lagu kebangsaan dikumandangkan.

"Keinginan ini datang dari lubuk hati kami yang paling dalam, seraya menunjukkan bahwa kami ingin menjadi warga negara yang baik," katanya.

Fauzi mengakui beberapa mantan radikal menolak untuk berbaris dan memberi hormat pada bendera merah putih, sebuah simbol yang dibenci para militan yang ingin Indonesia meninggalkan konstitusi sekulernya dan menjadi khilafah Islam.

"Ini sebuah proses. Radikalisasi memerlukan proses dan begitu juga deradikalisasi," katanya.

"Saya mengerti beberapa dari mereka tidak mau diekspos, masih pemalu, masih khawatir dengan komunitas lama mereka," katanya.

"Mereka belum siap untuk berada di depan umum."

Indonesia, negara berpenduduk mayoritas Muslim terbesar di dunia, telah bergulat dengan minoritas militan Islam yang kecil tapi ganas sejak keluar dari pemerintahan otoriter pada 1998. Pemerintah mempromosikan deradikalisasi - pendekatan lunaknya yang 'bergaya sendiri' menangkal radikalisasi - sebagai senjata utama.

Saat upacara berlangsung di Tenggulun, sebuah acara serupa diadakan di sebuah penjara di dekatnya, di mana gerilyawan Umar Patek, yang dijatuhi hukuman karena perannya dalam pemboman Bali, menjadi pembawa bendera merah putih untuk dikibarkan seperti dikutip Reuters yang dilansir MailOnline.
FIFTEEN years since they were members of a radical Islamist group that killed 202 people on Indonesia's tourist island of Bali, Ali Fauzi and Sumarno are building peace instead of bombs.

The former devotees of the Jemaah Islamiah militant group are counselling ex-militants, educating their children, and employing their wives as teachers - part of Fauzi's Peace Circle initiative launched this year to combat extremism.

At the Lingkar Perdamaian school in Tenggulun village in East Java on Thursday, they celebrated Indonesia's Independence Day with a flag raising ceremony. Among those attending were 50 ex-combatants and militants.

In front of the local police commander and military chief, with students and former combatants arranged in formation looking on, the Indonesian flag was raised by three ex-militants in crisp white uniforms as the national anthem played.

"This came from the deepest part of our heart. It showed that we want to become good citizens," he said.

Fauzi admitted some of the former radicals refused to stand and salute the flag, a hated symbol for militants who want Indonesia to abandon its secular constitution and become an Islamic caliphate.

"It's a process. Radicalisation needs a process and so does deradicalisation," he told Reuters.

"I understand some of them did not want to be exposed, still shy, still worried about their old community," he said.

"They were not ready to go to public."

Indonesia, the world's largest Muslim-majority country, has grappled with a small but virulent minority of Islamist militants since it emerged from authoritarian rule in 1998. The government promotes deradicalisation - its self-styled "soft approach" to the problem - as a crucial weapon.

As the ceremony was underway in Tenggulun, a similar event was being held in a nearby prison, where the militant Umar Patek, sentenced for his role in the Bali bombings, carried the flag.