Manfaatkan Gedung Kosong, Kemenkop UKM Kembangkan PLUT Mandiri di 5 Kota
Indonesian Govt will Develop Five Cooperatives and SME Business Centers in Five Regions
Reporter : Gusmiati Waris
Editor : Cahyani Harzi
Translator : Dhelia Gani

PUBLISHED: Senin, 28 Agustus 2017 , 07:38:00 WIB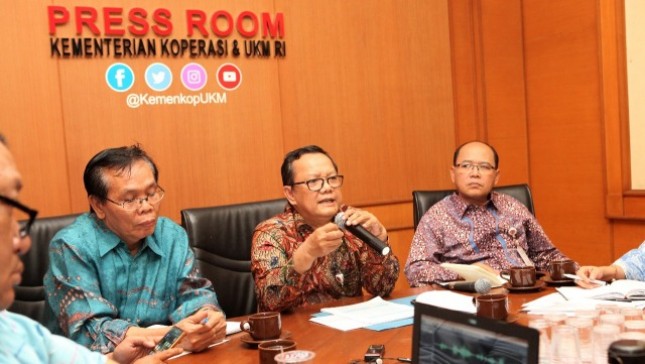 Deputi Restrukturisasi Usaha Kemenkop UKM Abdul Kadir Damanik (tengah) Foto: istimewa
Jakarta (B2B) - Pemerintah RI dan pemerintah daerah akan melakukan sinergi pengembangan lima unit Pusat Layanan Usaha Terpadu Koperasi Usaha Mikro, Kecil dan Menengah (PLUT-KUMKM) Mandiri di lima provinsi pada 2018, tujuannya memberdayakan koperasi dan UKM di daerah, dengan memanfaatkan gedung-gedung kosong yang belum dimanfaatkan secara optimal oleh pemerintah daerah.

"Dari pengamatan kami, bahwa di daerah cukup banyak gedung-gedung kosong yang belum dioptimalkan oleh pemerintah daerah, di sisi lain pemerintah pusat memiliki keterbatasan anggaran untuk membangun gedung," kata
Deputi Bidang Restrukturisasi Usaha Kemenkop dan UKM Abdul Kadir Damanik di Jakarta pada Jumat (25/8).

Kelima PLUT-KUMKM Mandiri akan dikembangkan di Provinsi Sumatera Utara, Kabupaten Bintan, Kabupaten Sorong, Kabupaten Purbalingga dan Kabupaten Garut sesuai laporan dari tim penilai kelayakan dari kantor deputi.

"Biaya operasional akan dibebankan padsa APBN, sedangkan penataan dan renovasi gedungnya dibebankan kepada pemerintah daerah. Sampai saat ini sudah ada dibangun 49 PLUT ditambah dua unit sedang dalam prose pembangunan, sedangkan PLUT Mandiri di Samarinda masih dalam proses pembangunan," kata Abdul Kadir.
Jakarta (B2B) - The Indonesian government and regional governments will synergize five units of integrated business services center for cooperatives and SMEs (PLUT-KUMKM) in in five provinces by 2018, aim to empower cooperatives and SMEs in the area by using an empty building belonging to the local government.

"From our observations, many empty buildings in the area have not been optimized by local governments, while the central government budget is insufficient to build new buildings," said The Deputy Minister of Restructurisation of cooperatives and SMEs ministry Abdul Kadir Damanik here on Friday (August 25).

The five PLUT Mandiri will be developed in North Sumatera province, Bintan district, Sorong district, Purbalingga district and Garut district as reported by the feasibility assessment team from the deputy office.

"Operational costs will be charged to the state budget, while the cost of building renovation is charged to the local government. Until now there are 49 PLUT plus two units are in the development process, while in Samarinda still in the process of development," Mr Damanik said.