Antisipasi Triple T, Pengusaha dan Pekerja Transportasi Harus Bergabung di Koperasi
Employers and Transport Sector Workers Should Join the Cooperatives
Reporter : Gusmiati Waris
Editor : Cahyani Harzi
Translator : Dhelia Gani

PUBLISHED: Senin, 28 Agustus 2017 , 08:06:00 WIB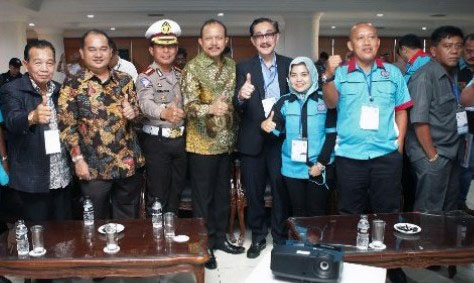 MUNASLUB FSPTI: Sekretaris Kemenkop UKM Agus Muharram (ke-5 kanan) dan Deputi Bidang Pengawasan Meliadi Sembiring bersama para peserta Munaslub FSPTI (Foto: istimewa)
Jakarta (B2B) - Transportasi merupakan bagian dari Triple T di era digital bersama telecommunication dan travel & tourism, sehingga pelaku bisnis dan pekerja transportasi harus tetap berkoperasi, mengingat transportasi merupakan subsektor ekonomi yang terus mengalami revolusi, sehingga harus diantisipasi dengan konsolidasi, kerja keras, kerja cerdas dan tuntas secara bergotong royong dan hal itu hanya bisa dilakukan melalui koperasi.

"Kalau sehari saja para pekerja transportasi tidak bekerja, aktivitas dan moda transportasi akan terganggu dan perekonomian terpengaruh. Peran serikat pekerja ini luar biasa, dan penggerak utamanya adalah koperasi," kata
Sekretaris Kementerian Koperasi dan UKM Agus Muharram
pada musyawarah nasional luar biasa (Munaslub) Federasi Serikat Pekerja Transportasi Indonesia (FSPTI) di Depok pada Minggu (27/8).

Menurut Agus, koperasi dapat menjadi penghubung dan sarana komunikasi antara pengusaha dan pekerja transportasi konvensional dengan mereka yang bergerak di bidang transportasi online, sehingga pembuat kebijakan memberikan perlakuan yang ekuivalen.

"Perlu menjadi catatan adalah bisnis online maupun bisnis konvensional perlu mendapatkan perlakuan yang setara secara umum baik hak maupun kewajiban," kata Agus.
Jakarta (B2B) - The transportation is part of Triple T in the digital era with telecommunication and travel & tourism, so that entrepreneurs and transport workers must join the cooperative, because it is a revolutionary economic sub-sector, o it should be anticipated with consolidation, hard work, smart work that can only be done through cooperatives.

"If one day the transport workers do not work, the activities and modes of transportation will be disrupted and affect the economy, the role of the union is remarkable, and the cooperative as driving force," said Secretary of Cooperatives and SMEs Agus Muharram at the congress of the Indonesian Transportation Union Federation in Depok on Sunday (August 27).

According to Mr Muharram, the cooperative can be a liaison and means of communication between entrepreneurs and conventional and online transportation workers, so policy makers provide equivalent treatment.

"Conventional and online transportation business should get equal treatment, rights and obligations," he said.