Lahan Percontohan, Kiat THL-TBPP Kupang Gugah Etos Kerja Petani
Demonstration Plots of Indonesia`s Kupang Extension Workers Inspire Farmers
Editor : M. Achsan Atjo
Translator : Dhelia Gani

PUBLISHED: Jum'at, 04 Mei 2018 , 01:45:00 WIB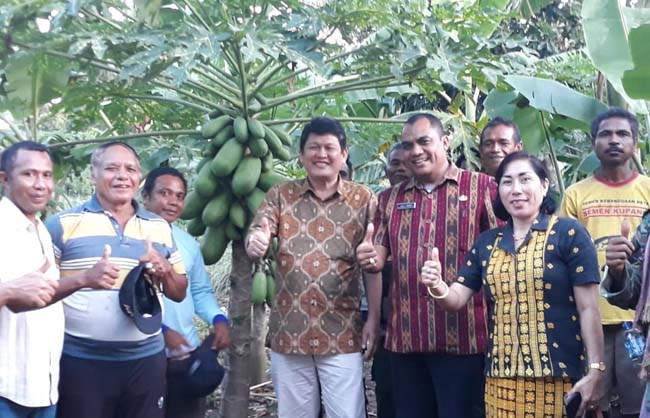 Zahron Helny (batik coklat) dan Eston (kiri) bersama para petani dan pejabat dinas pertanian Kabupaten Kupang, NTT (Foto: Humas Pusluhtan BPPSDMP Kementan)
LAHAN PERCONTOHAN yang dibuat sebagai demonstration plot (demplot) atau demonstration farming (demfarm) adalah suatu metode penyuluhan pertanian di lapangan. Tujuannya, agar petani dapat ´melihat´ dan ´membuktikan´ metode belajar dan bekerja di lapangan dan kemudian petani tergerak untuk mengikuti secara baik dan benar.

Kiat learning by doing dan learning by seeing diterapkan oleh Eston, penyuluh pertanian pendamping di Kabupaten Kupang, Provinsi Nusa Tenggara Timur (NTT), yang menerapkan pendekatan demplot dan demfarm untuk menggugah petani di kampung halamannya berminat mengembangkan agribisnis yang berorientasi ekspor.

Hal itu dikemukakan Eston kepada Zahron Helny, Kepala Bidang Penyelenggaraan Penyuluhan - Pusat Penyuluhan Pertanian (Pusluhtan) di Kementerian Pertanian RI, yang menyambangi desanya, dan turut hadir sejumlah pejabat dan staf dinas pertanian setempat.

"Saya harus membuat dahulu percontohan dan menunjukkan hasilnya, barulah petani dan kelompok tani mau mengikuti," kata Eston kepada tamunya yang khusus datang dari kantornya di Jakarta.

Zahron Helny sebagai pejabat eselon tiga di Badan Penyuluhan dan Pengembangan SDM Pertanian (BPPSDMP) berdecak kagum pada kegigihan Eston, meskipun berstatus tenaga harian lepas - tenaga bantu penyuluh pertanian disingkat THL-TBPP tak menyurutkan semangatnya untuk berbakti demi kemajuan para petani di desanya.

"Percontohan merupakan salah satu metode penyuluhan pertanian yang muncul sejak era Bimas. Mengingat petani di era tersebut memang belum faham usaha tani yang baik dan benar dengan program panca usaha, sapta usaha, intensifikasi dan ekstensifikasi," kata Zahron pada kegiatan pembekalan kepada gabungan kelompok tani (Gapoktan) dan penyuluh pertanian lapangan (PPL) setempat, belum lama ini.

Menurutnya, sebagai hal wajar apabila ´percontohan´ menjadi metode utama pada masa Bimas, demi menunjang keberhasilan kebijakan kementerian pertanian agar tidak hanya sekadar diketahui hingga difahami, namun bagaimana dapat diterapkan kemudian dilaksanakan oleh petani bersama kelompoknya.

Uang Kerja Bimbingan
Pengembangan lahan percontohan dalam bentuk demplot dan demfarm merupakan strategi tepat guna untuk mengembangkan pertanian yang tangguh, didukung pengawalan dan pendampingan intensif oleh PPL khususnya untuk pengembangan komoditas unggulan di suatu daerah.

Zahron Helny mengingatkan agar uang kerja bimbingan (UKB) untuk PPL dapat dimanfaatkan untuk membuat demplot/demfarm di wilayah binaan masing-masing, dan selayaknya didukung oleh dinas pertanian setempat melalui kegiatan kaji terap yang ada di balai penyuluhan pertanian (BPP).

"Dahulu kegiatan percontohan gencar dilakukan kepada petani untuk mendukung peningkatan produksi pertanian, dan saat ini pendekatan percontohan terus dikembangkan dengan isu strategis sebagai pilot percontohan agribisnis berbasis kawasan dan korporasi," katanya.

Dia pun mengelaborasi beberapa percontohan yang sudah dan sedang berjalan seperti bawang merah di Kabupaten Brebes, ternak sapi di Kabupaten Subang, coklat di Kabupaten Kolaka, dan jagung di Kabupaten Lebak.

Sementara percontohan skala luas didukung prasarana dan sarana dengan bimbingan melalui pendekatan manajemen korporasi kepada Gapoktan diharapkan dapat mendukung petani mengembangkan sentra agribisnis dari komoditas unggulan daerah menjadi produk unggulan ekspor.

"Percontohan berbasis kawasan dan korporasi dapat menjadi cerminan bagi Gapoktan dari seluruh Indonesia untuk meningkatkan manajemen usaha dan organisasi untuk membentuk badan usaha milik petani (BUMP).
PILOT LAND created as a demonstration plot or demonstration plot or demonstration farm or demfarm is a method of agricultural field extension. The goal, so that farmers can ´see´ and ´prove´ the methods of learning and working in the field, then farmers are moved to follow it properly and correctly.

Tips for learning by doing and learning by seeing applied by Eston, agricultural extension worker of Kupang district, East Nusa Tenggara province, by applying demonstration plots and demonstrations to inspire farmers in his hometown to develop export-oriented agribusiness.

It was said by Eston to Zahron Helny, a senior official at the agriculture ministry, who visited his village and attended a number of officials and staff of the local agricultural service.

"I must first make a pilot project land and show the results, then farmers and farmer groups want to imitate," said Eston to his special visitor coming from his office in Jakarta.

Mr Helny as the third echelon official at the Directorate General of Agricultural Human Resource Development or BPPSDMP was amazed at Eston´s persistence, despite the status of daily personnel off farming counseling did not dampen his spirits to worship for the advancement of agriculture in his village.

"The pilot project is one of the agricultural extension methods that have emerged since the New Order era. Given the farmers in the future does not understand farming is good and right with a variety of programs such as the intensification and extension," he said.

According to him, as a natural thing if the pilot project became the main method during Soeharto´s reign, in order to support the success of the policy of the agriculture ministry encourages farmers to grow crops and increase their agricultural production.

Counseling Money
The development of demonstration plots in the form of demonstration plot and demfarm is the right strategy to develop a strong agriculture, to support the development of superior commodities in a region.

Mr Helny reminded that counseling money can be utilized to make demonstration plots/demfarm in their respective areas, and should be supported by the local agricultural service through the study of the soap in the agricultural extension center.

"In the past, pilot projects were intensively conducted to farmers to support the increase of agricultural production, and the current pilot project approach continues to be developed with strategic issues as a pilot project.

He also elaborated on several pilot projects that have been running such as shallot in Brebes district, cattle in Subang district, cocoa in Kolaka district, and maize in Lebak district.

While large-scale pilot projects are supported by infrastructure and facilities with guidance through a corporate management approach to Gapoktan, it is expected to support farmers to develop agribusiness centers from local superior commodities to excellent export products.

"Piloting with regional and corporate approaches can be an example for Gapoktan from across the country, to improve the management of enterprises and organizations to form a business entity owned by farmers or BUMP.