Siti Munifah: Penyuluhan Berbasis TIK Tuntutan Pertanian Era 4.0
Extention based on IT become Indonesia`s Agricultural Necessity in era 4.0
Editor : M. Achsan Atjo
Translator : Dhelia Gani

PUBLISHED: Kamis, 27 Juni 2019 , 00:46:00 WIB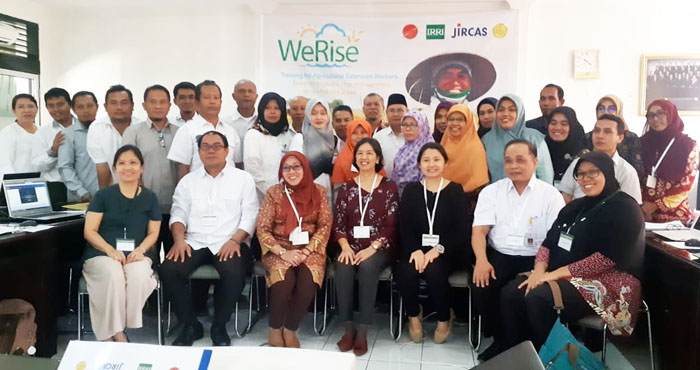 KOLABORASI IRRI & JEPANG: Kapusluhtan BPPSDMP Siti Munifah [duduk ke-3 kiri] bersama Prof Maria Excelsis Orden; Kabid Penyuluhan NTB, Hendro Y; dan Kepala BPTP NTB, Sasongko WR [Foto: Humas Pusluhtan/Rostika]
Mataram, NTB [B2B] - Sejumlah penyuluh pertanian Provinsi Nusa Tenggara Barat [NTB] mengikuti pelatihan program budidaya padi gogo rancah WeRise, berbasis teknologi informasi dan komunikasi [TIK] yang digelar oleh IRRI - Jepang [IJCRP] di Mataram, hal itu diapresiasi oleh Kementerian Pertanian RI sebagai sarana penyuluh pertanian menjembatani komunikasi petani dan peneliti dalam alih teknologi.
"Keterlibatan penyuluh dari empat kabupaten di NTB juga sebagai wujud implementasi indikator kinerja, agar mereka berperan aktif mengawal program prioritas meningkatkan produksi padi, khususnya sawah tadah hujan," kata Siti Munifah, Kepala Pusat Penyuluhan Pertanian [Pusluhtan BPPSDMP Kementan] yang hadir sebagai pembicara utama pada pelatihan Program WeRise di Mataram, Rabu [26/7].
Siti Munifah mengatakan Badan Penyuluhan dan Pengembangan SDM Pertanian - Kementerian Pertanian RI [BPPSDMP Kementan] mengapresiasi WeRise, program kolaborasi IJCRP untuk ´adaptasi perubahan iklim´ TIK untuk mendukung produksi beras tadah hujan di NTB, dan pelatihan didukung oleh Balai Pengkajian Teknologi Pertanian [BPTP NTB].
Menurutnya, kontribusi produksi padi dari lahan sawah tadah hujan tergolong memadai pada produksi beras nasional, mengingat potensi lahan sawah nonirigasi di seluruh Indonesia diperkirakan 3,4 juta hektar.
"Saya menaruh harapan besar kepada para penyuluh pertanian yang terlibat sebagai mentor dalam pelatihan ini untuk berkomitmen dan semangat tinggi, meskipun terjadi perubahan regulasi terkait kelembagaan penyuluh pertanian," kata Siti Munifah.
Tampak hadir Kabid Penyuluhan pada Dinas Pertanian NTB, HendroYulistiono; Kepala BPTP NTB, Sasongko WR dan Peneliti Utama IJCRP, Prof Maria Excelsis Orden.
Sebagaimana diketahui IRRI adalah Institut Penelitian Padi Internasional (International Rice Research Institute) sebuah organisasi internasional non-pemerintah yang berpusat di Los Baños, Laguna, Filipina. Sementara IJCRP adalah proyek penelitian kerjasama IRRI dan Jepang yang didanai oleh Pemerintah Jepang. [Ika]
Mataram of West Nusa Tenggara [B2B] - IRRI - Japan collaborative research project (IJCRP) on Climate Change Adaptation through Development of a Decision-Support tool to guide Rainfed Rice production (CCADS-RR) and the Assessment Institute for Agricultural Technology West Nusa Tenggara (AlAT WNT) will be conducting a training for Agricultural Extension Workers (AEWs).
It aims to build the capacity of AEWs to deliver extension advisories to rainfed rice farmers through the use of the Weather-rice-nutrient integrated decision support system (WeRise). It will be held on 26-27 June 2019 in AlAT WNT, Central Lombok, Mataram, Indonesia.