Dukung LTT Kementan, Sekditjen PSP Apresiasi Lomba Traktor di Tuban
The Tractor Race Supports Indonesia`s Agriculture Extensification Program
Editor : M. Achsan Atjo
Translator : Dhelia Gani

PUBLISHED: Minggu, 15 Oktober 2017 , 05:57:00 WIB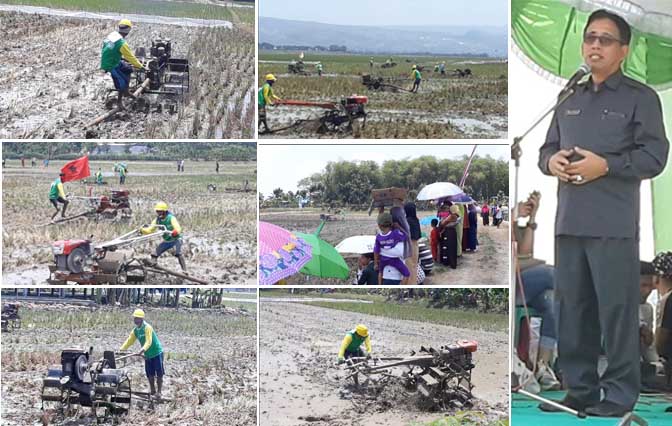 BIAYA SWADAYA: Sekretaris Ditjen PSP Kementan, Abdul Madjid (kanan) membuka Lomba Traktor dan Tanam Padi yang diikuti hampir 100 petani di Desa Karang Tinoto, Kecamatan Rengel, Jatim (Foto2: B2B/Mac)
Tuban, Jatim (B2B) - Para petani anggota Himpunan Petani Pemakai Air (Hippa) Tirto Tinoto di Kabupaten Tuban, Jatim setiap tahun menggelar ´Lomba Traktor dan Lomba Tanam Padi´ untuk mempercepat pengolahan tanah menjelang musim tanam Oktober. Lomba unik yang diadakan di Desa Karang Tinoto, Kecamatan Rengel diapresiasi oleh Direktorat Jenderal Prasarana dan Sarana Pertanian (Ditjen PSP) karena turut mendukung program luas tambah tanam (LTT) dari Kementerian Pertanian RI.

Sekretaris Ditjen PSP Kementan, Abdul Madjid mengapresiasi kegiatan lomba yang digagas Kasadi, Ketua Hippa Tirto Tinoto dan didukung warga setempat, sebagai bukti keberhasilan petani setempat menggarap lahan pertanian sebagai sumber penghidupan untuk keluarga dan masyarakat desa.

"Saya tahu persis anggota Tirto Tinoto dan warga desa setiap tahun menyelenggarakan lomba semacam ini. Ini tidak dibiayai oleh pemerintah, tidak dibiayai dari dana desa, tidak dari APBD. Ini adalah semata-mata swadaya dari masyarakat," kata Abdul Madjid yang membuka lomba yang berlangsung di Kabupaten Tuban, Provinsi Jawa Timur pada Kamis siang (12/10).

Dia menambahkan bahwa biaya balap traktor dan lomba tanam ditanggung secara mandiri. Bukti bahwa petani bisa sukses dan sejahtera, dengan merujuk pada hadiah utama seperti rice transplanter dan hand tractor, yang dibeli secara swadaya oleh petani setempat tanpa bantuan pihak lain.

"Itu sebabnya saya anggap Tuban istimewa karena kemampuan petani di Kecamatan Rengel ini mengoptimalkan bantuan pemerintah dikelola dengan baik, dan saat ini kita lihat bersama mampu mengadakan lomba traktor olah tanah dan olah tanam secara swadaya," kata pria asal Banjarnegara, Provinsi Jawa Tengah yang memiliki tanggung jawab sebagai Ketua Penanggung Jawab Upsus Pajale pada beberapa kabupaten di bagian barat Jawa Timur.

Hippa Tirto Tinoto
Ketua Hippa Tirto Tinoto, Kasadi mengatakan bahwa seluruh kebutuhan lomba ditanggung swadaya oleh Hippa. Pantas saja, Kasadi sanggup menanggung semua biaya lantaran aset Hippa Tirto Tinoto saat ini mencapai Rp2,5 miliar, sementara aset berupa uang kas mencapai Rp1,9 miliar dengan pendapatan rata-rata per musim tanam mencapai Rp450 juta.

Sementara wilayah kerja Hippa Tirto Tinoto dengan memperoleh air dari sungai Bengawan Solo melalui dua titik pengambilan dan dialirkan ke saluran sekunder daerah irigasi Maibit sehingga membentuk jaringan tersier dengan luas layanan hampir 350 hektar yang tersebar di empat kelompok tani.

Kesuksesan Tirto Tinoto pula yang mendorong Sesditjen PSP Kementan Abdul Madjid mengingatkan pimpinan dan anggota Brigade Alsintan Tani Barokah dan UPJA Tani Makmur di Kecamatan Widang, Kabupaten Tuban untuk meniru sukses Tirto Tinoto di Kecamatan Rengel.

"Jangan selalu mengharapkan bantuan tapi harus bekerja keras, lihat Tirto Tinoto yang mampu memanfaatkan bantuan pipanisasi dari pemerintah sejak 24 tahun lalu dan tetap bekerja sampai saat ini. Padahal bantuan pemerintah itu diberikan pada 1993 di masa pemerintahan Orde Baru," kata Abdul Madjid.
Tuban of East Java (B2B) - Farmers members of Water User Farmers Association (Hippa) Tirto Tinoto in Tuban Regency, East Java annually held ´Tractor Races and Rice Planting Competitions to speed up land preparation ahead of the planting season in October. The unique competition was held in Karang Tinoto village of Rengel subdistrict was appreciated by the Directorate General of Infrastructure and Agricultural Facilities as it supported the extensive planting program of Indonesian Agriculture Ministry.

Secretary of the Directorate General of Infrastructure and Agricultural Facilities, Abdul Madjid appreciated the race activities initiated by Kasadi, chairman of Hippa Tirto Tinoto and supported by local residents, as evidence of success of farmers working on agricultural land as a source of livelihood for families and villagers.

"Tirto Tinoto and the villagers every year organize this competition, without the central government´s budget assistance, not financed by the village head, not from the local budget," said Mr Madjid, who opened the race in Tuban district of East Java province on Thursday noon (October 12).

He added that the cost of tractor racing and planting competitions are financed independently. It proves that farmers and prosperous, referring to the first prize such as rice transplanter and hand tractor.

That´s why I think Tuban is special because the ability of farmers in Rengel District optimizes the government´s assistance is well managed, and now we see together able to hold the race with self-help," said Mr Madjid who has responsibility as the person in charge of the program strategic food self-sufficiency in several districts in the western part of East Java.

Tirto Tinoto
Kasadi said that all the race needs are borne by Hippa. No wonder, Hippa is able to finance the race because Tirto Tinoto´s assets currently reach 2,5 million rupiah. while cash flow reaches 1.9 billion rupiah, with average revenue per planting season of 450 million rupiah.

Meanwhile, Tirto Tinoto´s work area on the Bengawan Solo River passes through two pumping points, and flows into the secondary channel of the Maibit irrigation area as a tertiary network with a service area of nearly 350 hectares spread over four farmer groups.

The success of Tirto Tinoto also prompted Mr Madjid to remind the related parties that manage agricultural machinery rental of Tani Barokah and Tani Makmur in Widang subdistrict, Tuban district to follow success of Tirto Tinoto in Rengel subdistrict.

"Do not always wait for help, but have to work hard, Tirto Tinoto was able to take advantage of the government´s pipeline since 24 years ago and keep working until now, even though the government´s aid was granted in 1993 under the Orde Baru regime," Mr Madjid said.