Mesin Rorak Kakao Inovasi Puslitkoka Jember Diluncurkan Dirjen Perkebunan
The Cocoa Rorak Tools was Launched by Indonesian Senior Official
Editor : M. Achsan Atjo
Translator : Dhelia Gani

PUBLISHED: Sabtu, 26 Agustus 2017 , 06:51:00 WIB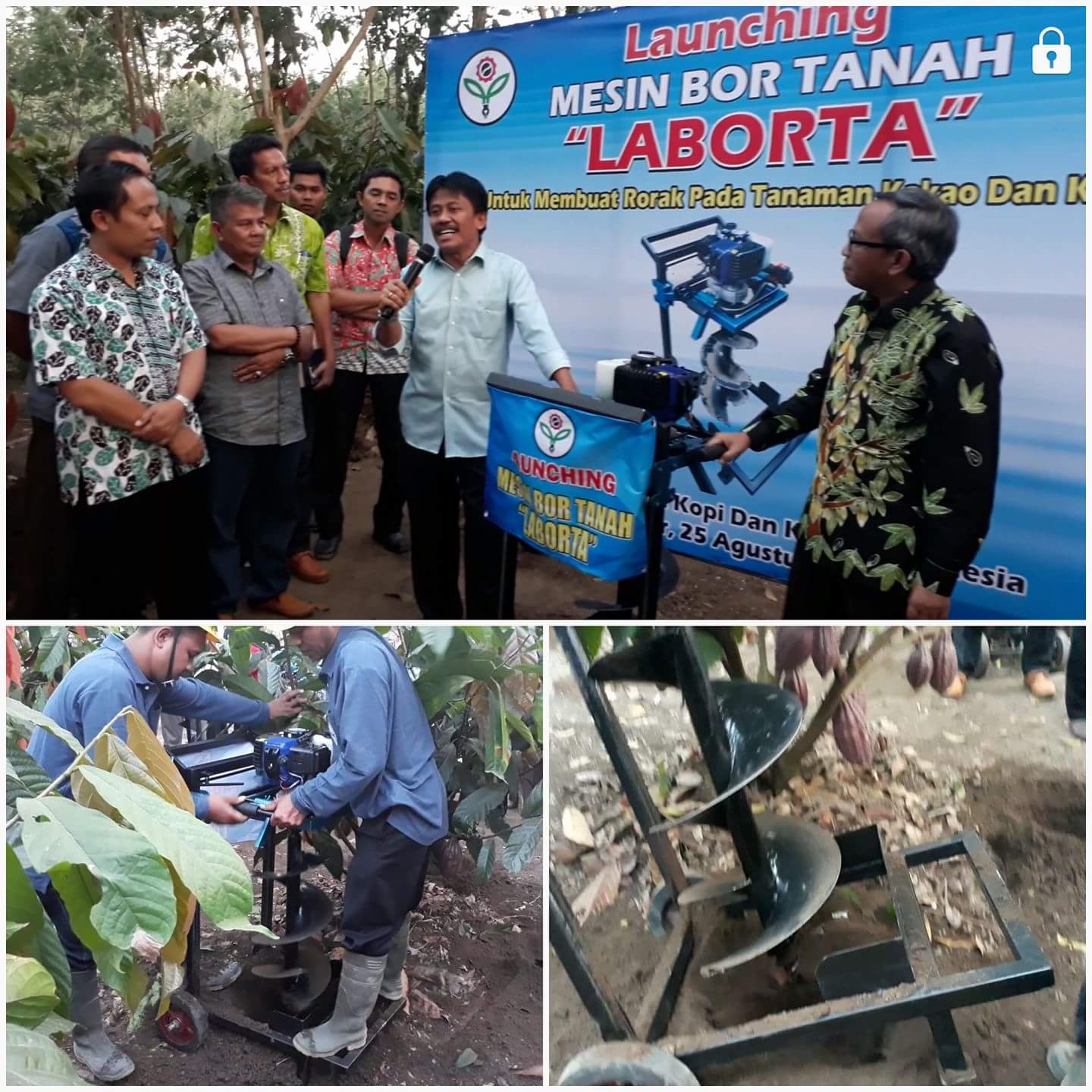 Dirjen Perkebunan Kementan Bambang Wahyu Dwiantoro meluncurkan mesin rorak di Jember, Jatim didampingi Direktur Puslitkoka, Misnawi (atas) dan uji coba membuat lubang (Foto2: B2B/Mac)
Jember, Jatim (B2B) - Penantian 10 tahun petani kakao untuk lebih mudah membuat lubang-lubang buntu (rorak) untuk resapan air di sekeliling tanaman kakao akhirnya terjawab, setelah Pusat Penelitian Kopi dan Kakao (Puslitkoka) Jember, Jatim berinovasi mengembangkan mesin bor tanah yang mudah digunakan bekerja membuat rorak dan diberi nama Laborta.
Mesin bor Laborta diluncurkan oleh Dirjen Perkebunan Kementan, Bambang Wahyu Dwiantoro didampingi Direktur Puslitkoka Jember, Misnawi pada Jumat petang (25/8) di kebun percobaan Kaliwining, Kecamatan Rambipuji.
"Inilah alat bor yang saya impikan sejak 10 tahun lalu, dan ternyata cuma butuh 30 detik untuk membuat satu lubang rorak dan mudah ditenteng di antara tanaman kakao, tidak seperti mesin buatan Jepang yang harganya mahal dan tidak mudah digunakan petani," kata Dirjen Bambang WD.
Dirjen mengaku impiannya tersebut menyangkut kepentingan petani kakao agar lebih mudah dan cepat membuat rorak, mengingat lahan kakao, tanahnya keras dan rata-rata petaninya sudah tua, dan pekerjaan membuat rorak tergolong berat.
"10 tahun yang lalu, saya mengajak penyuluh untuk menggerakkan petani membuat rorak, tidak usah membuat sekaligus membuat empat lubang di sekitar tanaman kakao, tapi cukup satu lubang per hari. Setelah satu hektar, barulah membuat lubang kedua, tujuannya agar buah kakao bisa tersedia sepanjang tahun," kata Dirjen Bambang WD.
Kakao Era Platinum
Dia menambahkan kalau tanaman kakao tanpa rorak maka panen kakao hanya sekali pada April sampai Juli, tapi kalau ada rorak maka kakao bisa berbuah sepanjang tahun dengan dua puncak panen, dan itu sudah terbukti dan teruji di lapangan.
"Fakta itu yang mendorong saya selalu meminta tolong rekayasa alat membuat rorak. Tolong mekanisasi pembuat rorak, tiap kali ke luar negeri saya intip-intip alat yang cocok membuat rorak. Ada excavator kecil dari Jepang tapi harganya cukup mahal dan tidak bisa masuk di antara tanaman kakao, karena tanaman kakao sekarang disebut era platinum dengan jorjet pendek-pendek lebih disukai petani," katanya lagi.
Manfaat lain dari rorak adalah lebih memudahkan pemupukan, tangan kiri petani digunakan untuk menarik seresahnya, tangan kanan untuk memasukkan pupuk. Tanpa rorak, petani lebih suka menaburkan pupuk di sekitar tanaman kakao karena alasan tanahnya keras makanya tidak membuat rorak.
Rorak juga berfungsi untuk menjebak dan meresapkan air ke dalam tanah serta menampung sedimen-sedimen dari bidang olah, sehingga dapat berfungsi mengantisipasi perubahan iklim.
Adanya rorak akan menjebak aliran permukaan dan memberikan kesempatan kepada air hujan untuk terinfiltrasi ke dalam tanah. Dengan demikian rorak akan menurunkan aliran permukaan yang keluar dari persil lahan secara signifikan. Hal ini tentu saja akan ikut berkontribusi terhadap pengendalian banjir.
Jember of East Java (B2B) - Indonesia Coffee and Cocoa Research Center (Puslitkoka) in Jember district of East Java province developed a machine for making holes in cocoa crops, called the rorak hole, as rainwater harvesting system and fertilization, and the soil drilling machine was named Laborta.
Laborta drill machine was launched by Indonesian Agriculture Ministry´s Director General of Plantation, Bambang Wahyu Dwiantoro accompanied by Director of Puslitkoka, Misnawi on Friday afternoon (August 25 ) in Kaliwining experiment plantation of Rambipuji district.
"This is the drill that I dreamed about 10 years ago, and it only took 30 seconds to make a rorak hole, and easy to carry between cocoa plants, unlike Japanese machines that are expensive and not easy to use farmers," Mr Dwiantoro said.
He admitted that he was dreams concerning the interests of cocoa farmers to make it easier and faster to make a rorak holes, because the land of cocoa plantations is hard, and the average farmers is old so making the rorak hole as the hard work.
"10 years ago, I invited extension workers to encourage farmers to make rorak hole, do not make four holes around the cocoa plants, but just one hole per day. After completing one hectare, then make a second hole, the goal for cocoa fruit can be available throughout the year," he said.
Modern Cocoa
He added that the cocoa plant without rorak then harvest cocoa only once a year, April to July, but if there rorak can bear fruit throughout the year with two peaks of cocoa harvest, and it has been proven and tested in the field.
"That fact prompted me to always ask for technological engineering to make a rorak hole. Please mechanize the rorak maker, whenever I go abroad I try to find a suitable tool to make a rorak hole tool. There is a small excavator from Japan but the price is quite expensive and can not enter among cocoa plants," he said.
Another benefit of rorak holes is easier to fertilize, the farmer´s left hand is used to pull the litter, right hand to insert fertilizer. Without rorak holes, farmers prefer to sprinkle the fertilizer around the cocoa plant because the ground is hard so it does not make rorak hole.
Rorak holes also serves to rainwater harvesting system and accommodate sediment so it can work to anticipate climate change.
Rorak holes will accommodate rainwater to be absorbed into the soil, thereby reducing water on the soil surface out of land parcels significantly, and reducing the impact of flooding, and beneficial in the dry season.