Luas Lahan Terdampak Wereng 0,42%, Mentan Tetap Instruksikan Pengendalian Hama
Indonesian Govt Seeks to Overcome Pest Attacks on Agricultural Land
Reporter : Gusmiati Waris
Editor : Cahyani Harzi
Translator : Dhelia Gani

PUBLISHED: Selasa, 05 September 2017 , 10:22:00 WIB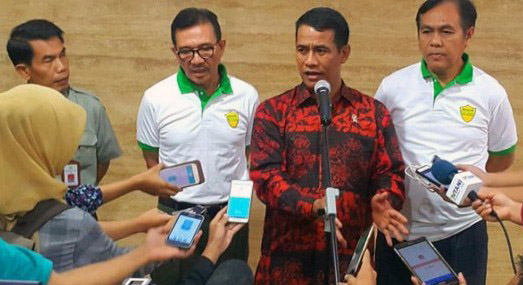 Mentan Andi Amran Sulaiman (batik merah) menjawab wartawan didampingi Direktur Tanaman Pangan Yanuardi MM (ke-2 kiri) dan Kabag Humas Marihot H Panggabean (Foto: B2B/Gusmiati Waris)
Jakarta (B2B) - Kementerian Pertanian RI menyatakan rerata 10 tahun terakhir total luas lahan tanaman padi terdampak hama wereng batang coklat (WBC) mencapai 215.277 hektar, terdampak kekeringan hingga puso sekitar 48.850 hektar. Sementara pada 2017 yang terdampak WBC sekitar 63.075 hektar dan puso 20.152 hektar atau 0,42% dari 15,1 juta hektar luas tanam periode Oktober 2016 hingga Agustus 2017, dengan ambang toleransi 5%.

"Luas puso hanya 2,5 persen terhadap surplus luas tambah tanam padi Oktober 2016 hingga Agustus 2017 seluas 792.245 hektar," kata Menteri Pertanian Andi Amran Sulaiman kepada pers pada Senin (4/9) usai memimpin rapat koordinasi antisipasi hama dan penyakit serta dampak perubahan iklim.

Menurutnya, Kementan sejak awal 2017 hingga saat ini mengerahkan 203 personel di kementerian untuk melakukan sinergi dengan dinas pertanian pada 20 provinsi dan 164 kabupaten, Balai Proteksi Tanaman Pangan dan Hortikultura (BPTPH), koordinator pengendali organisme pengganggu tumbuhan (POPT) kabupaten, petani dan TNI AD.

"Saya harapkan semua pihak terkait di daerah dapat berkoordinasi dengan cepat apabila ditemukan serangan hama. Permasalahan ini sangat penting, kalau terjadi masalah hama harus ditangani cepat," kata Mentan.

Dari hasil pemantauan dan pengendalian WBC di lapangan, ada lima penyebab utama meningkatnya serangan WBC tahun ini yakni terjadinya kemarau basah pada 2016 ditambah periode April - Juni 2017, dengan rerata curah hujan bulanan lebih dari 200 mm dan rerata kelembaban udara lebih dari 90%. Kondisi tersebut sangat menguntungkan bagi perkembangan populasi WBC pada periode April - Juli 2017.

"Terbatasnya jumlah pengamat dan lambatnya pelaporan populasi rata-rata hanya ada satu pengendali POPT sehingga terjadi outbreak dan puso di beberapa lokasi, karena tidak bisa dikendalikan lagi atau terbakar," kata Amran Sulaiman.
Jakarta (B2B) - The Indonesian Agriculture Ministry declares the average in the last 10 years of total rice plantation area affected by brown planthopper reached 215,277 hectares, damaged by drought around 48,850 hectares. While this year the impact of brown planthopper about 63,075 hectares and damaged 20,152 hectares or 0.42% from 15.1 million hectares of planting area from October 2016 until August 2017 according to the minister.

"The area of damaged rice fields is only 2.5 percent of the planted area of October 2016 to August 2017 an area of 792 245 hectares," Agriculture Minister Andi Amran Sulaiman told the press here on Monday (September 4) after opened coordination meeting on anticipation of pests and impact of drought in Indonesia.

According to him from the beginning of 2017 until now, it has deployed 203 personnel in the ministry to synergize with the agricultural service in 20 provinces and 164 districts, Food Crop Protection and Horticulture, coordinator of plant pest control organisms in all districts, farmers and the army.

"I hope all stakeholders to coordinate to overcome the impact of pests is an important issue, must be handled quickly," Minister Sulaiman said.

From the results of pest monitoring and control, there are five main causes of increasing incidence of brown planthopper attack this year, wet drought last year and April - June 2017 period, with average monthly rainfall more than 200 mm and air humidity more than 90%.

"The limited number of pest monitors and the slowness of the average population report triggered outbreaks and damaged rice fields in some locations, because they could not be controlled or burned," he said.