Kekeringan Ancam Lahan Pertanian, Ini Antisipasi Mentan Jaga Produktivitas Pangan
Indonesian Govt Anticipates Impact of Drought on Agricultural Land
Reporter : Gusmiati Waris
Editor : Cahyani Harzi
Translator : Dhelia Gani

PUBLISHED: Kamis, 31 Agustus 2017 , 01:13:00 WIB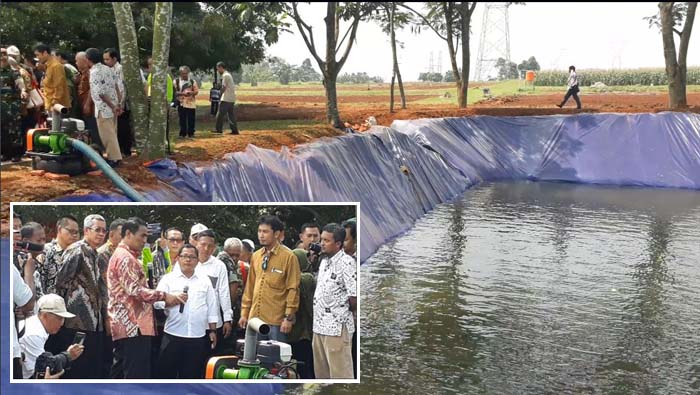 Mentan Amran Sulaiman menguji kemampuan rekayasa pompa air untuk mengairi embung oleh BB Mektan di Serpong, Tangerang didampingi Kepala Badan Litbang Pertanian Mohammad Syakir (inset) Foto2: B2B/Mac
Jakarta (B2B) - Kementerian Pertanian RI meyakini dapat mengantisipasi potensi kekeringan akibat kemarau, yang melanda beberapa wilayah di Indonesia, khususnya Juli hingga September, Menteri Pertanian Andi Amran Sulaiman menegaskan telah melakukan berbagai upaya melalui program jangka pendek dan jangka panjang.

"Program jangka pendek ditempuh dengan membuat sumur pantek dan pompanisasi sungai di wilayah potensial kekeringan. Didukung penyediaan benih unggul tahan kekeringan, pengaturan pola tanam, minimalisir risiko kekeringan, penyediaan asuransi usahatani, dan meningkatkan pertanaman di lahan rawa, lebak dan pasang surut," kata Mentan Amran Sulaiman kepada pers di Jakarta belum lama ini.

Sementara untuk jangka panjang, Kementan melakukan program perbaikan irigasi, bantuan mesin pertanian (Alsintan), pembuatan embung, pengembangan tata air mikro di lahan rawa dan pasang surut, bantuan benih tahan kekeringan untuk mengantisipasi potensi kekeringan dan mencegah penurunan hasil produksi petani.

Mentan juga melakukan koordinasi dan kerjasama dengan Kementerian Pekerjaan Umum dan Perumahan Rakyat (PUPR) terkait pembangunan bendungan, dam, jaringan irigasi primer dan sekunder, normalisasi sungai, dan pembangunan irigasi tersier untuk tiga juta hektar.

Sementara untuk penyediaan air irigasi secara berkelanjutan, Kementan didukung oleh Kementerian Desa, Pembangunan Daerah Tertinggal dan Transmigrasi untuk pengembangan embung di seluruh Indonesia.

"Tahun ini pemerintah menargetkan membangun minimal 11.000 embung dari total 30.000 embung, dengan jangkauan 1,5 juta hingga 2 juta hektar, bahkan untuk mendukung ketersediaan air lahan pertanian telah disiapkan puluhan ribu pompa air untuk pengairan sawah di seluruh Indonesia," kata Mentan Amran Sulaiman.

Dia menambahkan, sumber air tersebut kelak dapat meningkatkan jumlah produksi lahan dua kali lipat, artinya nanti pada November, Desember, dan Januari tidak terjadi ada paceklik.

Menurutnya, pengaturan pola tanam dengan sistem percepatan tanam juga dilakukan melalui optimalisasi penggunaan alat mesin pertanian yang dibagikan secara gratis oleh Mentan. Sehingga saat musim kemarau tiba akan dapat dilewati karena stok pangan yang telah tercukupi.
Jakarta (B2B) - Indonesian Agriculture Ministry believes it can anticipate droughts caused by the dry season that hit some areas in Indonesia, especially from July to September, Minister Andi Amran Sulaiman admitted that he has made various efforts through short-term and long-term programs.

"Short-term program by making small wells and pumping water from rivers in drought potential areas. Supported by providing drought-resistant seeds to farmers, planting arrangements, minimizing drought risk, farming insurance, and increasing cultivation in swamplands and tidal fields," Minister Sulaiman told the press here recently.

While for the long term with irrigation improvements, free agricultural machinery assistance, basin retention, micro water system development in swamp and tidal lands, drought resistant seeds to farmers anticipate drought, and prevent the decline of agricultural products.

Minister Sulaiman also coordinated and co-operated with the Ministry of Public Works and People's Housing related to the construction of dams, primary and secondary irrigation, river normalization, and the development of tertiary irrigation for three million hectares of rice fields.

Meanwhile, for the sustainable provision of irrigation water, the ministry is partnering with the Ministry of Village, Development of Underdeveloped Regions and Transmigration for basin retention development across the country.

"The government this year targets to build at least 11,000 of total 30,000 basin retention for 1.5 million to 2 million hectares of rice fields, and even has prepared tens of thousands of water pumps for irrigating rice fields across the country," he said.

He said, the water source will double agricultural production, the goal of preventing famine in November, December and January.

According to him, planting arrangements with the acceleration system is done by optimizing agricultural machinery that is distributed free by the government, so the dry season will not affect food stocks.