Kopi Bondowoso Buktikan Potensi Perkebunan Tanggung Jawab Semua Pihak
Bondowoso Coffee Opens the Eyes of Forest Utilization for People`s Economy
Editor : M. Achsan Atjo
Translator : Dhelia Gani

PUBLISHED: Senin, 28 Agustus 2017 , 01:16:00 WIB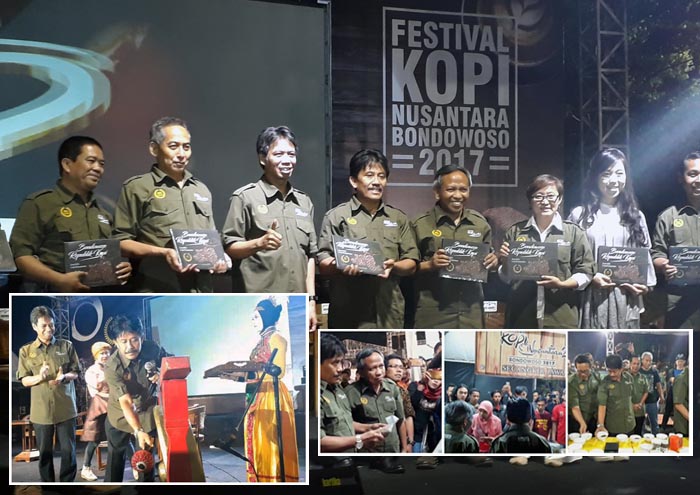 PELUNCURAN BUKU: Bupati Bondowoso Amin SH (ke-3 kiri), Dirjen Perkebunan Kementan Bambang WD (ke-4 kiri), Direktur Puslitkoka Misnawi (ke-4 kanan), pembukaan festival kopi dan peninjauan pameran (inset) Foto2: B2B/Mac
Bondowoso, Jatim (B2B) - Kementerian Pertanian RI mengapresiasi pengembangan potensi kopi Bondowoso, atas upaya pemerintah kabupaten didukung Perhutani,Pusat Penelitian Kakao dan Kopi Indonesia (Puslitkoka), kantor perwakilan Bank Indonesia di Jember, lembawa swadaya masyarakat (LSM). Kerjasama dan kolaborasi tersebut membuktikan bahwa tugas pokok dan fungsi Direktorat Jenderal Perkebunan Kementan menjadi tanggung jawab semua pihak untuk kepentingan rakyat.

"Kopi Bondowoso memberi kesadaran kepada kita bahwa perkebunan tidak cukup hanya dilakukan oleh Ditjen Perkebunan. Bupati Bondowoso Amin Said Husni memberi contoh bagaimana memanfaatkan tantangan menajdi peluang besar untuk kepentingan masyarakat. Ini luar biasa, kopi Bondowoso yang sebelumnya kurang dikenal kini mampu bersaing di pasar dunia," kata Dirjen Perkebunan Kementan, Bambang Wahyu Dwiantoro saat membuka Festival Kopi Nusantara 2017 di Kabupaten Bondowoso, Provinsi Jawa Timur pada Jumat malam (25/8).

Dirjen Bambang WD menambahkan kopi Bondowoso membuktikan dan memberi kesadaran bahwa pengembangan potensi usaha perkebunan menjadi tanggung jawab semua pihak, tidak cukup oleh Ditjen Perkebunan dan dinas pertanian provinsi/kabupaten. Terbukti, bagaimana lahan Perhutani yang sebelumnya kurang memberi manfaat bagi rakyat, tapi kopi memberi peluang bagi masyarakat mendapatkan manfaat sosial dan ekonomi.

"Kreativitas kepala daerah yang didukung rakyatnya, pak bupati membuka peluang dari lahan Perhutani, yang semula mungkin tertutup dengan para petani di sekitar lahannya. Kreativitas bupati dapat menjadi contoh bagi kepala daerah lainnya bahwa perkebunan dapat memberi arti penting bagi upaya konservasi lahan, dan hasil tanaman perkebunan khususnya kopi untuk kesejahteraan petani dan warga sekitar," kata Dirjen.

Menurutnya, Kementan akan memberi dukungan dan mengharapkan dukungan semua pihak terkait penguatan Bondowoso menjadi 'jendela' kopi Indonesia dari potensi lahan perkebunan kopi di lereng Ijen Raung.

"Saya menantang seluruh pelaku usaha perkebunan dan khususnya kepada pak bupati untuk memetakan kembali potensi-potensi kopi yang mungkin diperluas, diremajakan dan mungkin intensifikasi untuk kemudian diusulkan ke kementerian," kata Bambang WD.

Lereng Ijen Raung
Kopi dari Bondowoso telah tercatat dalam sejarah dunia sejak awal abad ke-19, setelah pemerintah kolonial Belanda mengembangkan perkebunan kopi seluas 4.000 hektar di lereng Gunung Ijen dan Gunung Raung di Kabupaten Bondowoso sebagai bagian dari perkebunan Besuki Raya, penghasil kopi arabica, dan produknya dikenal dengan sebutan java coffee dan sudah diekspor oleh PT Perkebunan Nusantara XII.

Bupati Amin Said Husni mengatakan pemerintah kabupaten mengembangkan potensi kopi Bondowoso sejak medio 2010, dengan merekrut para petani kopi di kawasan lereng Gunung Ijen dan Gunung Raung, khususnya di Kecamatan Sumberwingin, dengan mengembangkan Klaster Kopi Arabika Rakyat sebagai klaster perkebunan kopi rakyat, di luar lahan PTPN XII.

"Petani kopi juga mendapat bantuan bibit, pupuk dan sarana prasarana pendukung lainnya. Dananya dari APBD kabupaten, provinsi dan kementerian terkait. Target kami adalah menjadikan kopi sebagai produk unggulan daerah, dan sekaligus menjadi bagian dari pengembangan agrowisata di Bondowoso," kata Bupati Amin yang akrab disapa sebagai presiden republik kopi oleh warganya.

"Saya menyadari Pemkab Bondowoso tak mungkin sendirian menggarap program besar ini. Perhutani saya ajak bekerjasama agar lahannya bisa dimanfaatkan oleh rakyat untuk ditanami kopi," kata Bupati Amin.
Bondowoso of East Java (B2B) - Indonesian Agriculture Ministry appreciates the potential development of Bondowoso coffee after the district government has partnered with SOE forestry, Perhutani to utilize forest land become coffee plantation and then cooperates with Indonesia Coffee and Cocoa Research Institute (ICCRI) called the Puslitkoka, Bank Indonesia branch office in Jember, non-governmental organizations (NGO). Cooperation and collaboration proves that the main tasks and functions of the Directorate General of Plantation is the responsibility of all parties to the people.

"Bondowoso coffee gives us the awareness that developing the plantation potential is not enough to be done only by the Directorate General of Plantation. Bondowoso Regent Amin Said Husni gives an example of how to utilize an advanced challenge great opportunities for the people's interests. It's remarkable, Bondowoso coffee previously less well known, but now competes in the world market," said Director General of Plantation, Bambang Wahyu Dwiantoro while opened the 2017 Nusantara Coffee Festival in Bondowoso regency of East Java province on Friday night (August 25).

Bondowoso coffee proves and gives awareness that the development of plantation business potential is responsibility of all parties, not enough only by central government and local government. As a proof, now the SOE land forestry beneficial to the people, coffee opens economic and social opportunities for people around the forest land, Mr Dwiantoro added.

"The people support their regional head, the regents open economic opportunities from Perhutani land, which was initially closed to farmers and people. Regent's creativity can be imitated by other regional heads that the plantation potential is beneficial for land conservation, and profitable for the farmers and people," he said.

According to him, the ministry of agriculture will provide support and expect all parties to support the strengthening of Bondowoso to 'window' the potential of Indonesian coffee abroad.

"I challenge all plantation entrepreneurs, and especially to the regent to mapping potential coffee potencies that may be expanded, replanting, and intensifying into proposals to be delivered to ministries," Mr Dwiantoro said.

Ijen and Raung Slopes
Bondowoso coffee is known to the world since the early 19th century, after the Dutch colonial government developed a coffee plantation of 4,000 hectares on the slopes of Mount Ijen and Mount Raung in Bondowoso Regency as part of Besuki Raya plantation, arabica coffee producer, and its products are known as java coffee, and already exported by Perkebunan Nusantara XII company called the PTPN XII.

Regent Husni said the district government developed the potential of Bondowoso coffee since mid-2010, by recruiting coffee farmers in the slopes of Mount Ijen and Gunung Raung, especially in Sumberwingin subdistrict, by developing the Arabica People's Coffee Cluster as a cluster of smallholder coffee plantations, outside of the PTPN XII plantation area.

"Coffee farmers get free seed and fertilizer, and other supporting facilities. The initial capital of farmers from the district, provincial and ministerial budgets. Our target is to make coffee as a superior product area, and become part of agro-tourism development Bondowoso," said Regent Husni who is familiarly called as the president of coffee republic by its citizens.

He was realized the district government should be supported by the relevant parties. I was invite the Perhutani so that the their forest can be utilized by coffee farmers," he said.