BKP Kementan Pastikan Pasokan Cipinang Aman, Toko Tani Jual Beras Medium Rp8.000 per Kg
Indonesian Rice Supply in October is Expected to Adequate
Reporter : Gusmiati Waris
Editor : Cahyani Harzi
Translator : Dhelia Gani

PUBLISHED: Kamis, 05 Oktober 2017 , 01:20:00 WIB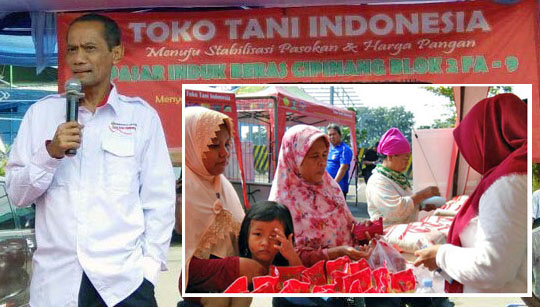 Kepala BKP Kementan, Agung Hendriadi dan Toko Tani Indonesia di Pasar Induk Beras Cipinang (PIBC) Jakarta Timur melayani konsumen (Foto2: B2B/Gusmiati Waris)
Jakarta (B2B) - Kementerian Pertanian RI menyatakan pasokan beras di Pasar Induk Beras Cipinang (PIBC) di Jakarta Timur melampaui kebutuhan konsumen, pasokan beras rata-rata 4.000 ton per hari sementara pengeluaran harian di bawah 3.500 ton. Badan Ketahanan Pangan (BKP) Kementan memastikan pasokan beras ke PIBC mencapai 53.009 ton pada Rabu (4/10) jauh di atas batas pasokan normal pada akhir September sekitar 30.000 ton.
Kepala BKP Kementan, Agung Hendriadi mengatakan pasokan beras di atas normal, dimana batas normal pasokan sekitar 2.500 ton per hari. Sementara stok beras di PIBC mencapai 53.009 ton dan pasokan tersebut mengindikasikan ketersediaan beras di masyarakat tergolong memadai.
"Pasokan beras di PIBC Cipinang merupakan baromoter persediaan dan harga beras, tidak hanya di Jakarta, tapi nasional," kata Agung Hendriadi kepada pers di Jakarta.
Menurutnya, saat ini musim panen gadu, dimana kualitas gabah atau beras yang dihasilkan petani sangat bagus, sehingga pelaku usaha lebih mudah mengolahnya menjadi beras premium.
"Saat ini memasuki musim hujan yang berdampak pada tingginya kadar air pada gabah. Sebaliknya, gabah hasil panen pada musim kemarau lalu jauh lebih baik dan diproduksi menjadi beras premium sehingga mendorong meningkatnya produksi beras premium hingga akhir 2017," kata Agung.
Beras Medium Rp8.000 per Kg
Untuk memenuhi kebutuhan beras medium masyarakat, Toko Tani Indonesia (TTI) menjual beras medium seharga Rp8.000 per kg, yang dibeli oleh Kementan dari gabungan kelompok tani (Gapoktan) di tujuh provinsi yakni Sumatera Selatan, Lampung, Banten, Jawa Barat, Jawa Tengah, Jawa Timur dan Nusa Tenggara Barat (NTB).
Harga beras yang dibeli dari Gapoktan tersebut sebesar Rp 7.700 per kg. Dengan tambahan biaya operasional, maka secara merata beras kualitas medium dijual Rp 8.000 per kg di TTI. "Beras kita siapkan untuk konsumen langsung tidak untuk pedagang sehingga kita batasi maksimal pembelian 20 kg sehari," kata dia.
BKP Kementan memasok 15 ton beras medium ke TTI di Cipinang dengan antisipasi cepat untuk menjaga pasokan di atas 15 ton per hari, caranya dengan memotong rantai pasok atas dukungan Gapoktan dari tujuh provinsi tersebut.
Kegiatan perdagangan TTI secara tidak langsung berperan dalam mengatasi anjloknya harga pangan pada masa panen raya, dan tingginya harga pangan pada saat paceklik dan menjadi instrumen yang dibuat pemerintah untuk mengendalikan gejolak harga dalam situasi tertentu.
Dalam operasionalnya, Gapoktan memasok beras kepada TTI yang sudah berpengalaman dalam usaha perdagangan pangan, kemudian dijual oleh TTI langsung kepada konsumen dengan harga yang terjangkau dan wajar, TTI yang dimaksud adalah pedagang pangan yang menjadi mitra Gapoktan serta terikat melalui perjanjian kerjasama antara kedua belah pihak.
"Sasaran kegiatan PUPM melalui TTI untuk kemudahan akses pangan kepada masyarakat dengan harga yang wajar di 33 provinsi dengan konsentrasi pada sembilan provinsi yakni Sumatera Utara, Lampung, Sumatera Selatan, Banten, DKI Jakarta, Jawa Barat, Jawa Tengah, Jawa Timur, dan Sulawesi Selatan," kata Agung lagi.
Jakarta (B2B) - The Indonesian Agriculture Ministry declares that rice supply in Jakarta's Cipinang Rice Market (PIBC) in East Jakarta is above consumer demand, average supply of 4,000 tons per day while daily sales below 3,500 tons. The Food Security Agency (BKP) ensured rice supply to Cipinang reached 53,009 tons on Wednesday (October 4) above the normal supply limit of around 30,000 tons at the end of September 2017, according to Indonesian senior official.
Director General of the Ministry's BKP Agung Hendriadi said said rice supply above normal, where the normal supply limit of about 2,500 tons per day. While the supply of rice in Cipinang reached 53,009 tons, and the supply indicates the availability of rice in the community is adequate.
"Rice supply to Cipinang is barometer of supply and rice prices, not just for Jakarta, but across the country," Mr Hendriadi told the press here on Wednesday.
According to him, the current harvest season honey, when the quality of grain from farmers is very good, so rice rice is easier to process it into premium rice.
"Currently ahead of the rainy season that affects the increase in water content in grain. On the contrary, harvesting grain in dry season is better to be produced into premium rice, it encourages the increase of premium rice production until the end of 2017," he said.
Medium Rice
To meet the needs of medium rice, Indonesian Farmer's Store locally known as the Toko Tani Indonesia (TTI) sells medium rice at a price of 8,000 rupiahs per kg, the agriculture ministry buys from farmers group association (Gapoktan) in seven provinces: South Sumatra, Lampung, Banten, West Java, Central Java, East Java and West Nusa Tenggara.
The rice prices from the Gapoktan 7,700 rupiah per kg, plus operational cost, medium rice sale 8,000 rupiah per kg in the TTI. "We prepare rice for consumers, not for traders so that consumer purchases are limited to 20 kg per day," Mr Hendriadi said.
The BKP supplies 15 tons of medium rice daily to TTI in Cipinang with a fast anticipation to keep supplies above 15 tons per day, by cutting the supply chain after being supported by a combination of farmer groups from the seven provinces.
Tani Toko trading activities indirectly contribute to overcome the decline of food prices during the harvest, and the high price of food in the dry season, and becomes an instrument made by the government to control price volatility in certain situations.
In its operations, Farmers Group Association (Gapoktan) supply rice to the TTI who have experience in the trading business of food, then sold by the TTI directly to consumers at an affordable price and reasonable, the TTI is food traders who are partners Gapoktan and bonded through a cooperation agreement between the two sides.
"The target of PUPM through Toko Tani for ease of access to food to the public at reasonable prices in 33 provinces with a concentration in the nine provinces, namely North Sumatra, Lampung, South Sumatra, Banten, Jakarta, West Java, Central Java, East Java, and South Sulawesi.