Perubahan Iklim, Ditjen PSP Gelar Edukasi dan Pelatihan untuk Petani
Indonesian Farmers are Trained in Climate Change Adaptation
Editor : M. Achsan Atjo
Translator : Dhelia Gani

PUBLISHED: Jum'at, 28 Juni 2019 , 01:35:00 WIB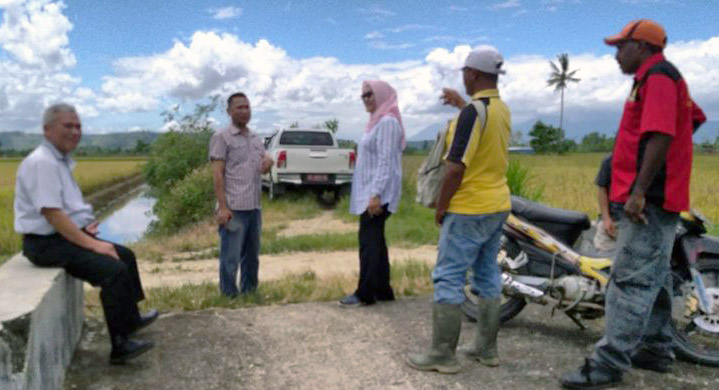 Direktur Irigasi - Ditjen PSP Kementan, Rahmanto [duduk kiri] dialog dengan petani pada kunjungan kerja di daerah [Foto: Humas Ditjen PSP]
Bandung, Jabar [B2B] - Sekitar 58 petani dari 25 kabupaten di delapan provinsi mengikuti edukasi dan pelatihan [training of trainer/TOT] untuk mewaspadai perubahan iklim yang digelar di Balai Besar Pelatihan Pertanian Jawa Barat [BBPP Lembang] selama lima hari, 24 - 28 Juni 2019, didukung enam narasumber dari Balai Penelitian Agroklimat dan Hidrologi - Badan Litbang Pertanian [Balitbangtan] dan Field Indonesia.
"Edukasi dan pelatihan untuk meningkatkan pengetahuan petani tentang perubahan iklim serta meningkatkan pemanfaatan embung, dam parit, dan longstorage dalam upaya adaptasi dan antisipasi perubahan iklim di tingkat usaha tani pada musim kemarau," kata Rahmanto, Direktur Irigasi Pertanian - Ditjen PSP Kementan saat membuka pelatihan di Lembang, Bandung pada Senin [24/6].
Menurut Rahmanto, perubahan iklim berpengaruh langsung terhadap capaian ketahanan pangan nasional. Pengaruh yang dirasakan saat ini mulai dari infrastruktur pendukung pertanian seperti sumber daya lahan dan air, infrastruktur jaringan irigasi, hingga sistem produksi melalui produktivitas, luas tanam dan panen.
"Diperlukan upaya adaptasi diimbangi upaya antisipasi yang dapat dilakukan oleh petani dengan bantuan dari pemerintah, sehingga tingkat kepedulian petani terhadap gejala alam dapat lebih diantisipasi dan mengurangi dampak negatif terhadap usaha tani terutama kekeringan yang mengakibatkan gagal panen," katanya.
Untuk diketahui, selama lima tahun terakhir sebanyak 2.962 unit embung terbangun sebagai infrastruktur air dan bentuk antisipasi terhadap perubahan iklim.
"Embung tersebut sudah seharusnya dikelola dengan baik dengan sumber daya manusia yang mempunyai kemampuan pengelolaan dan daya adaptasi yang baik," katanya.
Edukasi dan pelatihan berupaya menambah pengetahuan tentang cara memanfaatkan embung pertanian dalam upaya adaptasi dan antisipasi perubahan iklim di tingkat usaha tani pada saat musim kemarau meskipun perubahan iklim terus terjadi. [Sur]
Bandung of West Java [B2B] - At least 58 Indonesian farmers of 25 districts in eight provinces attended training of trainers to be aware of climate change was held at Lembang's Agriculture Training Center [BBPP Lembang] for five days, 24 to June 28, 2019.