Dirjen Hortikultura Pantau Sentra Cabai Malang, Antisipasi Fluktuasi Harga
Indonesian Ministry Officials Responded Rumor of Chili Prices Down
Reporter : Gusmiati Waris
Editor : Cahyani Harzi
Translator : Dhelia Gani

PUBLISHED: Kamis, 17 Agustus 2017 , 01:38:00 WIB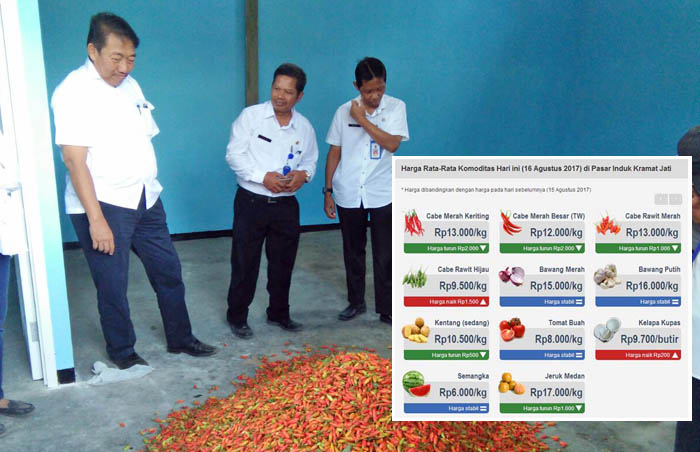 Dirjen Spudnik Sujono (kiri) mengamati hasil panen cabai petani Ngantang, Malang didampingi Kadis Tanaman Pangan dan Hortikultura Kabupaten Malang, M Nasri Abdul Wahid (Foto: B2B/Gusmiati Waris)
Malang, Jawa Timur (B2B) - Kementerian Pertanian RI cepat tanggap menyikapi kabar harga cabai turun, Dirjen Hortikultura Spudnik Sujono memimpin tim dari kantornya meninjau sentra produksi cabai di Kabupaten Malang, Provinsi Jawa Timur pada Rabu (16/8) untuk memastikan kebenaran kabar tersebut.

"Kami ke Kabupaten Malang untuk memantau luas tanam dan hasil panen di lapangan, dan memastikan laporan tentang harga cabai di sini turun sekaligus panen cabai di Ngantang. Luas panen sekitar 360 hektar," kata Spudnik Sujono kepada pers di Desa Ngantru, Kecamatan Ngantang.

Situs Informasi Pangan Jakarta (IPJ) harga komoditas cabai per kilogram per Kamis, 16 Agustus pukul 21:25 dibandingkan Rabu, 15 Agustus di Pasar Induk Kramat Jati seperti tertera pada tabel di atas: cabai merah keriting Rp13.000 (turun Rp2.000), cabai merah besar Rp12.000 (turun Rp2.000), cabai rawit merah Rp13.000 (turun Rp1.000), cabai rawit hijau Rp9.500 (naik Rp1.500).

Langkah antisipatif Dirjen Spudnik Sujono merupakan komitmen dari Kementan untuk melindungi kepentingan petani dan menjaga kebutuhan konsumen agar tidak dirugikan oleh rantai pasok yang dikuasai pengepul dan pedagang sebagai middleman.

Spudnik mengingatkan mengurai fluktuasi harga cabai tidaklah sederhana. Tidak bisa hanya dilihat dari pergerakan harga dalam satu dua hari saja, tapi harus dilihat dalam kurun waktu panjang. Kedua komoditas ini dalam waktu tertentu pernah jatuh dan petani menderita rugi. Namun pada saat tertentu harga melonjak tinggi.

"Berbeda dengan komoditas lainnya, karakteristik cabai dan bawang merah yang mudah rusak (perishable) dan fluktuasi harganya berkontribusi terhadap inflasi, sehingga pemerintah memberi perhatian serius," kata Spudnik.

Menurutnya, stabilitas harga cabai dan bawang merah di Jakarta dapat dengan mudah dideteksi dari jumlah pasokan ke Pasar Cibitung, Bekasi, Jawa Barat. Apabila tiap hari mampu memasok minimal 40 truk masuk ke Cibitung maka diyakini harga akan turun dan stabil, sebaliknya bila pasokan kurang dari 25 truk, maka harga akan merangkak naik.

Turut mendampingi Dirjen Spudnik Sujono adalah Kasubdit Aneka Cabai dan Sayuran Buah, Agung Sunusi; dan Kasubbag Humas Ina Ngana. Sementara dari Pemkab Malang tampak hadir Kepala Dinas Tanaman Pangan Hortikultura dan Perkebunan, M Nasri Abdul Wahid bersama sejumlah stafnya.
Malang, East Java (B2B) - Indonesian agriculture ministry immediately respond to rumors chili prices down, the Director General of Horticulture Spudnik Sujono led the team from his office to monitor chili production center in Malang district of East Java province on Wednesday (August 16).

"We are here to monitor the area of planting and chili harvest, and to ensure rumors about chili prices down particularly in Ngantang. The harvest area is about 360 hectares," Mr Sujono told the press in Ngantru village of Ngantang subdistrict.

Jakarta Food Information website reported the chili prices per kilogram on Thursday, August 16th at 9:25 pm compared to Wednesday, August 15th in Jakarta's Pasar Rebo Central Market s shown in the table above: curly red chili 13,000 rupiah (down 2,000), big red chili 12,000 rupiah (down 2,000), red chili sauce 13,000 rupiah (down 1,000), green chili 9,500 rupiah (up 1,500).

Anticipation step of Mr Sujono is a commitment of the ministry to protect farmers and keep consumers' needs in order not to be harmed by supply chain controlled by collectors and traders as middleman.

Unravel the causes of rising price of chilies are not simple. It can not only from price movements in one or two days, but it should be seen in a long period. The price of commodities is decreasing in a certain time and the farmers lose money. But at certain moments the price soaring.

"Differences with other commodities, the characteristics of peppers and shallots are classified as perishable and fluctuating prices contribute to inflation, so that the attention of the government," he said.

Price stability of chili in Jakarta can be easily detected from the supply to the market Cibitung in Bekasi district of West Java province. When every day is able to supply a minimum of 40 trucks into this market can be assured the price will go down, but if the supply is less than 25 trucks, the price of these commodities will rise.
Working visit was followed by Head of sub directorate of chilli and vegetable commodities, Agung Sunusi; Head of public relations subsections, Ina Ngana. While from Malang district government is the Head of local of food crops and horticulture, M Nasri Abdul Wahid with his staff.