Mentan: "Indonesia Harus Mandiri, Jangan Biarkan Benih dan Bibit Impor Masuk"
Indonesia Does Not Want to Rely on Import Food Seeds: Minister
Reporter : Gusmiati Waris
Editor : Cahyani Harzi
Translator : Dhelia Gani

PUBLISHED: Rabu, 23 Agustus 2017 , 01:50:00 WIB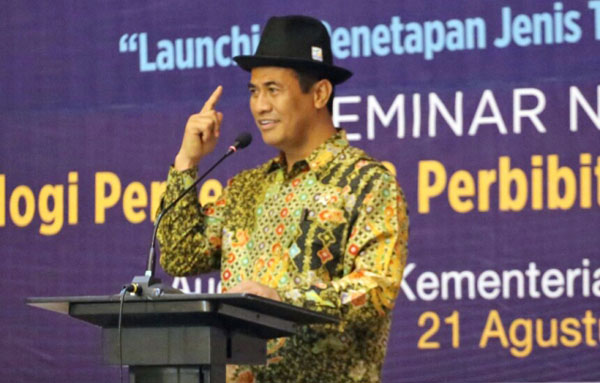 Menteri Pertanian RI Andi Amran Sulaiman pada pengukuhan DPP Masyarakat Perbenihan dan Perbibitan Indonesia (MPPI) di Jakarta (Foto: Humas Kementan)
Jakarta (B2B) - Pemerintah RI mengajak petani dan seluruh pihak terkait mendukung pengembangan perbenihan dan perbibitan, karena menjadi penentu peningkatan produktivitas pangan strategis, sekaligus membendung masuknya benih dan bibit impor ke Indonesia.

"Benih dan bibit adalah tulang punggung sektor pertanian Indonesia maka kita harus memiliki komitmen kuat, dan jangan biarkan benih dan bibit impor masuk ke Indonesia," kata Menteri Pertanian RI Andi Amran Sulaiman pada pengukuhan DPP Masyarakat Perbenihan dan Perbibitan Indonesia (MPPI) di Jakarta, Senin (21/8).

Menurutnya, pemerintah menaruh perhatian khusus pada pengembangan benih dan bibit untuk mendukung pencapaian swasembada pangan yang telah ditargetkan oleh Kementerian Pertanian, karena benih dan bibit unggul maka produktivitas pangan akan meningkat dua kali lipat.

Mentan mengakui, regulasi dan kebijakan saat ini menghambat pengembangan benih dan bibit karena sistem pengadaannya melalui tender, dan harus segera diubah menjadi penunjukan langsung, "jangan dipersulit karena benih dan bibit tidak bisa menunggu proses tender."

Presiden RI Joko Widodo menaruh perhatian pada peningkatan produksi pangan strategis dengan menganggarkan Rp5,5 triliun tahun depan, untuk pengembangan dan penyediaan benih dan bibit tanaman pangan, hortikultura, dan perkebunan.

"Pemerintah mengajak MPPI sinergi dengan Kementan untuk mengawal pengembangan benih dan bibit. Kita harus memiliki komitmen kuat terhadap benih dan bibit, buktinya dulu kita impor bawang merah dari Thailand, tapi sekarang kita ekspor ke sana," kata Mentan.
Jakarta (B2B) - Indonesian government invites farmers and all related parties to support the development of seeds as a determinant to increase strategic food production, so it can anticipate imported seeds to Indonesia, according to the minister.

"Seeds are the backbone of Indonesian agriculture, we must commit to prevent imported seeds," said Agriculture Minister Andi Amran Sulaiman here on Monday (August 21).

According to him, the government focus on seed development to support the achievement of food self-sufficiency, because the superior seed will increase food productivity up to two-fold.

Minister Sulaiman acknowledges that currently, regulations and policies still hamper seed development because the procurement system should be turned should be changed to be simpler and timely, "do not get complicated because the seeds can not wait for bidding process."

President Joko Widodo is concerned with improving strategic food production by budgeting 5.5 trillion rupiah next year, for the development and provision of food crops, horticulture, and plantations.

"The government invites the Indonesian seed community to synergize with the ministry in seed development. We have to commit, Indonesia used to import shallots from Thailand, but now we export to it," Minister Sulaiman said.