Kurangi Komposisi, Ditjen PSP Kementan Cabut 1.647 Izin Pendaftaran Pestisida
Indonesia Revokes 1,647 Licenses for Registration of Agricultural Pesticides
Editor : M. Achsan Atjo
Translator : Dhelia Gani

PUBLISHED: Senin, 07 Oktober 2019 , 01:51:00 WIB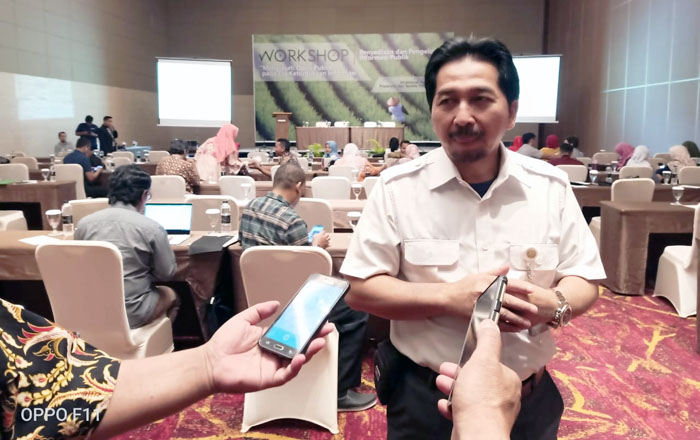 REKOMENDASI IRJENTAN: Dirjen PSP Kementan, Sarwo Edhy menegaskan Permentan No. 43/2019 menetapkan bahwa pemerintah sudah mengatur detail persyaratan pendaftaran pestisida [Foto: Humas Ditjen PSP]
Jakarta [B2B] - Sedikitnya 1.647 izin merek pestisida dicabut oleh Kementerian Pertanian RI lantaran melanggar berbagai ketentuan pemerintah, terutama mengurangi komposisi pestisida di bawah standar yang didaftarkan kepada Kementan. Pencabutan izin merek dilakukan setelah Kementan sudah melakukan pengujian terhadap lima sampel pestisida yang beredar di tiga provinsi merujuk pada rekomendasi Inspektur Jenderal Kementan [Irjentan].
"Sudah ada 1.647 izin pendaftaran pestisida yang kami cabut. Seminggu lalu ada dua yang kita cabut. Kami hanya meluruskan dan mengingatkan agar pestisida yang beredar sesuai komposisi yang didaftarkan ke pemerintah," kata Dirjen Prasarana dan Sarana Pertanian Kementan [PSP] Sarwo Edhy di Jakarta, belum lama ini.
Permentan No. 43 Tahun 2019 menetapkan bahwa pemerintah sudah mengatur lebih detail persyaratan pendaftaran pestisida, termasuk pestisida impor.
Menurutnya, pengurangan komposisi pestisida yang dilakukan perusahaan sangat merugikan petani dan merupakan pembohongan publik. Meskipun harganya lebih murah tapi petani tidak mengetahui kalau komposisi pestisida berkurang.
"Itu merupakan pembohongan publik. Karena harganya lebih murah, sedangkan petani tidak mengetahui kalau komposisi pestisidanya berkurang. Kualitas seperti itu merugikan petani," kata Dirjen Sarwo Edhy.
Dia menambahkan, pencabutan izin pestisida bukan tanpa alasan, karena pemerintah telah melakukan pengujian terhadap lima sampel pestisida yang beredar.
"Kami ambil sampel di tiga provinsi sesuai saran Irjen Kementan, meski sebenarnya dua provinsi cukup," katanya.
Bahkan, saat ini ada enam merek lagi yang tengah proses pencabutan izin edarnya karena mengurangi komposisi. Saat ini pihaknya menduga, masih banyak beredar pupuk dan pestisida yang izinnya sudah dicabut dan izinnya sudah habis. Bahkan pihaknya sudah mengirim surat ke daerah untuk menyampaikan daftar pupuk dan pestisida yang surat izinnya dicabut dan izinnya habis.
"Supaya Pemda juga bisa ikut mengawasi peredaran pestisida yang ilegal. Kami juga minta tolong asosiasi dan KP3 ikut mengawasi di daerah," kata Sarwo Edhy.
Sementara Direktur Pupuk dan Pestisida - Ditjen PSP Kementan, Muhlizar Sarwani mengatakan bahwa kini telah banyak perusahaan pestisida yang tutup. Penyebabnya adalah perusahaan hanya memesan produk yang sudah jadi dari luar negeri dan dipasarkan di Indonesia.
"Ada juga yang sekadar mendapatkan atau memenangkan tender di daerah dalam pengadaan pestisida. Perusahaan itu termasuk yang 1.647 yang pemerintah cabut ijinnya," katanya. [Sur]
Jakarta [B2B] - At least 1,647 licenses for registration of agricultural pesticides were revoked by the Indonesian government because it violates various provisions, especially to reduce pesticide composition below the standards submitted to the government. Revocation was carried out after the government tested five pesticide samples circulating in three provinces, according to the senior official of agriculture ministry.