Pompanisasi dan Pipanisasi Ditjen PSP Kementan Atasi Kekeringan Cirebon
Indonesian Officials Monitor the Impact of Drought in West Java
Editor : M. Achsan Atjo
Translator : Dhelia Gani

PUBLISHED: Sabtu, 27 Juli 2019 , 16:28:00 WIB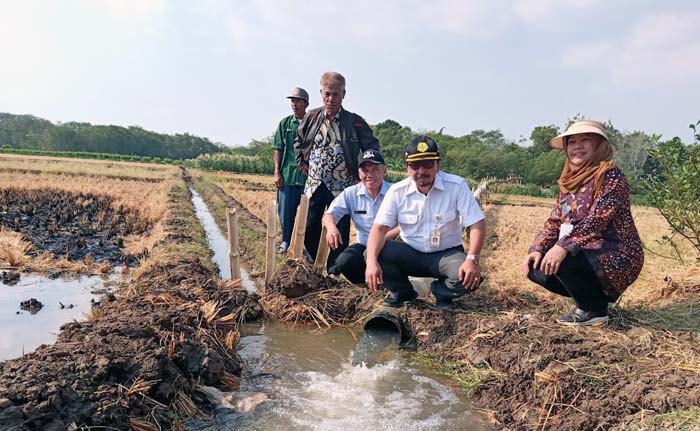 JARINGAN IRIGASI: Dirjen PSP Kementan, Sarwo Edhy [depan bertopi] dan Direktur Irigasi - Ditjen PSP Kementan, Rahmanto [belakang, topi hitam] memantau pompanisasi dan pipanisasi di Cirebon [Foto: istimewa]
Cirebon, Jabar [B2B] - Sedikitnya 1.500 hektar lahan pertanian produktif yang berpotensi kekeringan di Kabupaten Cirebon, Provinsi Jawa Barat diantisipasi oleh Ditjen PSP Kementan dengan menjaga distribusi air tetap merata, untuk meringankan kesulitan petani di tengah musim kemarau saat ini.
"Kami kunjungi untuk memastikan langkah antisipasi terhadap lahan yang berpotensi kekeringan seperti di Kabupaten Cirebon, seperti yang kita lihat bersama masyarakat sudah mempunyai inisiatif didukung fasilitasi dari Kementerian Pertanian sesuai dengan arahan Mentan Amran Sulaiman bahwa Kementan harus tanggap terhadap masalah yang terjadi di lapangan," kata Dirjen PSP Kementan, Sarwo Edhy, Kamis [25/7], di Desa Pegagan Lor Kecamatan Kapetakan didampingi oleh Kepala Dinas Pertanian Kabupaten Cirebon, Camat Kapetakan, Danramil Kapetakan, Kapolsek, serta Kepala desa Pegagan Lor turut hadir.
Menurutnya, Ditjen PSP Kementan mengerahkan program pompanisasi dan pipanisasi untuk mengalirkan air dari jaringan primer ke petakan petakan sawah milik petani. ""Alhamdulillah dengan program pipanisasi dan pompanisasi bisa menyelamattkan 1.500 hektar yang berpotensi kekeringan."
Kepala Dinas Pertanian Kabupaten Cirebon Ali Efendi mengapresiasi kunjungan Dirjen PSP. Dikatakannya, kunjungan dari Pemerintah Pusat, yang membuktikan perhatian terhadap petani di daerah.
"Kami atas nama masyarakat Desa Pegagan Lor Kabupaten Cirebon mengucapkan terima kasih atas kunjungan Dirjen Sarwo Edhy yang tetap memberikan semangat. Kita lihat bahwa potensi kekeringan lahan seluas 1500 hektar tapi berkat kerja keras semua pihak termasuk camat, Danramil, Kapolsek dan ketua kelompok tani yang untuk mencegah ancaman kekeringan," kata Ali Efendi.
Dia mengharapkan petani dan masyarakat ´mengawal air´ ari bendungan Rentang setelah mendapatkan bantuan pompa dari Kementan, sehingga pemerintah daerah optimististis Cirebon akan terhindar dari ancaman kekeringan.
Harapan kami dari kunjungan kerja Dirjen PSP ke wilayah kami, mudah-mudahan akan meningkatkan semangat petani, sehingga masalah kekeringan di wilayah kami dapat diminimalisir dan bahkan kedepannya tidak ada lagi kekeringan. Artinya masyarakat bisa panen dengan baik dan sesuai dengan harapan," kata Kadistan Cirebon, Ali Efendi [Sur]
Cirebon of West Java [B2B] - At least 1,500 hectares of productive agricultural land in Cirebon regency, West Java province which has the potential for drought due to the dry season was anticipated by Directorate General of Agricultural Infrastructure and Facilities of Indonesian Agriculture Ministry by keeping the water distribution evenly distributed, to ease difficulties of farmers in the middle of the current dry season.