Komitmen Berpihak pada Petani Tebu, Kementan Terapkan `Regrouping` Lahan
Indonesian Govt Implemented Regrouping Sugarcane Farmers
Reporter : Gusmiati Waris
Editor : Cahyani Harzi
Translator : Dhelia Gani

PUBLISHED: Rabu, 30 Agustus 2017 , 01:09:00 WIB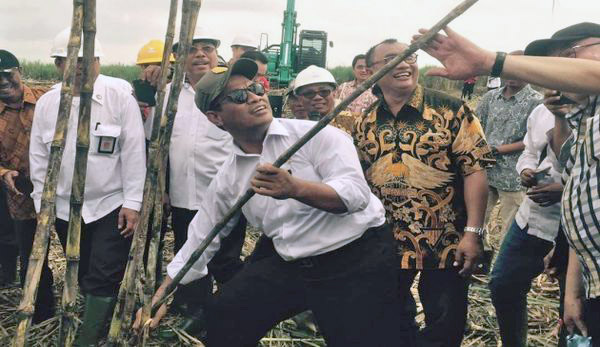 Mentan Andi Amran Sulaiman meninjau perkebunan tebu di Kabupaten Ogan Komering Ilir (OKI) Provinsi Sumatera Selatan (Foto: Humas Kementan)
Jakarta (B2B) - Kementerian Pertanian RI menerapkan strategi pengelolaan lahan tebu milik petani dalam satu manajemen (regrouping of small sugarcane planters) diikuti oleh sejumlah langkah penting seperti rehabilitasi tanaman, benih unggul dan pupuk, peningkatan produktivitas lahan, manajemen tebang muat dan angkut, antisipasi perubahan iklim dan penetapan harga.

"Langkah tersebut akan ditempuh oleh Ditjen Perkebunan seperti ditargetkan Kementan untuk mencapai swasembada gula konsumsi pada 2019, dan gula industri pada 2024. Target tersebut bukan sekadar mewujudkan kedaulatan pangan, juga untuk meningkatkan kesejahteraan petani tebu," kata Suwandi, Plt Kepala Biro Humas dan Informasi Publik Kementan di Jakarta pada Selasa (29/8).

Kementan menempatkan petani tebu sebagai pelaku utama mencapai target swasembada gula. Program yang dijalankan Kementan dalam rangka pencapaian swasembada gula fokus pada peningkatan kapasitas petani untuk meningkatkan produktivitas tebu dan rendemennya, kata Suwandi.

Untuk pemantapan lahan tebu, Kementan mengembangkan regrouping of small sugarcane planters, pengelolaan lahan tebu yang dimiliki petani dalam satu manajemen, mengingat lahan setiap petani saat ini tidak begitu luas.

"Lahan petani yang kecil dan berdekatan akan dikelola bersama dalam satu koordinasi yakni ada petani, provider, dan pabrik gula, dengan cara ini maka petani tidak lagi berjalan sendiri," kata Suwandi yang juga menjabat Kepala Pusat Data dan Informasi (Pusdatin) Kementan.

Keterbatasan Alsintan
Kementan juga memahami kendala petani yang dihadapkan pada keterbatasan alat mesin pertanian (Alsintan), dengan mendukung program mekanisasi di lahan tebu rakyat, yang diharapkan dapat meningkatkan efisiensi biaya garap dan waktu pengelolaan lahan.

"Bantuan mekanisasi diberikan kepada kelompok tani atau koperasi berbasis tebu berupa mesin pengolahan lahan tebu, mesin muat tebu, alat pemupukan, mesin tebang tebu seperti cane thumper dan mini harvester, serta alat angkut tebu seperti dump truck," kata Suwandi yang dikenal sebagai sosok komunikatif dengan wartawan.

Langkah penting Kementan melalui Ditjen Perkebunan adalah rehabilitasi tanaman dengan program penggantian bibit unggul (bongkar ratoon), dengan alokasi anggaran untuk 15.000 hektar kebun tebu rakyat dan dimasukkan dalam APBN-Perubahan 2017, tujuannya meningkatkan produktivitas lahan tebu untuk enam hingga tujuh tahun ke depan.

Benih Unggul
Terkait pemanfaatan benih unggul untuk meningkatkan rendemen tebu, menurutnya, Badan Penelitian dan Pengembangan Pertanian (Balitbangtan) Kementan sedang menggenjot pengembangan benih-benih unggul untuk komoditas prioritas swasembada, salah satunya tebu.

"Dalam dua tahun terakhir, Kementan sudah menghasilkan tebu dengan rendemen 12% dan sedang diteliti untuk menghasilkan tebu dengan rendemen 14%," kata Suwandi.

Peningkatan produktivitas dan produksi juga didorong melalui investasi pembangunan pabrik gula baru. Hingga 2019 ditargetkan berdiri 11 pabrik gula baru, dan sejak 2016, telah berdiri empat pabrik gula baru dari target tersebut yang rampung dibangun berlokasi di Blora, Lamongan, Lampung, dan Dompu.

"Kehadiran pabrik-pabrik gula baru ini diharapkan tidak hanya meningkatkan kapasitas produksi gula, tapi juga membangun kemitraan yang saling menguntungkan antara petani dan pabrik gula. Pabrik gula dapat berperan dalam menentukan dan mengkoordinir kapan petani harus memupuk, memakai benih unggul, menanam tebu, menebang, memuat dan mengangkut," kata Suwandi.
Jakarta (B2B) - The Indonesian agriculture ministry will implementing a regrouping strategy of small sugarcane planters, followed by a number of important steps such as rehabilitation of sugar cane, superior seed and fertilizer, increasing land productivity, slash and haul management, anticipation of climate change and pricing.

"The step will be taken by the Directorate General of Plantation as targeted by the ministry to achieve self-sufficiency of sugar consumption in 2019, and industrial sugar in 2024. Target is not just to achieve food sovereignty, also improve the welfare of sugarcane farmers," said Suwandi, spokesman of the agriculture ministry through the written statement here on Tuesday (August 29).

The Indonesian government placed sugarcane farmers as a key factor in achieving self-sufficiency in sugar. Programs run by ministries in the framework of achieving sugar self-sufficiency focus on improving farmers' capacity to increase productivity and yield of sugar cane," said Suwandi, who like many Indonesians goes by only one name.

To improve the productivity of sugar cane fields, the agriculture ministry develops regrouping of small sugarcane planters, the management of sugarcane farms owned by farmers in a single management, considering that every farmer's land is currently very limited.

"The lack of land and the adjacent location will be managed together in a coordination including farmers, providers, and sugar factories, in this way the farmers no longer walk alone," said Suwandi who also serves as Head of Data and Information Center at the ministry.

Mechanization Program
The agriculture ministry also understands the limitations of agricultural machinery farmers, by supporting the mechanization program in the people's sugar cane fields, so as to improve cost efficiency and time of land management.

"Mechanized support for farmer groups or sugarcane-based cooperatives by providing farming machinery, sugar cane loading machines, fertilizer tools, cane thumper and mini harvester, and dump trucks," he said.

An important step of the ministry through the Directorate General of Plantation is the rehabilitation of sugar cane through the ratoon unloading program, the budget allocation for 15,000 hectares of smallholder sugarcane and included in the Revised State Budget 2017, aiming to increase the productivity of sugarcane for the next six to seven years.

Superior Seeds
Related to the utilization of superior seeds to increase sugarcane yield, he said, the Agency for Agricultural Research and Development is developing superior seeds for self-sufficiency priorities including sugarcane.

"In the last two years, the ministry has produced sugar cane with 12% yield and is being studied to produce sugar cane with a yield of 14%," Suwandi said.

Increased productivity and production are also driven through investment in the construction of new sugar mills. Until 2019, it is targeted to build 11 new sugar mills, and since 2016, four new sugar mills have been constructed located in Blora, Lamongan, Lampung and Dompu.

"New sugar mills are expected to not only increase sugar production capacity, but also build mutually beneficial partnerships between farmers and sugar mills. Sugar factories can play a role in determining and coordinating farmers' time for fertilization, using superior seeds, planting sugar cane, cutting, loading and transporting," he said.