Petani Terbaik, Penyuluh Pusluhtan Kementan Sambangi Kota Probolinggo
Indonesian Agriculture Ministry Selecting the Best Farmers 2019
Editor : M. Achsan Atjo
Translator : Dhelia Gani

PUBLISHED: Sabtu, 06 Juli 2019 , 19:58:00 WIB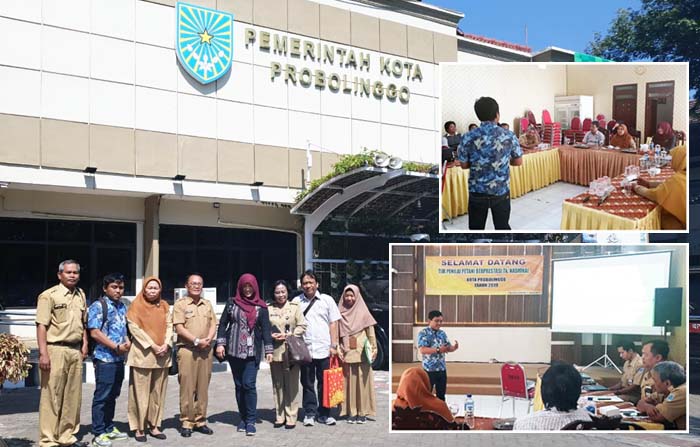 TIM SELEKSI: Kandidat petani terbaik Jatim, Hasan Prasojo [kemeja biru] bersama tim penilai Pusluhtan Kementan, Sri Mulyani [hijab merah] serta pimpinan dan staf Dinas Pertanian Kota Probolinggo [Foto2: Pusluhtan/Sri Mulyani]
Probolinggo, Jatim [B2B] - Petani berprestasi nasional menjadi ´figur sentral´ dari sosok dan lembaga pertanian terbaik pada peringatan HUT Kemerdekaan RI ke-74, 17 Agustus 2019, maka Penyuluh Pertanian di Kementerian Pertanian RI, Sri Mulyani menyambangi Kota Probolinggo di Provinsi Jawa Timur, belum lama ini, untuk mengetahui kinerja dan kontribusi Hasan Prasojo, yang dinominasi sebagai ´petani berprestasi´ yang akan berkesempatan bertemu Presiden RI Joko Widodo di Istana Negara pada 18 Agustus 2019 didampingi Mentan Amran Sulaiman.
"Salah satu bentuk motivasi bagi petani untuk meningkatkan kinerja dan produktivitas dalam mengelola usahatani melalui pemberian penghargaan kepada petani berprestasi, sehingga tujuan revitalisasi pertanian tercapai," kata I Wayan Ediana selaku Penanggung Jawab Pemberian Penghargaan Petani dan Penyuluh 2019 melalui pernyataan tertulis kepada B2B, Sabtu petang [6/7].
Kepala Pusat Penyuluhan Pertanian [Pusluhtan] Siti Munifah, menurut Wayan Ediana, mengingatkan Koordinator Tim Kategori Penilaian Petani untuk bekerja sungguh-sungguh melalui proses penilaian yang obyektif, transparan dan dapat dipertanggungjawabkan.
"Hasil penilaian harus memberikan gambaran akurat dan terukur terhadap kinerja petani yang dinilai. Hal terpenting dalam penilaian petani berprestasi adalah harus mempunyai hubungan dengan kinerja petani yang dinilai; adanya standar atau ukuran yang dipakai untuk menilai kinerja petani; dan sistem penilaian yang mudah dipahami dan dimengerti," katanya mengutip arahan Kapusluhtan Siti Munifah.
Sebagaimana diketahui, Peraturan Menteri Pertanian No. 54/Permentan/KP.120/7/2007 bahwa Petani Berprestasi adalah petani yang berkualitas, andal, produktif, berkemampuan manajerial, berperan dalam organisasi petani dan pelestarian lingkungan hidup sejalan dengan prinsip pembangunan berkelanjutan. Sasaran yang akan dinilai sebagai calon petani berprestasi yaitu petani sebagai pelaku utama kegiatan usahatani yang meliputi sub sektor tanaman pangan, hortikultura, perkebunan dan/atau peternakan.
Persyaratan umum petani yang akan mendapat penghargaan harus memenuhi persyaratan: WNI, usia maksimal 56 tahun, mampu membaca dan menulis, sehat jasmani dan rohani, bertempat tinggal di wilayah usahataninya, tidak menerima penghargaan sebagai petani berprestasi tingkat nasional dalam dua tahun terakhir dari Kementan, bukan sebagai pegawai negeri sipil (PNS) maupun aparat desa/kelurahan, sumber mata pencaharian utama dari usahatani; dan mengelola usahatani sendiri.
"Persyaratan Khusus adalah mengelola usahatani atau budidaya paling kurang tiga tahun terakhir secara terus menerus, menjadi pengurus/anggota kelompok tani dan direkomendasikan oleh kelompok taninya, mengelola skala usahatani utama dengan rasio luas lahan yang dtetapkan Kementan," kata I Wayan Ediana yang juga menjabat Kabid Penyelenggaraan Penyuluhan - Pusluhtan BPPSDMP Kementan. [Liene]
Probolinggo of East Java [B2B] - The best Indonesian farmers across the country being an exemplary figure of the agricultural sector who will get opportunity to meet President Joko Widodo at the Presidential Palace to commemorate Indonesia´s Independence, August 17th, 2019.