Mentan: Wisudawan STPP Medan Harus Motivasi Petani jadi Agrosociopreneur
Indonesian Govt Encourages Development of Farmers` Entrepreneurship
Reporter : Gusmiati Waris
Editor : Cahyani Harzi
Translator : Dhelia Gani

PUBLISHED: Minggu, 20 Agustus 2017 , 20:13:00 WIB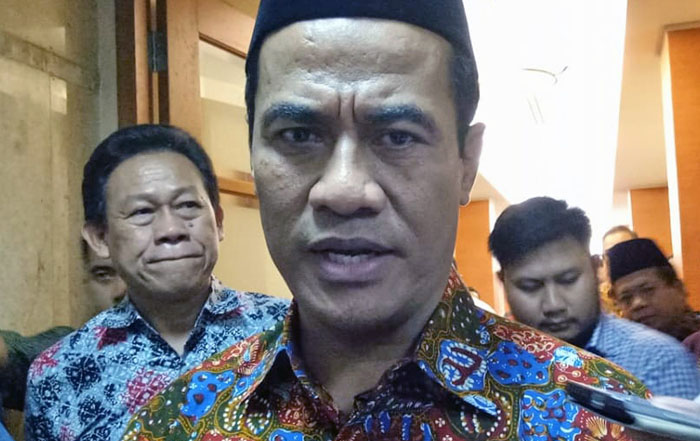 Mentan Andi Amran Sulaiman didampingi Kepala BPPSDMP Kementan Momon Rusmono (kiri) menjawab wartawan (Foto: Humas BPPSDMP Kementan)
Bandung, (B2B) - Pemerintah RI mengharapkan 50 lulusan Sekolah Tinggi Penyuluhan Pertanian (STPP) Medan, Provinsi Sumatera Utara dapat mengajarkan dan melatih petani dan masyarakat tentang wirausaha di bidang pertanian, khususnya agrosociopreneur tentang bagaimana berwirausaha di bidang pertanian dengan memperhatikan kelestarian lingkungan dan kepentingan masyarakat.

"Jiwa wirausaha harus ditularkan pada para petani sebagai mitra kerja saudara, agar dapat mengelola usaha tani secara baik dan menguntungkan," kata Menteri Pertanian RI Andi Amran Sulaiman dalam arahannya pada wisudawan STPP Medan, yang dibacakan oleh Kepala Badan Penyuluhan dan Pengembangan SDM Pertanian (BPPSDMP) Kementerian Pertanian, Momon Rusmono di Medan pada Jumat (18/8).

Mentan mengucapkan selamat kepada para wisudawan yang berhasil menyelesaikan pendidikan program Diploma IV Penyuluhan Pertanian dan Penyuluhan Perkebunan tepat pada waktunya, dan mengucapkan terima kasih kepada para dosen yang secara khusus mendidik, dan mencurahkan segala perhatian dan kemampuan untuk memenuhi harapan dan cita-cita para wisudawan.

"Pada kesempatan ini kami serahkan kembali pada instansi pengirim. Instansi saudara sekalian telah menunggu dengan segala tugas yang segera saudara emban," kata Momon Rusmono mengutip arahan dari Mentan Amran Sulaiman dalam wisuda yang dihadiri oleh Wakil Ketua Komisi IV DPR, Herman Khaeron.

Mentan mengingatkan bahwa penyuluh pertanian diharapkan dapat menggerakkan masyarakat pertanian untuk meningkatkan produksi pangan, mengoptimalkan lahan tidur, mengadakan kolaborasi dengan instansi-instansi terkait dengan cita-cita utama mencapai swasembada pangan dan meningkatkan kesejahteraan petani.

"Alsintan yang digelontorkan pemerintah harus dapat dimanfaatkan sebaik mungkin untuk menekan biaya produksi, dan Anda harus mampu bekerja optimal untuk menunjukkan bahwa pemerintah hadir di tengah petani," kata Momon Rusmono mengutip Mentan.
Bandung, West Java (B2B) - Indonesian government expects 50 graduates of Medan´s Agricultural Extension College of North Sumatera province (STPP Medan) to training farmers and communities to develop agricultural entrepreneurs, with environmental and community interest approaches, according to the minister.

"Farmers should be encouraged to develop entrepreneurship so that managed farming becomes a profitable business," said Director General of Agency for Agricultural Extension and Human Resources Development (BPPSDMP) Momon Rusmono in Medan on Friday (August 18) quoted the speech of Agriculture Minister Andi Amran Sulaiman.

Minister Sulaiman congratulates the graduate diploma of four extension of agriculture and plantation faculty, and thanked the lecturers who educated and trained them.

"The government expects agricultural extension workers to return to their respective areas of origin to carry out their service to support the development of local agriculture," Mr Rusmono said quoted Minister Sulaiman at the Medan STPP graduation ceremony who was attended by Vice Chairman of House´s Commission IV, Herman Khaeron.

Mr Sulaiman reminded agricultural extension workers to encourage farmers to increase food production, utilize marginal land, able to cooperate with agencies to support the achievement of food self-sufficiency and improve the welfare of farmers.

"Agricultural machinery provided free by government should be useful to reduce production costs, and should work optimally to prove the government with farmers," said Momon Rusmoo quoted Minister Sulaiman.