Transformasi Polbangtan, Pusdiktan BPPSDMP 4 Hari Visitasi SMK-PPN Kupang
Indonesian Govt will Establish Agricultural Vocational Education in Kupang
Editor : M. Achsan Atjo
Translator : Dhelia Gani

PUBLISHED: Minggu, 03 November 2019 , 20:31:00 WIB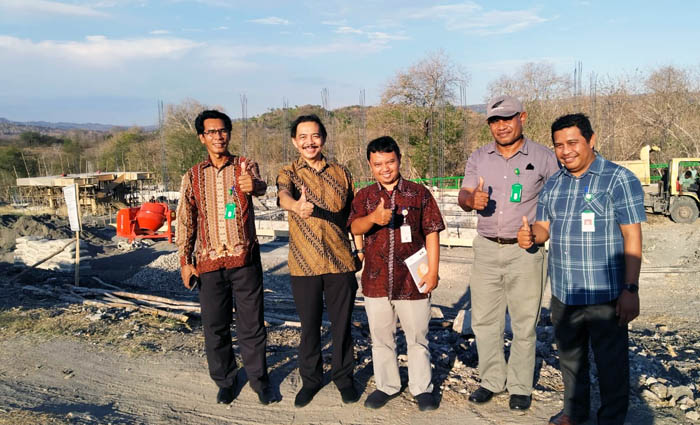 KEBIJAKAN JOKOWI: Pejabat eselon empat Kementan, Kasubbid Ketenagaan - Pusdiktan, Kodrat Winarno [ke-3 kanan] bersama tim Pusdiktan dan tim dari SMK-PPN Kupang [Foto: Humas Pusdiktan/Kodrat W]
Kupang, NTT [B2B] - Kementerian Pertanian RI terus berupaya meningkatkan kualitas SDM pertanian melalui pendidikan vokasi pertanian, yang menjadi tanggung jawab Pusat Pendidikan Pertanian [Pusdiktan BPPSDMP Kementan], khususnya transformasi sekolah menengah kejuruan pertanian pembangunan negeri [SMK-PPN] menjadi politeknik pembangunan pertanian [Polbangtan] melalui penguatan kapasitas kelembagaan SMK-PPN Kupang, sebagai Polbangtan di Indonesia timur.
Persiapan transformasi SMK-PPN Kupang menjadi Polbangtan, dipimpin oleh Kepala Sub Bidang Ketenagaan - Pusdiktan, Kodrat Winarno selama empat hari di Kupang, ibukota NTT pada 29 Oktober hingga 1 November 2019.
Transformasi SMK-PPN di Kupang selaras dengan arah kebijakan Presiden RI Joko Widodo yang menetapkan kebijakan pembangunan Indonesia pada masa jabatan kedua adalah pembangunan SDM termasuk SDM pertanian. SDM unggul menjadi kunci mensukseskan target pembangunan nasional. Selain itu, SDM unggul akan mendukung Indonesia memenangkan kompetisi global sehingga membawa Indonesia lebih maju.
"Tujuannya, untuk mengumpulkan informasi terukur dan komprehensif terkait SMK-PP Kupang yang kelak digunakan untuk positioning dengan lingkungan sekitar," kata Kodrat Winarno sebagai ketua tim.
Dalam kunjungan tersebut, Kodrat Winarno bersama tim berinteraksi dengan tenaga pendidik dan kependidikan maupun pihak manajemen melalui focus group discussion [FGD]. Dilanjutkan meninjau fasilitas prasarana dan sarana sekolah: kantor, laboratorium, perpustakaan, kelas belajar, aula, green house, asrama pelajar, ruang makan, kandang ternak, perumahan dinas, dan pembangunan kandang ternak.
"Langkah tersebut diikuti analisis data sebelum didokumentasikan dalam borang, dilanjutkan dengan menulis borang oleh tim khusus sehingga konsentrasi pengerjaan lebih fokus didukung tools benchmarking," kata Kodrat Winarno, yang berkarier di Polbangtan YoMa, dengan posisi terakhir Kepala Teaching Factory [TeFa] sebelum bergabung di Pusdiktan BPPSDMP Kementan.
Menurutnya, hasil kunjungan selama empat hari menjadi masukan dalam menyempurnakan informasi yang sudah dituangkan dalam ´borang´ meliputi pengumpulan data secara konsisten dan teratur dalam segi jumlah, yang disajikan dalam bentuk grafik dan summary misalnya jumlah mahasiswa dan data dosen.
Kepala SMK-PP Kupang, Stephanu Bulu mengapresiasi langkah pendampingan yang dilakukan Pusdiktan BPPSDMP menyiapkan transformasi menjadi Polbangtan.
"Kami berterima kasih atas pendampingan ini dan siap mendukung dalam mensukseskan proses transformasi ini," kata Stephanu Bulu.
Dia mengharapkan ke depan, transformasi SMK-PPN menjadi Polbangtan akan meningkatkan mutu pendidikan, sehingga menjadi lembaga pendidikan yang mampu mencetak tenaga terampil maupun pengusaha muda pertanian di Provinsi Nusa Tenggara Timur [NTT]. [KW]
Kupang of East Nusa Tenggara [B2B] - Indonesian Agriculture Ministry developing integrate learning process with production and entrepreneurship for Agricultural Development Polytechnic or the Polbangtan through teaching factory or the TeFa by the Directorate General of Extension and Agricultural HR Development or the BPPSDMP, according to the junior official of the agriculture ministry.