BPPSDMP Kementan Buka Peluang Pelajar SMA/SMK Kuliah di 10 Politani
Indonesian Govt Encourages High School Students to Develop Agricultural Potential
Editor : M. Achsan Atjo
Translator : Dhelia Gani

PUBLISHED: Selasa, 15 Agustus 2017 , 20:42:00 WIB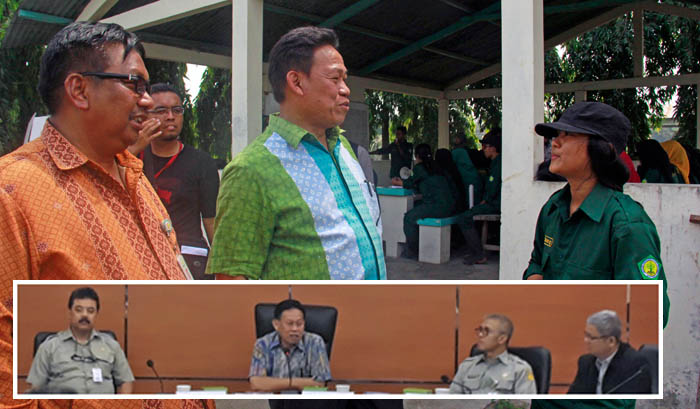 Kepala BPPSDMP Momon Rusmono berbincang dengan mahasiswa STPP Magelang, inset kiri ke kanan: Kapuslahtan Widi Hardjono, Momon Rusmono, Kapuslutan Fathan A Rasyid dan Kapusdiktan Gunawan Yulianto (Foto2: B2B/Mac)
Jakarta (B2B) - Kementerian Pertanian RI pada tahun ajaran baru 2018/2019 membuka peluang bagi pelajar SMA dan SMK, untuk menjadi mahasiswa di 10 Politeknik Pembangunan Pertanian (Politani) di seluruh Indonesia, yang dikelola oleh Badan Penyuluhan dan Pengembangan SDM Pertanian (BPPSDMP) Kementan, dengan alokasi 1.200 mahasiswa.

Kepala BPPSDMP Kementan, Momon Rusmono mengatakan ke-10 Politani membuka empat jalur pendaftaran bagi mahasiswa baru yakni undangan tanpa tes bagi pelajar berprestasi, ujian masuk seperti seleksi nasional masuk perguruan tinggi negeri disingkat SNMPTN, jalur kerjasama dengan pemerintah daerah, dan PNS tugas belajar dari kementerian terkait.

"Tahun ini masih dalam proses persiapan, kami harapkan pada tahun ajaran 2018/2019 sudah dapat menerima mahasiswa baru Politani," kata Momon Rusmono kepada pers di Jakarta pada Senin (14/8).

Menurutnya, Kementan tahun ini tengah menyiapkan pengembangan 10 sekolah politeknik pembangunan pertanian disingkat Politani di seluruh Indonesia, dengan bertumpu pada ilmu-ilmu pertanian terapan yang mengadopsi konsep 'teaching factory' dengan orientasi pada produksi dan bisnis, maka politeknik akan menghasilkan tenaga vokasi terampil dan bukan sekadar penyuluh pertanian.

Ke-10 Politani yang dia imaksud adalah Sekolah Tinggi Penyuluhan Pertanian dan Perkebunan - STPP Medan (Sumut); Sekolah Tinggi Penyuluhan Pertanian dan Peternakan (STPP) di Bogor (Jabar), Magelang (Jateng), Malang (Jatim), Gowa (Sulsel), Manokwari (Papua); Sekolah Tinggi Penyuluhan Pertanian - STPP Yogyakarta; Sekolah Menengah Kejuruan - Pertanian Pembangunan - SMK-PP Negeri Banjarbaru (Kalsel), Sekolah Menengah Kejuruan Pertanian Pembangunan - SMKPPN Sembawa (Sumsel), dan SMK Pertanian Pembangunan Negeri - SMKPPN Kupang (NTT).

"Dari beberapa sekolah tersebut sedang dipersiapkan untuk menjadi politeknik sesuai ketentuan UU pendidikan, karena sekolah vokasional atau kejuruan diarahkan menjadi politeknik," kata Momon.

Tampak hadir mendampingi Momon Rusmono pada konperensi pers adalah Kepala Pusat Pelatihan Pertanian (Kapuslahtan) yang merangkap Plt Sekretaris BPPSDMP, Widi Hardjono; Kepala Pusat Penyuluhan Pertanian (Kapuslutan) Fathan A Rasyid; dan Kepala Pusat Pendidikan Pertanian (Kapusdiktan) Gunawan Yulianto.

Dia mengharapkan lulusan Politani dapat menghasilkan beragam inovasi di bidang pertanian yang dapat diterapkan di lapangan, sehingga mampu memberikan terobosan untuk mendukung kedaulatan pangan, dengan melakukan penyesuaian seperti penyiapan program studi baru, prasarana dan sarana hingga penambahan tenaga pengajar.

"Tentunya, dosen kami tambah dan prasarana maupun sarana akan disiapkan untuk mendukung teaching factory," kata Momon.
Jakarta (B2B) - Indonesian agriculture ministry in the academic year 2018/2019 provide opportunities for high school and vocational students to be students of 10 Polytechnics of Agriculture called the Politani across the country, which is managed by Director General of Agency for Agricultural Extension and Human Resources Development (BPPSDMP), according to senior official of ministry.

The Director General of BPPSDMP Momon Rusmono said the 10 Politani opened four ways to enroll into a student without an entrance exam for outstanding students, exams such as national selection entered public universities, cooperation with local government, and learning tasks for civil servants from related ministries.

"This year is still being prepared, we hope to receive new students in the academic year of 2018/2019," Mr Rusmono told the press here on Monday (August 14).

According to him, the ministry prepares the development of 10 agricultural polytechnics across the country based on applied agricultural sciences with a 'teaching factory' approach with production and business orientation, so that polytechnics can produce skilled vocational workers and not just agricultural extension workers.

The 10 colleges are the College for Agriculture and Plantation - STPP Medan (North Sumatera); College of Agricultural Extension and Livestock - STPP in Bogor (West Java), Magelang (Central Java), Malang (East Java), Gowa (South Sulawesi), Manokwari (Papua); College of Agricultural Extension - STPP Yogyakarta; Vocational High School - Agricultural Development - SMK-PP Banjarbaru (South Borneo), Sembawa (South Sumatera) and Kupang (East Nusa Tenggara).

"Some high schools is being prepared into polytechnic education according to the law, because it must be polytechnic vocational schools," he said.

The press conference was attended by Director of the Agricultural Training Center, Widi Hardjono; Director of of Agricultural Extension Center, Fathan A Rasyid; and Director of Center for Agricultural Education, Gunawan Yulianto.

He expects the graduates to apply their knowledge to the farmers, so that it can support the increase of food production.

"Obviously, we will add lecturers, infrastructure and facilities to support teaching factory," Mr Rusmono said.