Mentan Ingatkan Jabar Pertahankan Kinerja sebagai Lumbung Pangan Nasional
Indonesian Govt Expects West Java Province Remain the Country`s Food Barn
Reporter : Gusmiati Waris
Editor : Cahyani Harzi
Translator : Dhelia Gani

PUBLISHED: Senin, 09 Oktober 2017 , 20:48:00 WIB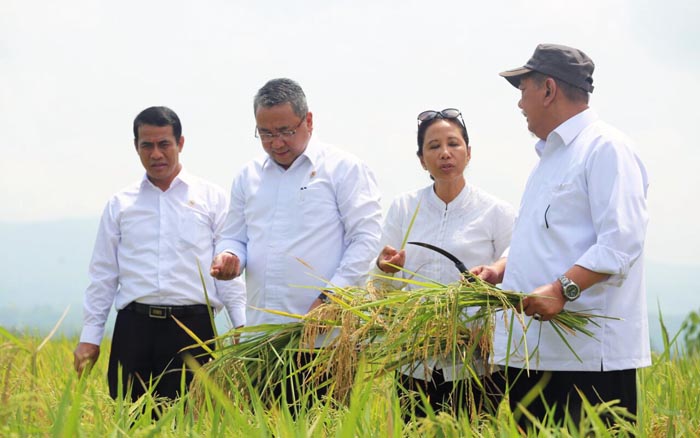 Kiri ke kanan: Mentan Andi Amran Sulaiman, Mendes PDT Eko Putro Sanjoyo, Menteri BUMN Rini Soemarno dan Wagub Jabar Deddy Mizwar (Foto: Humas Kementan/Makmur H)
Jakarta (B2B) - Kementerian Pertanian RI mengharapkan Pemerintah Provinsi Jawa Barat berupaya meningkatkan produksi dan produktivitas padi sebagai lumbung padi yang memasok hampir 45% kebutuhan beras nasional atau sekitar 79,3 juta ton gabah pada 2016, sehingga Indonesia ke depan dapat mempertahankan swasembada beras.

Hal itu dikemukakan Menteri Pertanian Andi Amran Sulaiman, Senin (9/10) pada kegiatan panen dan percepatan tanam padi di Kecamatan Panumbungan, Kabupaten Ciamis, dan peluncuran Kartu Tani oleh Menteri BUMN Rino Soemarno yang dihadiri Menteri Desa, Pembangunan Daerah Tertinggal dan Transmigrasi Eko PS dan Wakil Gubernur Jabar Deddy Mizwar.

"Saya apresiasi pemerintah provinsi dan kabupaten di Jawa Barat yang berupaya optimal mendukung masyarakat tani meningkatkan produktivitas padi. Saya harapkan mekanisasi pertanian dapat menambah minat generasi muda untuk kembali ke sawah sebagai petani," kata Mentan Amran Sulaiman.

Wagub Jabar Dedy Mizwar menyatakan siap menggerakkan masyarakat Jabar dan seluruh potensi daerah untuk mendukung pencapaian target Presiden Joko Widodo untuk mencapai kedaulatan pangan.

Sementara Menteri Rini Soemarno menegaskan komitmen Himpunan Bank Negara (Himbara) mendukung kegunaan Kartu Tani sebagai sarana akses layanan perbankan terintegrasi yang berfungsi untuk simpanan, transaksi keuangan, penyaluran pinjaman hingga kartu subsidi atau e-Wallet.
Jakarta (B2B) - Indonesian Agriculture Ministry expects the West Java provincial government to improve rice productivity as the country's rice barn, which supplies almost 45% of national food needs or about 79.3 million tonnes of grain by 2016, so that Indonesia in the future can maintain rice self-sufficiency.

It was stated by Minister Andi Amran Sulaiman on Monday (October 9) on the harvest and planting rice in Panumbungan district of Ciamis district and launching of Farmer Card by SOE Minister Rino Soemarno and was attended by Village Development and Transmigration Minister Eko Putro Sanjoyo and West Java Governor Deddy Mizwar.

"I appreciate the provincial and district governments in West Java that are trying to support the farm community to increase rice productivity. I hope agricultural mechanization can motivate young people return to the paddy fields as farmers," Minister Sulaiman said.

Deputy governor Dedy Mizwar said he was ready to encourage people in his province to support President Joko Widodo's target to achieve food sovereignty.

Meanwhile, Minister Rini Soemarno affirmed the commitment of the State Bank Association called the Himbara supporting the use of Farmer Card as access to integrated banking services for savings, financial transactions, loan disbursements to subsidized cards.