Legislator Ingatkan Sarjana Pertanian adalah `Agent of Change`Pembangunan
Indonesia`s Bachelor of Agriculture is the Agent of Change National Development
Editor : Ismail Gani
Translator : Novita Cahyadi

PUBLISHED: Minggu, 20 Agustus 2017 , 20:52:00 WIB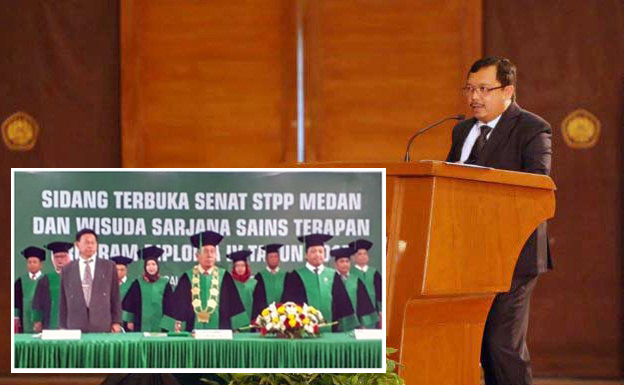 Wakil Ketua Komisi IV DPR Herman Khaeron menyampaikan orasi ilmiah, bersama Kepala BPPSDMP Kementan Momon Rusmono dan civitas academica STPP Medan (inset)
Bandung, Jawa Barat (B2B) - Sarjana pertanian pada umumnya dan wisudawan Sekolah Tinggi Penyuluhan Pertanian (STPP) Medan, Provinsi Sumatera Utara diharapkan dapat berperan sebagai agent of change untuk melahirkan petani yang tangguh dan agripreneur baru untuk mewujudkan kedaulatan dan kemandirian pangan, dan memberikan pendampingan pada petani tentang prinsip-prinsip tata cara pertanian yang baik.

"Sarjana pertanian juga menjadi penentu peningkatan mutu pascapanen, fasilitasi pemasaran, melakukan pendampingan kelompok-kelompok pengolah dan pemasaran dalam menghasilkan produk pertanian dan hasil olahannya," kata Wakil Ketua Komisi IV Herman Khaeron, Jumat (18/8) kepada 50 Sekolah Tinggi Penyuluhan Pertanian (STPP) Medan, Provinsi Sumatera Utara.

Politisi senior Partai Demokrat ini menambahkan peranan sarjana pertanian untuk mendukung peningkatan upaya pemberdayaan generasi muda petani dan produktif, terdidik dan berkeahlian, berjiwa kepemimpinan, semangat berwirausaha dan memiliki keterampilan agribisnis yang baik.

"Perlu upaya serius dan peran negara dalam menata dan membuat roadmap dengan melibatkan sarjana pertanian dalam menciptakan agripreneur baru dan regenerasi SDM petani," kata Herman Khaeron pada kegiatan wisuda yang dihadiri Kepala Badan Penyuluhan dan Pengembangan SDM Pertanian (BPPSDMP) Kementan mewakili Mentan Andi Amran Sulaiman.

Herman Khaeron dalam orasi ilmiah tentang 'peran sarjana pertanian pada kemandirian pangan' di STPP Medan juga menyoroti tentang peningkatan minat dan semangat kewirausahaan petani oleh sarjana pertanian. Didukung pemberian jaminan sarana dan prasarana yang memadai, dan menyediakan sarana produksi yang berkualitas.

"Langkah itu harus didukung peningkatan ruang pelatihan bagi petani untuk memperbaiki tata kelola pertanian, peningkatan ekonomi pertanian yang ekonomis, dan meningkatkan peran negara sebagai fasilitator dan regulator," kata politisi bergelar doktor dari Universitas Padjadjaran Bandung (Unpad).
Bandung, West Java (B2B) - Agricultural bachelor in general and graduates of Medan Agricultural High School (STPP), North Sumatera Province in particular, are expected to develop the potential as an agent of change of agricultural development in Indonesia, according to the Indonesian politician.

"Agricultural bachelors are also determinants of postharvest quality improvement, assisting farmers and supporting the marketing of agricultural products," said Vice Chairman of House's Commission IV, Herman Khaeron in the capital of North Sumatra province at 50 graduates of Medan's Agricultural Extension College of North Sumatera province (STPP Medan).

Senior politician of Democratic Party said the role of agricultural bachelors supports the empowerment of young people who are productive, educated, spirited leaders, entrepreneurial spirit and have good agribusiness skills.

"It takes a serious effort and the role of the state to design roadmap by involving agricultural bachelors for the regeneration of farmers," Mr Khaeron said at the graduation ceremony of the STPP Medan, who was attended by the Director General of Agency for Agricultural Extension and Human Resources Development (BPPSDMP) Momon Rusmono.

Mr Khaeron in his oration on 'the role of agricultural scholars on food self-sufficiency' also highlighted the entrepreneurial interest and enthusiasm of farmers by agricultural scholars, supported by quality production facilities.

"The measures should be supported by improving farmer training to improve agricultural governance, improving agricultural economy, and the role of the state as facilitator and regulator," said the doctor of Bandung's Padjadjaran University.