Mentan SYL Ajak Kepala Daerah Dukung Kebijakan Strategis Pertanian
Regional Heads were Asked to Support Indonesia`s Agricultural Policy
Editor : M. Achsan Atjo
Translator : Dhelia Gani

PUBLISHED: Rabu, 13 November 2019 , 21:16:00 WIB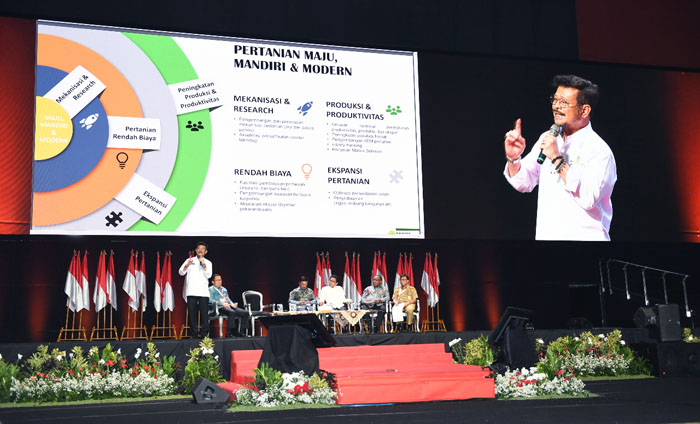 RAKORNAS SENTUL: Mentan Syahrul Yasin Limpo [SYL] menjadi keynote speech pada Rakornas Indonesia Maju yang digelar oleh Pemerintah RI dan Forum Koordinasi Pimpinan di Daerah [Foto: Biro Humas Kementan]
Bogor, Jabar [B2B] - Menteri Pertanian RI Syahrul Yasin Limpo [SYL] menekankan pentingnya pengembangan sumber daya manusia [SDM] untuk optimalisasi sektor pertanian ke depan. Pasalnya, sektor pertanian merupakan sektor yang paling menjanjikan karena akses pasar terbuka lebar.
"Bicara pertanian adalah sumber daya yang paling pasti. Sebab semua potensinya sudah terbuka lebar dan sangat menjanjikan," kata Mentan SYL pada Rakornas Indonesia Maju di Bogor, Jabar pada Rabu [13/11] yang digelar oleh Pemerintah RI dan Forum Koordinasi Pimpinan di Daerah.
SYL mengatakan pembangunan SDM harus mengacu pada kebijakan startegis jangka panjang. Kebijakan itu diantaranya adalah merampungkan single data dengan mengoptimalkan sistem teknologi informasi [IT]. Kebijakan ini penting dilakukan untuk pengawasan setiap pergerakan pertanian di tiap-tiap daerah.
"Saya mengajak para bupati, walikota dan gubernur dan semua elemen pemerintah daerah untuk terus mengawal dan mendukung program pertanian dengan menggunakan data yang sama," katanya.
Menurut Syahrul, penggunaan data dengan dukungan teknologi IT diharapkan mampu mendeteksi semua persoalan pertanian di Indonesia. Di samping itu, pemerintah juga bisa dengan mudah menghitung kapan waktu tanam dan waktu panen.
"Semua pergerakan aktivitas pertanian bisa kita polakan dengan citra satelit yang ada. Kapan terjadi hujan bisa kita prediksi dengan resolusi yang lebih tinggi yaitu 4 x 4 meter," tambahnya.
Berikutnya, kebijakan yang akan dikeluarkan adalah menguatkan peran pemangku daerah melalui program Komando Strategis Pembangunan Pertanian [KonstraTani]. Program ini kelak akan menghidupkan semua unit balai penyuluhan pertanian [BPP] di tiap kecamatan dengan memaksimalkan peran penyuluh.
"Saya juga sedang meminta izin kepada TNI dan Polri agar terlibat langsung dalam KonstraTani," katanya.
Mentan SYL menambahkan ke depan program KonstraTani juga dirancang untuk mengikat tanggungjawab masing-masing para pemangku kepentingan secara merata.
"Jadi kita bisa fokus pada penyaluran anggaran agar tidak over. Jangan sampai semua anggaran kita keluarkan tapi komoditi yang digarap hanya itu-itu saja," katanya lagi.
Bogor of West Java [B2B] - Indonesian Agriculture Minister Syahrul Yasin Limpo reminded regional heads about the importance of developing agricultural human resources, to support the increase and optimization of food production.