Inpari 42 dan 43 Diluncurkan Mentan, Antisipasi Perubahan Iklim Global
Indonesia Launches Superior Rice Varieties Anticipate Global Climate Change
Editor : M. Achsan Atjo
Translator : Dhelia Gani

PUBLISHED: Rabu, 23 Agustus 2017 , 02:12:00 WIB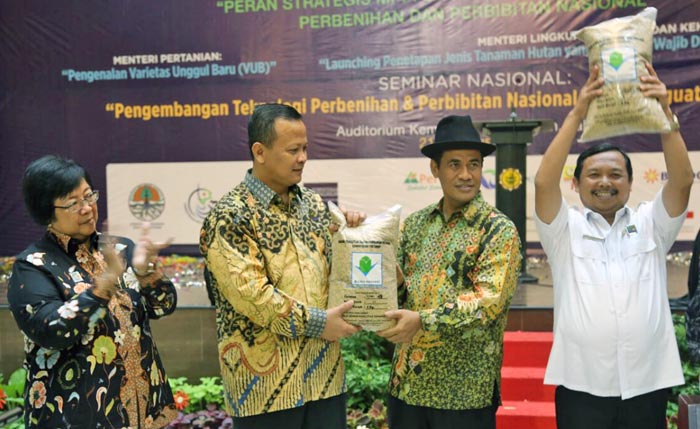 Kiri ke kanan: Menteri LHK Siti Nurbaya, Ketua Komisi IV DPR Edhy Prabowo, Mentan Andi Amran Sulaiman dan Ketua MPPI Herman Khaeron (Foto: Humas Kementan)
Jakarta (B2B) - Dua varietas baru padi unggul, green super rice disingkat GSR, Inpari 42 Agritan GSR dan Inpari 43 Agritan GSR, diluncurkan oleh Menteri Pertanian RI Andi Amran Sulaiman dengan keunggulan produktivitas tinggi dalam kondisi sub-optimum, kekeringan dan banjir, sehingga diharapkan mampu mengantisipasi perubahan iklim global.

"Hari ini kita luncurkan varietas unggul baru, Inpari 42 dan 43, produktivitas 10 ton per hektar. Juga ramah lingkungan karena mampu menekan penggunaan input seperti pestisida, pupuk kimia dan air," kata Menteri Pertanian RI Andi Amran Sulaiman saat meluncurkan kedua varietas unggul pada pengukuhan DPP Masyarakat Perbenihan dan Perbibitan Indonesia (MPPI) di Jakarta, Senin (21/8).

Kedua varietas merupakan hasil penelitian Badan Penelitian dan Pengembangan Pertanian (Balitbangtan) yang memiliki potensi hasil sekitar 10 ton per hektar pada kondisi uji multi-lokasi.

"Saat ini yang terpenting adalah varietas yang tahan terhadap hama wereng, karena saat ini sedang ada hama wereng, tapi hal tersebut dapat kita atasi dengan baik, " kata Mentan.

Benih sumber varietas Inpari 42 Agritan GSR dan Inpari 43 Agritan GSR telah diprodukdi di unit produksi benih sumber (UPBS) oleh Balai Besar Padi dan didistribusikan kepada pihak-pihak terkait seperti UPBS dari Balai Pengkajian Teknologi Pertanian (BPTP).

Hingga Juli 2017, UPBS BB Padi telah mendistribusikan benih sumber Inpari 42 Agritan GSR dan Inpari 43 Agritan GSR masing-masing 1,4 ton dan 1,3 ton di Provinsi Jawa Barat dan Jawa Tengah. Saat ini masih terdapat stok 3,5 ton dan 5,3 ton benih sumber.
Jakarta (B2B) - Indonesian government launched superior rice varieties, green super rice Inpari 42 Agritan and Inpari 43 Agritan GSR, its superiority is high productivity under sub-optimum conditions, drought and flood, so it is expected to anticipate global climate change, according to the minister.

"Today we are launched new superior varieties, Inpari 42 and 43, productivity of 10 tons per hectare, environmentally friendly because it can suppress the use of inputs such as pesticides, chemical fertilizers and water," said Agriculture Minister Andi Amran Sulaiman here on Monday (August 21).

Both varieties are the result of research of Agricultural Research and Development Agency which has harvest potential about 10 tons per hectare in multi-location test conditions.

"Currently the most important is the variety that is resistant to pests, because there are attacks of aphis, but it can be overcome," Minister Sulaiman said.

Seed source varieties Inpari 42 Agritan GSR and Inpari 43 Agritan GSR have been produced in the seed production unit of the source from the rice research center, and distributed to relevant parties such as agricultural technology assessment center.

As of July 2017, it has distributed 1.4 tons and 1.3 tons of source seeds in West Java and Central Java provinces. Currently there are stocks of 3.5 tons and 5.3 tons of source seeds.