Mentan Harapkan BKP Kementan Kembangkan Diversifikasi Konsumsi Pangan Karbohidrat
Indonesian Govt Developing Diversified Consumption of Carbohydrate
Editor : M. Achsan Atjo
Translator : Dhelia Gani

PUBLISHED: Jum'at, 15 September 2017 , 02:02:00 WIB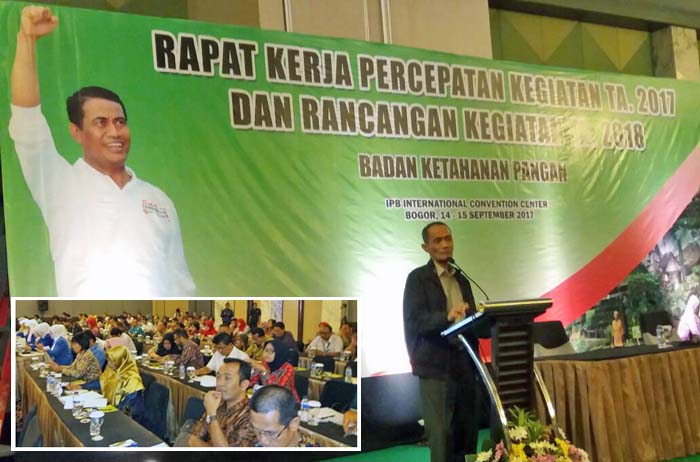 Kepala BKP Kementan Agung Hendriadi menyampaikan pidato arahan Mentan Andi Amran Sulaiman (Foto: Humas BKP Kementan)
Jakarta (B2B) - Pemerintah RI mengharapkan Badan Ketahanan Pangan (BKP) Kementerian Pertanian mengembangkan kegiatan diversifikasi konsumsi pangan menuju beragam, bergizi seimbang dan aman, peningkatan konsumsi sumber karbohidrat non beras dan non terigu berbasis pangan lokal.

"Hingga saat ini rasio pemanfaatan sumber karbohidrat non beras dan non terigu baru mencapai lima sampai enam persen saja, pemerintah mengharapkan potensi pangan ini dimanfaatkan secara optimal sebagai bagian dari upaya integratif dalam pengentasan penduduk rentan rawan pangan," kata Menteri Pertanian Andi Amran Sulaiman di Bogor, Kamis (14/9) dalam pidato arahannya yang dibacakan Kepala BKP Kementan, Agung Hendriadi saat membuka rapat kerja BKP Kementan.

Mentan juga meminta agar BKP Kementan berperan aktif mengawal stabilisasi pasokan dan harga pangan, baik melalui kebijakan regulasi maupun aksi nyata di lapangan. Kementan juga berperan mendorong terbitnya pengaturan tentang harga eceran tertinggi (HET) untuk komoditas beras melalui Peraturan Menteri Perdagangan (Permendag) No 57/2017.

"Terbitnya Permendag Nomor 57 Tahun 2017 tentang HET memberikan jaminan kepastian harga beras dan meningkatkan keterjangkauan harga beras di tingkat konsumen," kata Agung Hendriadi mengutip arahan Mentan Amran Sulaiman.

Melalui HET, kata Mentan, konsumen akan diuntungkan, karena dengan menghilangkan disparitas harga beras yang tinggi dari produsen hingga konsumen, akan tercipta perdagangan beras yang berkeadilan dan konsumen membayar sesuai dengan mutu beras yang dibeli.

Selain melalui kebijakan regulasi, upaya menjaga stabilitasi harga pangan juga dilakukan dengan pengembangan Toko Tani Indonesia (TTI), yang ditargetkan mencapai 5.000 unit TTI di seluruh Indonesia sementara saat ini mencapai 1.440 unit TTI.
Bogor, West Java (B2B) - The Indonesian government expects Agriculture Ministry's Food Security Agency (BKP) to develop a diversified and balanced nutritious food consumption activity by increasing the consumption of non-rice and non-wheat carbohydrate sources of local food.

"Until now, ratio of non-rice and non-wheat carbohydrate source utilization is only five to six percent, the government expects the food potential to be utilized to overcome the vulnerable population of food insecurity," said Agriculture Minister Andi Amran Sulaiman here on Thursday (September 14) in his speech delivered by Director General of the BKP Agung Hendriadi while opened working meeting.

Minister Sulaiman also asked BKP to safeguard the stabilization of food supply and prices, the agriculture ministry also plays a role in encouraging regulation of caps rice prices by Trade Minister Decree Number 57/2017.

"The issuance of caps rice prices the step comes as authorities intensify measures to ensure food prices remain in check as they are politically-sensitive due to their impact on the poor," Mr Hendriadi quoted Minister Sulaiman.

Indonesia's trade ministry has capped retail prices for most types of rice, looking to 'maintain stability' in the cost of the commodity which lies at the heart of cuisine in the Southeast Asian nation.

The rice regulation also strives to maintain the stability of food prices with the development of the Indonesian Farmers' Store, which is targeted to reach 5,000 units across the country while currently reached 1,440 units.