Kepala BPPSDMP Lantik 24 Pejabat Baru Jawab Tuntutan Internal dan Eksternal Kementan
24 Echelon 3rd and 4th Officials of Indonesian Agriculture Ministry were Inaugurated
Reporter : Gusmiati Waris
Editor : Cahyani Harzi
Translator : Dhelia Gani

PUBLISHED: Kamis, 07 September 2017 , 22:17:00 WIB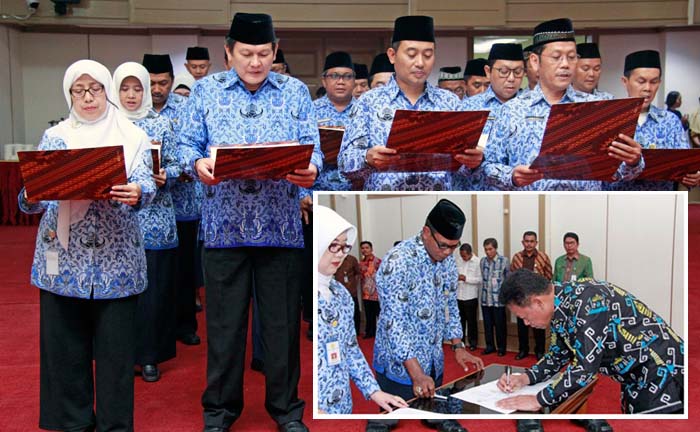 Sebagian dari 24 pejabat eselon tiga dan empat Kementan yang dilantik oleh Kepala BPPSDMP Kementan, Momon Rusmono (inset) Foto2: Humas BPPSDMP Kementan
Jakarta (B2B) - Pejabat baru eselon tiga dan empat pada Badan Penyuluhan dan Pengembangan SDM Pertanian (BPPSDMP) Kementerian Pertanian diharapkan dapat menjadi roda penggerak organisasi dalam melaksanakan fungsi-fungsi manajemen dan administrasi, untuk menjawab tantangan dan kebutuhan internal BPPSDMP dan tuntutan dari luar sistem birokrasi.

"Pengambilan sumpah dan pelantikan yang baru saja saya lakukan untuk memenuhi tuntutan, tantangan, dan kebutuhan di internal BPPSDMP dalam memberikan pelayanan, juga tuntutan eksternal dari masyarakat yang berkembang cepat sehingga kita dituntut mampu memberi respon cepat dan tepat," kata Kepala BPPSDMP Kementan, Momon Rusmono dalam arahannya usai pelantikan 24 pejabat eselon tiga dan empat BPPSDMP Kementan di Jakarta pada Rabu (6/9).

Momon menambahkan bahwa kegiatan pelantikan, mutasi jabatan, dan penempatan pejabat secara umum bertujuan untuk mewujudkan efektifitas pengelolaan organisasi dan upaya penyegaran dan peningkatan kinerja aparatur, mutasi dan promosi akan menjadi kebutuhan selama organisasi menghendakinya.

Dia menambahkan bahwa promosi dan mutasi adalah hal yang wajar melakukan pembenahan, dan pemantapan organisasi untuk meningkatkan kinerja penyelenggaraan tugas dan pelayanan umum BPPSDMP Kementan.

"Parameter utama untuk menentukan jabatan bagi setiap pegawai dilakukan melalui pertimbangan kapasitas, kompentensi, integritas, loyalitas, moralitas, pendidikan dan pelatihan, nilai pengabdian, dan komitmen terhadap tugas dan tanggung jawab kepada negara," kata Momon Rusmono.

Pejabat yang dilantik antara lain Zahron Helmy yang bertukar posisi dengan Ranny Mutiara Chaidirsyah. Zahron sebelumnya menjabat Kepala Bagian Perencanaan pada Sekretariat BPPSDMP Kementan, sementara Ranny adalah Kepala Bidang Penyelenggaraan Penyuluhan pada Pusat Penyuluhan Pertanian.

Pejabat senior lain di BPPSDMP Kementan yang juga dilantik adalah Joko Samiyono sebagai Kepala Bidang Kelembagaan dan Ketenagaan Penyuluhan pada Pusat Penyuluhan Pertanian, dan Rodhi MM sebagai Kepala Bagian Keuangan dan Perlengkapan pada Sekretariat BPPSDMP Kementan.
Jakarta (B2B) - The third and fourth echelon officials of the Indonesia's Agricultural Extension and Development of Agricultural Human Resources in agriculture ministry (BPPSDMP) expected to be driver of organization carrying out functions of management and administration functions to respond the internal and external challenges and needs, according to senior ministry official.

"The oath and inauguration of officials to meet the demands, challenges, and internal needs of providing services, and external demands from the community," said Director General of BPPSDMP Kementan, Momon Rusmono in his speech here on Wednesday (September 6).

Mr Rusmono said that the inauguration, mutation and promotion of office in general for organizational effectiveness and performance improvement of civil servants, so that mutation and promotion of office is as long as the organization wants it.

Promotion and mutation of ministry officials is natural thing for stabilization of organization in improving the performance and public services of the BPPSDMP, he added.

"The main parameters of determining civil servant positions are taken into account with capacity, competence, integrity, loyalty, morality, education and training, service values, and commitment to tasks and responsibilities to the state," Mr Rusmono said.

Inaugurated officials include Zahron Helmy who exchanged positions with Ranny Mutiara Chaidirsyah. Mr Helmy had previously served as head of planning at the BPPSDMP secretariat, while Mrs Chaidirsyah was head of the extension organization at the agricultural extension center.

Other senior officials inaugurated were Joko Samiyono as head of institutional and extension training at agricultural extension center, and Rodhi MM as head of finance and equipment at BPPSDMP secretariat.