Momon Rusmono Buka Bimtek Penyuluh Pertanian Solo Dukung Swasembada Kedelai
Agricultural Extension Support Indonesia to Achieve Soybean Self-sufficiency
Editor : M. Achsan Atjo
Translator : Dhelia Gani

PUBLISHED: Sabtu, 14 Oktober 2017 , 22:33:00 WIB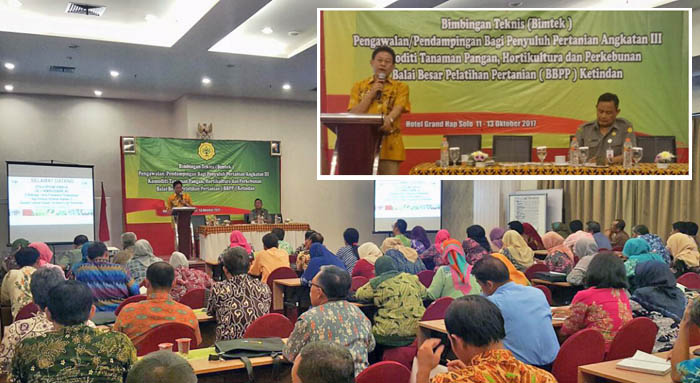 Kepala Badan SDM Kementan, Momon Rusmono (kiri) membuka `Bimtek Pendampingan dan Pengawalan APBN-P 2017` didampingi Kepala BBPP Ketindan, Djajadi Gunawan (Foto: Humas BBPP Ketindan)
Solo, Jateng (B2B) - Kementerian Pertanian RI mengadakan bimbingan teknis (Bimtek) pendampingan dan pengawalan APBN-P 2017 untuk meningkatkan motivasi dan semangat kepada 239 penyuluh pertanian Solo, Kepala Badan Penyuluhan dan Pengembangan SDM Pertanian (BPPSDMP) Kementan, Momon Rusmono mengingatkan tentang empat komponen sistem penyelenggaraan penyuluhan sebagai satu kesatuan dalam mendukung swasembada kedelai 2018.

"Empat komponen sistem penyelenggaraan penyuluhan yang menjadi satu kesatuan meliputi kelembagaan penyuluhan, kelembagaan petani, ketenagaan dan penyelenggaraan," kata Momon Rusmono saat membuka 'Bimtek Solo Mendukung Swasembada Pangan' didampingi Kepala Balai Besar Pelatihan Pertanian (BBPP) Ketindan - Malang, Djajadi Gunawan di Kota Solo, Provinsi Jawa Tengah pada Kamis (12/10).

Momon mengingatkan bahwa APBN-P 2017 yang dikucurkan oleh Kementan berorientasi pada produksi dan penyediaan benih tanaman sebagai skala prioritas. Pemanfaatan APBN-P 2017 harus betul-betul dikawal, dengan melibatkan mahasiswa, yang diharapkan dari program pengawalan oleh mahasiswa akan tumbuh dan berkembang minat generasi muda di bidang pertanian, sehingga tersedia wirausaha muda di sektor pertanian selain mempersiapkan generasi muda sebagai pengganti penyuluh pertanian senior.

Menurutnya, pencanangan target Indonesia menjadi lumbung pangan dunia pada 2045, mendorong Kementan banyak melakukan akselerasi program. Contohnya pada komoditas kedelai yang diharapkan dapat mencapai swasembada pada 2018, atau maju setahun dari target awal pada 2019.

"Saya harapkan peserta Bimtek di Solo ini berkomitmen untuk kerja keras, maka kegiatan pendampingan dan pengawalan ini merupakan bentuk replikasi nasional yang tidak boleh gagal. Tidak hanya pada komoditas kedelai, tetapi juga pada semua komoditas strategis. Pengawalan selanjutnya dilakukan pada 2019 untuk komoditas bawang putih," kata Momon.

Komoditas Kedelai
Usai Bimtek di Solo, Momon Rusmono menjelaskan tentang kedelai menjadi perhatian khusus bagi Kementan karena merupakan satu-satunya komoditas unggulan Indonesia yang belum mencapai swasembada seperti halnya padi dan jagung.

"Untuk memenuhi kebutuhan dalam negeri, kedelai memang masih impor, sehingga dengan pencapaian swasembada saya yakin ke depan tidak akan ada lagi impor kedelai," katanya.

Sebelumnya diberitakan, Kementan telah menyiapkan benih kedelai untuk lahan seluas 500.000 hektar yang akan ditanam di 20 provinsi. Aktivitas pembenihan hingga penanaman kedelai akan dikawal mulai Oktober hingga Desember 2017 yang dibiayai APBN-P 2017.

Selain kedelai, menurut Momon, program pendampingan juga akan menyasar komoditas strategis lainnya seperti bawang putih, bawang merah, serta aneka cabai. Untuk bawang putih dialokasikan pada lahan seluas 3.150 hektare, aneka cabai seluas 2.250 hektare, bawang merah seluas 1.200 hektare.

"Selanjutnya, untuk sektor perkebunan, program itu berfokus pada tanaman karet, kelapa dalam, kopi, serta kakao dengan total luas 78.370 hektare," kata Momon.
Solo of Central Java (B2B) - Indonesian Agriculture Ministry held technical guidance for utilization of the 2017 Revised State Budget (APBN-P 2017) to increase motivation and enthusiasm for 239 agricultural extension workers in Solo city of Central Java province, Director General of Agency for Agricultural Extension and Human Resource Development (BPPSDMP) Momon Rusmono reminded about system of agricultural extension activities as unity in favor of 2018 soybean self-sufficiency.

"Four components of agricultural extension activities as a whole consisting of extension institutions, farmer institutions, employment and extension activities," said Mr Rusmono while opened the technical guidance accompanied by Ketindan Agricultural Training Center (BBPP Ketindan) Djajadi Gunawan here on Thursday (October 12).

Mr Rusmono reminded that APBN-P 2017 in the ministry is oriented to provision of plant seeds as a priority scale. While the involvement of students is expected to invite young people in agriculture so as to prepare the young generation as a substitute for senior agricultural extension.

According to him, the declaration of Indonesia's target to become a world food barn in 2045, pushing the ministry to accelerate the program. For example in the soybean commodity that is expected to be self-sufficient in 2018.

"I hope the technical guidance participants in Solo are committed to hard work, so escort activities are a national replication that must be successful. Not only on soybean commodities, but also on all strategic commodities. Not only on soybean commodities, but also on all strategic commodities. Garlic commodity in 2019," he said.

Soybean Commodities
Mr Rusmono said soybeans are of particular concern to the ministry, as Indonesia's only superior commodity that has not achieved self-sufficiency as well as rice and maize.

"To meet domestic demand, soybeans are still imported, so with the target of soybean self-sufficiency will make Indonesia no longer need to import," he said.

Previously reported, the ministry has prepared soybean seeds for the needs of 500,000 hectares spread over 20 provinces. Hatchery activities until soybean cultivation will be monitored from October to December 2017.

The mentoring program will target other strategic commodities such as garlic, onion, and various chilies. Land allocation for garlic 3,150 hectares, various chili 2.250 hectares and onion 1,200 hectares.

"While the plantation sector, the program focuses on rubber, coconut, coffee, and cocoa with a total area of 78,370 hectares," he said.