Optimalisasi Lahan Marginal, FAO Dukung Upsus Jagung di Nusa Tenggara
FAO Supports Development of Marginal Land for Corn in Indonesia`s East Nusa Tenggara
Reporter : Gusmiati Waris
Editor : Cahyani Harzi
Translator : Dhelia Gani

PUBLISHED: Kamis, 17 Agustus 2017 , 22:44:00 WIB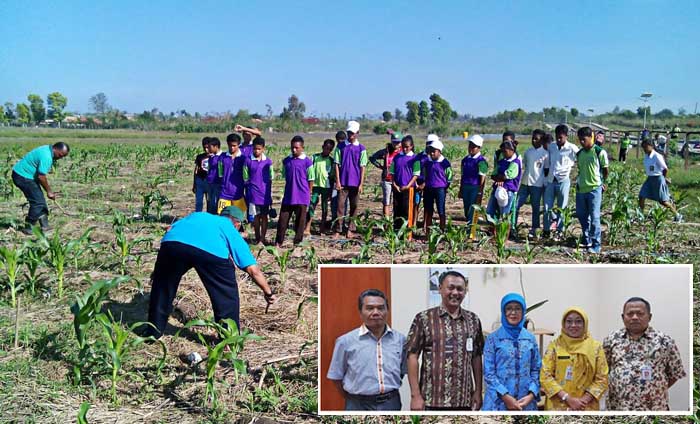 Pengembangan model concervation agriculture FAO untuk jagung di lahan marginal NTT, dan inset foto Staf Ahli Menteri Pertanian Bidang Infrastruktur, Ani Andayani (ke-3 kiri) Foto2: istimewa
Jakarta (B2B) - Badan Pangan Dunia (FAO) mulai 2017 berkomitmen mendukung Kementerian Pertanian RI untuk pengembangan jagung pada lahan marginal di Nusa Tenggara Timur (NTT) dan Nusa Tenggara Barat (NTB), dengan sinergi upaya khusus (Upsus) peningkatan produksi jagung Kementan dengan model conservation agriculture dari FAO.

"Konsultan FAO datang ke Kementan dan menyatakan bahwa program Upsus peningkatan produksi jagung di NTT dan NTB sangat cocok disinergikan dengan model conservation agriculture dari FAO," kata Staf Ahli Menteri Pertanian Bidang Infrastruktur, Ani Andayani setelah bertemu konsultan FAO, Joseph Viandrio di kantornya di Jakarta belum lama ini.

Model consevation agriculture bertujuan meningkatkan kesuburan tanah melalui optimasi kelembaban tanah, efisiensi pemanfaatan air tanah, penggunaan bahan organik untuk kesuburan tanah sehingga sangat tepat diterapkan di NTT dan NTB yang lahan pertaniannya kurang subur dan banyak lahan terlantar (marginal).

Joseph Viandrio mengatakan Upsus di NTT terbukti efektif meningkatkan produksi jagung, terlihat dari penambahan luas lahan, bantuan insentif kepada petani, alat mesin pertanian dan perbaikan irigasi sehingga model conservation agriculture dapat lebih mudah diimplementasikan.

Badan Pusat Statistik (BPS) melansir realisasi luas tanam jagung di NTT musim tanam Oktober - Maret 2015/2016 mencapai 289.112 hektar yang meningkat menjadi 324.501 hektar pada periode yang sama 2016/2017. Realisasi luas tanam Oktober - Maret 2016/2017 melampaui target 268.056 hektar.
Jakarta (B2B) - Food and Agriculture Organization of the United Nations (FAO) declared its commitment to support the Indonesian agriculture ministry to develop corn on marginal land in East Nusa Tenggara and West Nusa Tenggara, to apply FAO's concervation agriculture model, according to senior ministry official.

"The FAO consultant came to my office, and stated special program of corn from the ministry in Nusa Tenggara could synergize with FAO's conservation agriculture model," said an Agriculture Minister's Expert Staff, Andi Andayani after meeting with FAO consultant Joseph Viandrio here recently.

The conservation model of agriculture aims to improve soil fertility through optimization of soil moisture, groundwater efficiency, and organic crops is very appropriate to be applied in Nusa Tenggara, because the agricultural land is less fertile and many marginal land.

Joseph Viandrio said that special effort to increase maize production called the Upsus in East Nusa Tenggara has proven to be effective in increasing corn production, such as expansion of cultivated land, incentives to farmers, agricultural machinery and irrigation improvements, so that the conservation agriculture model is appropriate.

Indonesian Statistics Agency reported realization of corn planting area in East Nusa Tenggara for the planting season of October - March 2015/2016 reached 289,112 hectares, which increased to 324,501 hectares in same period of 2016/2017. Realization of planting area October - March 2016/2017 exceeded the target of 268,056 hectares.