Satgas Pangan Diapresiasi Legislator atas Temuan Beras Oplosan di Bekasi
The Findings of Cartel Practices of Food Appreciated by Indonesian MP
Reporter : Gusmiati Waris
Editor : Cahyani Harzi
Translator : Dhelia Gani

PUBLISHED: Minggu, 23 Juli 2017 , 22:50:00 WIB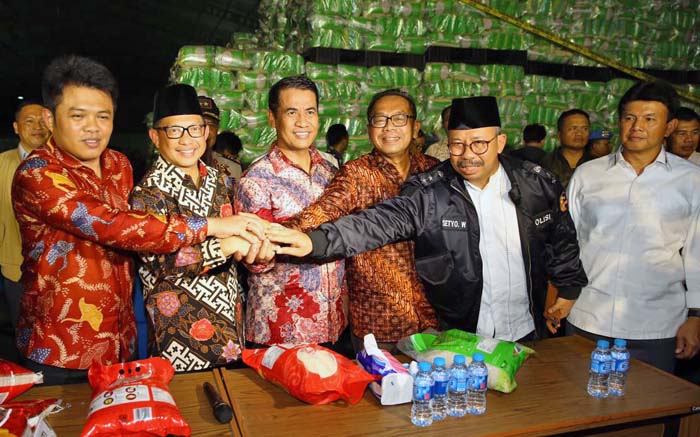 Kiri ke kanan: Ketua KPPU Syarkawi Rauf, Kapolri Jenderal Tito Karnavian, Mentan Andi Amran Sulaiman, Ketua Satgas Pangan Irjen Setyo Wasisto, dan Kabareskrim Polri Irjen Ari Dono Sukmanto (Foto: Humas Kementan)
Jakarta (B2B) - Legislator dari Partai Golkar, Firman Subagyo mengapresiasi keberhasilan Satgas Pangan berhasil mengungkap dugaan pengoplosan beras medium ke dalam kemasan premium, dan Komisi IV DPR berencana memanggil Kementan, Kemendag, Polri, dan Komisi Pengawasan Persaingan Usaha (KPPU) untuk klarifikasi temuan 1.161 ton beras di gudang PT Indo Beras Unggul (IBU) di kawasan Bekasi, Jabar.

"Saya yakin masih ada kejahatan serupa yang lebih besar menyangkut dugaan mafia pangan, diduga ini juga terjadi pada komoditas lain seperti gula dan garam," kata Firman Subagyo melalui pernyataan tertulis dari Kementan.

Menurutnya, Komisi IV juga akan memanggil instansi terkait di Satgas Pangan untuk klarifikasi atas dugaan pengoplosan beras di Bekasi tersebut, juga untuk mengantisipasi beras bersubsidi tidak jatuh ke tangan kartel.

"Karena itu, kami akan gelar rapat di Komisi IV untuk mempertanyakan hal itu, supaya praktik ini tidak terulang," kata Firman.
Jakarta (B2B) - Indonesian member of parliament (MP) of the Golkar Party, Firman Subagyo appreciated success of the Food Task Force called the Satgas Pangan after the alleged cartel of rice, and the House will call agriculture ministr, trade ministry, Indonesian police (Polri), and the Business Competition Supervision Commission (KPPU) to clarify the findings of 1,161 tons of rice in Indo Beras Unggul warehouse in Bekasi of West Java province.

"I believe there are still similar crimes committed by food mafia, allegedly other commodities such as sugar and salt are also vulnerable to abuse by cartel practices," Mr Subagyo said through the written statement.

According to him, the House of Representatives will hold a hearing with relevant parties in the Satgas Pangan to clarify the case in Bekasi.

"Therefore, we will hold a hearing in Commission IV to question it to prevent the practice of food cartels," he said.