109 Peserta Online dan Offline Ikuti Diklat `Blended Learning` di BBPP Ketindan
109 Participants of Blended Learning in Indonesian`s Agriculture Training Center
Editor : M. Achsan Atjo
Translator : Dhelia Gani

PUBLISHED: Rabu, 20 September 2017 , 22:07:00 WIB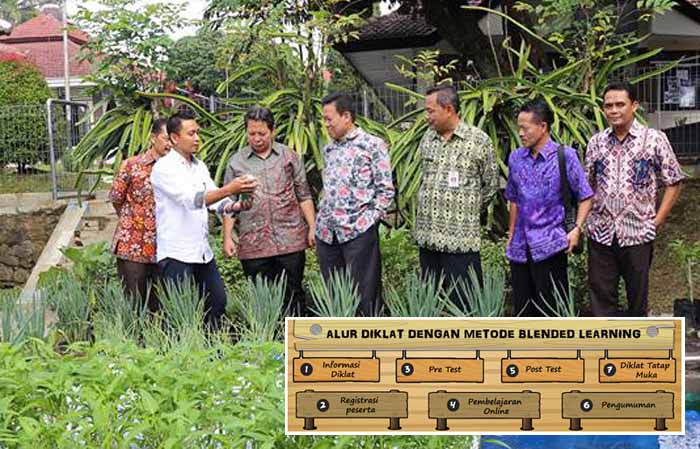 Kunjungan kerja Kepala BPPSDMP Kementan Momon Rusmono di BBPP Ketindan disambut oleh Djajadi Gunawan dan alur Blended Learning (Foto2: Humas BBPP Ketindan)
Malang, Jawa Timur (B2B) - Kegiatan pelatihan Blended Learning perdana oleh Balai Besar Pelatihan Pertanian (BBPP) Ketindan di Kabupaten Malang, Jawa Timur disambut antusias oleh masyarakat. Dari target 60 peserta pelatihan online ternyata 79 peserta online yang aktif. Sementara untuk pelatihan tatap muka atau offline diikuti oleh 30 peserta dari 14 kabupaten di enam provinsi.

Kepala BBPP Ketindan Djajadi Gunawan mengatakan kegiatan pelatihan Blended Learning disambut antusias oleh 109 peserta pelatihan online dan offline dari 14 kabupaten di enam provinsi: DI Yogyakarta, Jawa Tengah, Jawa Timur, Bali, Nusa Tenggara Barat (NTB) dan Nusa Tenggara Timur (NTT).

"Adapun kriteria penilaian atau seleksi meliputi pre test 20 persen, 30 persen post test, 30 persen kenaikan nilai pre dan post test, dan 20 persen informasi tambahan yang digali melalui proses evaluasi," kata Djajadi melalui pernyataan tertulis kepada B2B.

Menurutnya, proses yang sistematis ini menjadi solusi bagi peserta baik penyuluh pertanian dan petugas untuk mendapatkan kesempatan yang sama dalam mengikuti proses pelatihan sesuai dengan kebutuhan dan potensi wilayah masing-masing.

Berbagai tahapan harus diselesaikan oleh peserta hingga dapat menjadi peserta pelatihan tatap muka di BBPP Ketindan, mulai dari mendapatkan informasi dari dinas kabupaten, melakukan log in dan pre test, mengikuti pembelajaran onlilne, menjawab post test dan evaluasi, kemudian menerima hasil seleksi berupa pengumuman melalui surat pemangilan peserta diklat tatap muka.

"Keseriusan peserta telah teruji, dan nampak semangat belajar luar biasa terpancar pada peserta pelatihan tatap muka sehingga menciptakan kondisi ideal untuk mencapai tujuan pembelajaran," kata Djajadi.

Demikian pula dengan kurikulum yang digunakan pada pelatihan tatap muka mengacu pada kebutuhan peserta, khususnya materi-materi yang tingkat penguasaannya relatif rendah oleh peserta sehingga memerlukan pendalaman lebih lanjut. Efisiensi biaya mencapai 40% lebih hemat tanpa mengurangi capaian tujuan pelatihan.
Malang of East Java (B2B) - The first Blended Learning activity by Indonesia´s Ketindan Agricultural Training Center called the BBPP Ketindan in Malang district of East Java province welcomed by agricultural society. From the target of 60 trainees online turns 79 online active participants, while 30 participants attended the training in a classroom or offline, they came from 14 counties in six provinces.

Director of the BBPP Ketindan, Djajadi Gunawan said Blended Learning activities were positively welcomed by 109 online and offline trainees from 14 districts in six provinces: DI Yogyakarta, Central Java, East Java, Bali, West Nusa Tenggara, and East Nusa Tenggara.

"The selection criteria for the trainees are pre-test of 20 percent, 30 percent post-test, 30 percent pre and post-test, and 20 percent additional information from the evaluation process," Mr Gunawan said through written statement to B2B.

According to him, the systematic process becomes a solution for participants, both agricultural extension workers and officers to get the same opportunity to follow the training process in accordance with the needs and potential of each region.

Several phases must be completed before becoming a classroom training participant in BBPP Ketindan, start with the collection of information from local government, log in and pre-test, onlilne training, post test and evaluation, then announcements via offline trainee call letters.

"Participants are serious, eager to attend training in the classroom to achieve ideal conditions according to training targets," Mr Gunawan said.

Similarly, the curriculum used in classroom training refers to the needs of participants, especially training materials that are less controlled by the participants so require special attention. The training fee is 40% more efficient without reducing training targets.