Presiden Jokowi akan Panen Padi pada Puncak Peringatan HPS Pontianak 2017
Indonesian President will Attend the 2017 World Food Day in Pontianak
Reporter : Gusmiati Waris
Editor : Cahyani Harzi
Translator : Dhelia Gani

PUBLISHED: Senin, 16 Oktober 2017 , 02:03:00 WIB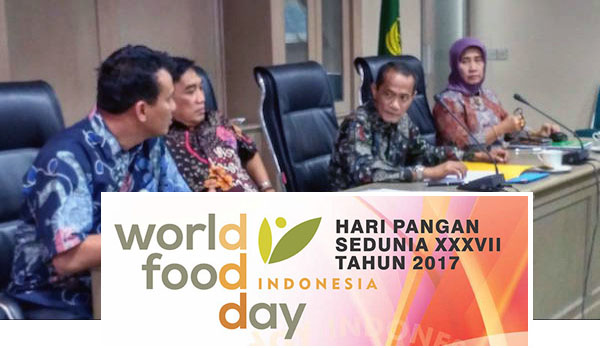 Kepala Badan Ketahanan Pangan Kementan (BKP) Agung Hendriadi (ke-2 kanan) pada jumpa pers di Jakarta (Foto2: istimewa)
Jakarta (B2B) - Presiden RI Joko Widodo dijadwalkan melakukan panen padi di lahan seluas 100 hektar pertanaman padi di Kabupaten Sanggau, Kalimantan Barat, Sabtu (21/10) pada puncak kegiatan Hari Pangan Sedunia 2017 (HPS) dilanjutkan peluncuran perdana ekspor beras 25 ton ke Malaysia yang dilanjutkan ke tahun berikutnya sesuai kesepakatan.

Kepala Badan Ketahanan Pangan Kementerian Pertanian (BKP) Agung Hendriadi mengatakan kegiatan panen oleh Presiden Jokowi dipusatkan di Desa Tunggal Bakti, Kecamatan Kembayan, Sanggau. Sementara kegiatan HPS 2017 berlangsung selama empat hari pada 19 - 22 Oktober 2017 di Markas Kodam XII/Tanjungpura, Kalbar.

Pembukaan HPS 2017 dan pameran dilaksanakan pada Kamis (19/10) di Aula Makodam XII/Tanjungpura, dilanjutkan kegiatan pameran indoor dan outdoor dipusatkan di Kabupaten Kubu Raya, untuk memberikan informasi kemajuan pembangunan bidang pangan baik di pusat dan daerah, oleh pemerintah dan swasta.

"Selain itu juga untuk memperlihatkan kepada masyarakat tentang kemajuan berbagai teknologi alat dan mesin pertanian, display pertanaman jagung, padi dan hidroponik," kata Agung Hendriadi kepada pers di Jakarta pada Jumat (13/10).

BKP Kementan melibatkan Tim Penggerak PKK pada Rabu (18/10) untuk sosialisasi konsumsi pangan beragam, bergizi, seimbang dan aman. Dilaksanakan pula Seminar World Food Day 2017, tur diplomatik yang diikuti sejumlah duta besar, diplomat asing, dan pimpinan perwakilan organisasi internasional di Indonesia yang bertujuan mempererat hubungan diplomatik, memperkenalkan budaya Indonesia ke mancanegara, dan mengundan investor asing untuk berinvestasi di sektor pertanian.
Jakarta (B2B) - Indonesian President Joko Widodo is scheduled to harvest rice on 100 hectares of rice cultivation in Sanggau district, West Kalimantan province on Saturday (October 21) at the peak of 2017 World Food Day (WFP) followed by 25 tons of prime rice exports to Malaysia.

Director General of agriculture ministry's Food Security Agency (BKP) Agung Hendriadi said rice harvest by President Widodo will take place in Tunggal Bakti village of Kembayan subdistrict, Sanggau district. While the 2017 WFP will be held for four days on 19 to 22 October 2017 at the Headquarters of West Borneo's Tanjungpura Military Command.

The opening of 2017 WFP and the exhibition will be held on Thursday (October 19) in Pontianak followed by indoor and outdoor exhibition in Kubu Raya district to provide information about food development progress both in central and regional by government and private.

"Another objective is to show the public about the advancement of agricultural machinery technology, display of corn, rice and hydroponics planting," Mr Hendriadi told the press here.

The ministry's BKP involves Indonesian women's organizations, Penggerak PKK on Wednesday (October 18) for socialization of food consumption is diverse, nutritious, balanced and safe. The 2017 WFP seminar, a diplomatic tour which was attended by a number of ambassadors, foreign diplomats and leaders of international organizations in Indonesia to strengthen diplomatic relations, introduce Indonesian culture abroad, and invite foreign investors to invest in the agricultural sector.