Sinergi Kementan dan TNI AD Gelar TMMD ke-100 di 52 Kabupaten dan Kota
Indonesian Ministry and the Army Held Joint Program for Rural Development
Reporter : Gusmiati Waris
Editor : Cahyani Harzi
Translator : Dhelia Gani

PUBLISHED: Rabu, 06 September 2017 , 02:31:00 WIB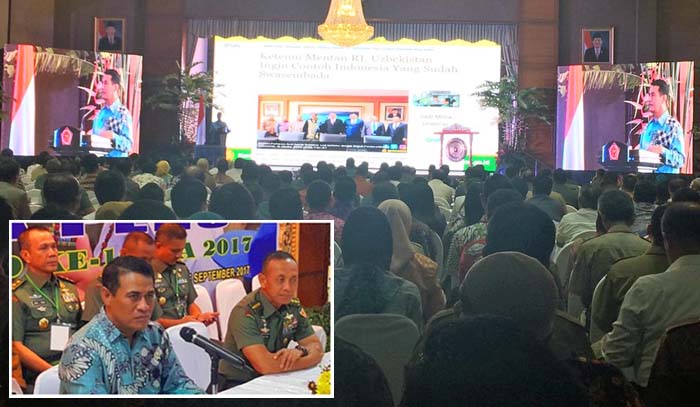 Mentan Andi Amran Sulaiman (kiri) dan Kasad Jenderal Mulyono menjawab pers dan pembukaan rapat koordinasi teknis TNI Manunggal Membangun Desa (TMMD) ke-100 di Kementan (Foto2: Humas Kementan)
Jakarta (B2B) - Kementerian Pertanian RI dan TNI AD akan melaksanakan TNI Manunggal Membangun Desa (TMMD) ke-100 selama 30 hari pada 26 September hingga 25 Oktober 2017, dengan melibatkan 7.800 orang dari TNI dan Polri, kementerian, lembaga pemerintah nonkementerian, petani, dan masyarakat yang tersebar dalam 52 satuan tugas (Satgas) di 52 kabupaten/kota, 66 kecamatan dan 94 desa.

"Mempertahankan ketahanan pangan, sama dengan berjuang untuk ketahanan negara. Ini adalah tugas bersama untuk meningkatkan kesejahteraan masyarakat, dan kalau sudah menyangkut ketahanan pangan maka itu adalah tugas kita semua," kata Menteri Pertanian RI Andi Amran Sulaiman di Jakarta pada rapat koordinasi teknis TMMD ke-100 yang dihadiri Kasad Jenderal TNI Mulyono.

Mentan menambahkan, pihaknya akan memberi dukungan berupa bibit pertanian, alat mesin pertanian (Alsintan), saluran irigasi di setiap wilayah sasaran TMMD yang disesuaikan dengan tipologi wilayah masing-masing.

Jenderal Mulyono menambahkan, program TMMD merupakan implementasi dari budaya gotong-royong yang menjadi ciri khas bangsa Indonesia, dengan mengedepankan pola 'bottom up planning system' dengan sasaran fisik dan nonfisik sesuai skala prioritas yang dipadukan dengan program pemerintah daerah.

"Tahun ini ada perubahan dari pelaksanaan TMMD yang semula dua kali menjadi tiga kali dalam setahun, dan TMMD ke-100 merupakan pelaksanaan TMMD tahap ketiga pada tahun anggaran 2017," kata Kasad.
Jakarta (B2B) - Indonesian Agriculture Ministry Agriculture and the Army will implement 30-day rural and agricultural development programs on September 26 until October 25, 2017, and deployed 7,800 people consisting of army soldiers and police personnel, civil servants in ministries and non-ministries, farmers and communities in 52 task forces in 52 districts, 66 sub-districts and 94 villages, according to the minister.

"Working hard to achieve food security is like striving for national security. It's a common task to improve people's welfare, and food security is our duty," Agriculture Minister Andi Amran Sulaiman told the press here on Tuesday (September 2) who was accompanied Army Chief of Staff Gen. Mulyono.

Minister Sulaiman added that his ministry will provide support for agricultural seeds, agricultural machinery, irrigation channels in the targeted areas of the program in accordance with the typology of each region.

General Mulyono added the program is implementation of mutual help culture as a characteristic of Indonesian people, by prioritizing the 'bottom up planning system' with physical and nonphysical objectives according to priority scale combined with local government program.

"This year there is a change of program implementation, twice to three times a year, and the 100th program is the third phase of implementation in fiscal year 2017," he said.