Presiden Jokowi Akan Hadiri Puncak Acara Jambore Peternakan 2017
Indonesia`s Widodo will Attended the 2017 National Livestock Jamboree
Reporter : Gusmiati Waris
Editor : Cahyani Harzi
Translator : Dhelia Gani

PUBLISHED: Rabu, 20 September 2017 , 23:28:00 WIB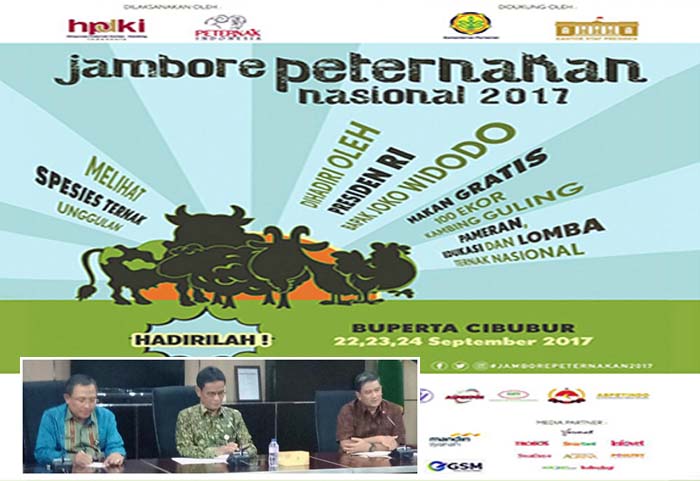 Dirjen Peternakan dan Kesehatan Hewan I Ketut Diarmita menjawab pertanyaan pers (inset) Foto: B2B/Gusmiati Waris
Jakarta (B2B) - Presiden RI Joko Widodo dijadwalkan menghadiri puncak acara Jambore Peternakan Nasional 2017 di Bumi Perkemahan Cibubur, Jakarta Timur, Minggu (24/9) yang dibuka oleh Menteri Pertanian RI Andi Amran Sulaiman pada Jumat (22/9) dan akan diikuti oleh 1.200 peserta dari seluruh Indonesia. Kegiatan jambore diinisiasi oleh para peternak dari Himpunan Peternak Domba dan Kambing Indonesia (HPDKI).

Dirjen Peternakan I Ketut Diarmita mengatakan Presiden Jokowi dijadwalkan menyerahkan Piala Presiden kepada pemenang kontes domba Garut, kambing Kaligesing, dan seni ketangkasan domba Garut. Jokowi juga akan menyerahkan penghargaan Anugerah Bakti Peternakan 2017 dalam bentuk trofi dan piagam kepada para pemenang.

"Mentan Amran Sulaiman akan menyerahkan penghargaan kepada 10 kelompok peternak, tiga unit pengolahan hasil peternakan, dan 15 inseminator yang berprestasi," kata Ketut Diarmita kepada pers di kantornya pada Rabu (20/9).

Menurutnya, Mentan juga akan memberikan apresiasi kepada daerah yang bebas penyakit hewan tertentu seperti septicaemia epizootica/haemorrhagic septicaemia untuk sapi kepada Pulau Nusa Penida, Pulau Nusa Ceningan dan Pulau Nusa Lembongan Kabupaten Klungkung Provinsi Bali; penyakit rabies untuk Provinsi Nusa Tenggara Barat. Sementara Kabupaten Rembang, Jawa Tengah dan Kabupaten Buleleng, Bali mendapat apresiasi sebagai wilayah sumber bibit sapi peranakan ongole dan sumber bibit sapi Bali.

"Kegiatan ini akan digunakan sebagai salah satu wadah untuk melakukan konsolidasi antar pelaku usaha peternakan dalam mendukung program pembangunan peternakan dan kesehatan hewan," katanya lagi.

Kedaulatan Bangsa
Kedaulatan bangsa salah satunya diukur dari kemampuan menyediakan pangan bagi rakyat termasuk pangan asal ternak, hal ini akan terwujud apabila Indonesia memiliki posisi tawar yang kuat di kancah perdagangan internasional, mengingat peternakan dan kesehatan hewan bukan hanya berperan sebagai penyedia pangan tapi juga menyerap tenaga kerja dan penghasil devisa.

"Untuk itu perlu penerapan kemitraan agribisnis yang berkeadilan bagi seluruh pelaku usaha peternakan, dan peningkatan investasi usaha peternakan sehingga dapat menciptakan fondasi yang kuat mewujudkan bioindustri di masa mendatang," kata I Ketut Diarmita.

"181 tahun merupakan usia sangat matang sejak lahirnya peternakan dan kesehatan hewan pada 26 Agustus 1836, maka kegiatan jambore menjadi momentum kebangkitan sekaligus penyadaran kepada masyarakat peternakan Indonesia untuk lebih serius mendukung peningkatan produksi, dan skala usaha komoditas domba dan kambing," kata Dirjen Peternakan.

Sementara tujuan Jambore Peternakan Nasional 2017 adalah meningkatkan minat masyarakat terhadap usaha di bidang peternakan dan kesehatan hewan; meningkatkan semangat, kreatifitas dan partisipasi peternak serta pelaku usaha peternakan dalam pembangunan peternakan dan kesehatan hewan; meningkatkan sumber daya genetik lokal dan melestarikan seni budaya yang menunjang pembangunan peternakan; memberikan apresiasi/penghargaan kepada peternak/kelompok peternak, petugas teknis dan instansi terkait yang berprestasi.
Jakarta (B2B) - Indonesian President Joko Widodo is scheduled to attend the summit of the 2017 National Livestock Jamboree at Cibubur Camp Ground of East Jakarta on Sunday (September 24) after opening by Agriculture Minister Andi Amran Sulaiman on Friday (September 22). Jamboree activities initiated by the Indonesian Sheep and Goat Breeders Association will be attended by 1,200 participants from across the country.

Director General of Livestock and Animal Health I Ketut Diarmita said President Widodo was scheduled to hand over the President Cup to the winners of the Garut sheep contest, Kaligesing goat, and Garut sheep dexterity. Widodo will also submit a special award in the field of breeding, Anugerah Bakti 2017 to the best breeders.

"Minister Sulaiman will award the 10 best breeders' groups, three livestock processing machines, and 15 outstanding inseminators," Mr Diarmita told the press at his office on Wednesday (September 20).

According to him, Minister Sulaiman will also give appreciation to areas free of animal diseases such as septicemia epizootica/haemorrhagic septicaemia for cows to Nusa Penida Island, Nusa Ceningan Island and Nusa Lembongan Island of Klungkung district of Bali province; rabies disease for West Nusa Tenggara province. While the Rembang district of Central Java province and Buleleng district, Bali provice have got appreciation as the source of ongole and Bali cattle.

"Jamboree activities will be used as one of the means to consolidate among farmers in supporting livestock development programs," he said.

Sovereignty of the Nation
One nation's sovereignty is measured by the ability to provide food for the people, including food of livestock origin, this will be realized if Indonesia has a strong bargaining position in global trade, because animal husbandry and animal health not only serve as food provider but also labor-intensive and foreign exchange.

"Therefore, it is necessary to implement a fair partnership of agribusiness for all livestock business actors, and increase livestock business investment so that it can create a strong foundation to realize bioindustri in the future," Mr Diarmita said.

"181 years of age is of prime importance since livestock and animal health was proclaimed on August 26, 1836, the jamboree activity became a momentum of awakening and awareness to the Indonesian livestock community to support increased production, and the scale of sheep and goat business," he said.

While the objective of 2017 National Livestock Jamboree to increase public interest in business in animal husbandry and animal health; increase the spirit, creativity and participation of farmers and livestock farmers supporting the development of animal husbandry and health; increase local genetic resources and preserve the cultural arts that support the development of livestock; giving appreciation to farmers / groups of farmers, technical officers and related institutions.