BBPP Ketindan Gelar Diklat Budidaya Cabe dengan Metode `Blended Learning`
Chili Cultivation Training in Indonesia Applies Blended Learning Method
Editor : M. Achsan Atjo
Translator : Dhelia Gani

PUBLISHED: Kamis, 21 September 2017 , 23:38:00 WIB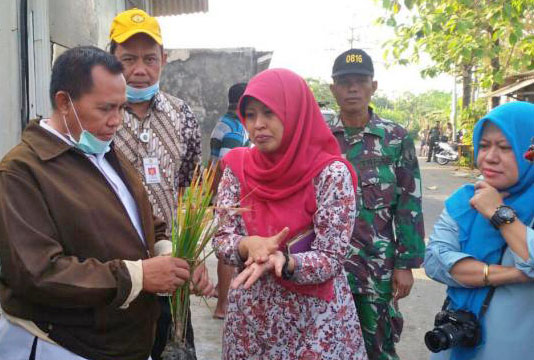 Kepala BBPP Ketindan, Djajadi Gunawan (belakang ke-2 kiri) dalam salah satu sesi kunjungan lapang di Kabupaten Malang, Jatim (Foto: istimewa)
Malang, Jawa Timur (B2B) - Balai Besar Pelatihan Pertanian (BBPP) Ketindan di Kabupaten Malang, Jawa Timur menerapkan metode Blended Learning pada pelatihan teknologi budidaya cabe di luar musim (off season) dan penanganan pasca panen, yang bertujuan memaksimalkan peran penyuluh pertanian dan petugas terkait untuk mendukung peningkatan produksi cabai di enam provinsi binaan BBPP Ketindan.

Kepala BBPP Ketindan Djajadi Gunawan mengatakan sekitar 109 peserta Blended Learning mengikuti pelatihan online dan offline yang menekankan pada teknik budidaya off season, pengendalian hama penyakit tanaman, dan penanganan pasca panen sebagai langkah efektif dalam meningkatkan kompetensi penyuluh pertanian yang berinteraksi dengan petani.

"Pelatihan ditujukan bagi penyuluh pertanian di wilayah binaan BBPP Ketindan yang menjadi sentra produksi cabai. Pembatasan tersebut bertujuan untuk membatasi membludaknya peserta aktif, dan memaksimalkan target sasaran pelatihan sesuai wilayah pengembangan komoditas cabai," kata Djajadi Gunawan.

Meskipun pelatihan bertema 'Pelatihan Budidaya Cabai dengan Metode Blended Learning' merupakan diklat perdana, ternyata animo masyarakat cukup tinggi. Target 60 peserta online ternyata yang aktif terlibat pelatihan mencapai 79 orang, sedangkan pelatihan tatap muka atau offline mencapai 30 orang yang datang dari 14 kabupaten di enam provinsi.

Selama pelatihan offline, peserta diajak lebih fokus pada praktik lapangan disertai dengan kunjungan lapang kepada petani cabai yang tergolong sukses di Desa Karangploso, Kabupaten Malang, Jawa Timur sehingga peserta mendapatkan informasi yang dibutuhkan dari nara sumber.

"Penerapan Blended Learning diharapkan kegiatan pelatihan dapat mencakup peserta yang lebih banyak dan lebih luas, sehingga berlangsung efisien dan efektif mengikuti perkembangan jaman dan menjawab kebutuhan masyarakat," kata Djajadi Gunawan.
Malang of East Java (B2B) - Indonesia´s Ketindan Agricultural Training Center called the BBPP Ketindan in Malang district of East Java province implement Blended Learning in chilli cultivation technology training off season,
and post-harvest handling to increase the role of agricultural extension workers support increased production of chilli in six provinces.

Director of the BBPP Ketindan, Djajadi Gunawan said around 109 Blended Learning participants attended online and offline training that emphasized on off season cultivation technique, plant pest control, and post-harvest handling as an effective step to increase the competence of agricultural extension workers.

"The training is aimed at agricultural extension workers in work area of BBPP Ketindan which is center of pepper production, which aims to maximize target of training according to the development area of chili commodities," Mr Gunawan said.

Although the training entitled 'Training of Chili Cultivation with Blended Learning Method' is the first training, it is in demand by the community. The target of 60 online participants reached 79 people, while offline training reached 30 people coming from 14 districts in six provinces.

During the offline training, participants were invited to focus more on field practices such as field visits to the chili farmers who were successful in Karangploso village of Malang district in East Java province so that participants get information directly from resource persons.

"The implementation of Blended Learning is expected to include more and more participants to be efficient and effective in following the development of technology, and to answer needs of community," Mr Gunawan said.