15 Teladan dan Berprestasi Sektor Pertanian Raih Penghargaan dari Mentan
Indonesia`s Best Farmer in 2017 Received Award from the Government
Editor : M. Achsan Atjo
Translator : Dhelia Gani

PUBLISHED: Selasa, 15 Agustus 2017 , 23:57:00 WIB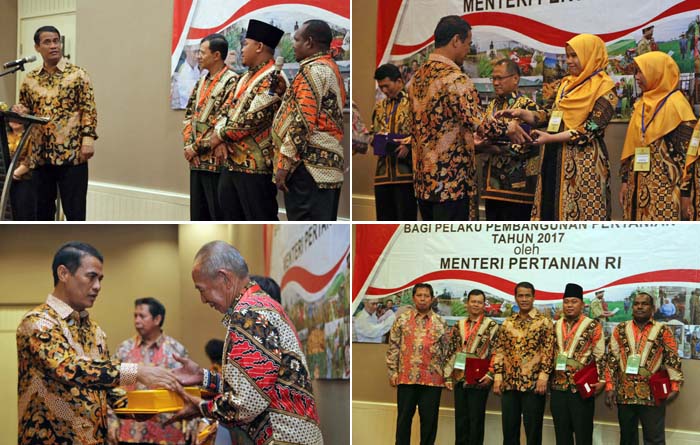 Mentan Andi Amran Sulaiman menyerahkan penghargaan kepada sosok teladan lembaga ekonomi pertanian berprestasi didampingi Kapuslutan BPPSDM Kementan, Fathan A Rasyid (Foto2: Humas Kementan/Fajar)
Jakarta (B2B) - Pemerintah RI memberikan penghargaan kepada tiga petani teladan, tiga kelembagaan ekonomi petani, tiga penyuluh pertanian, tiga balai penyuluhan pertanian (BPP) kecamatan, dan dua dosen Sekolah Tinggi Penyuluhan Pertanian (STPP) pemenang lomba karya ilmiah yang diserahkan oleh Menteri Pertanian Andi Amran Sulaiman di Jakarta hari ini.

"Pertanian Indonesia kini sudah maju. Indonesia kini tidak impor beras dan jagung karena telah mengalami lompatan besar sehingga kita tidak impor. Kita ini negara yang sustainable agriculture nomor 16, bahkan Amerika Serikat saja nomor 19," kata Mentan Amran Sulaiman dalam sambutannya usai menyerahkan penghargaan dan hadiah uang masing-masing Rp20 juta kepada 15 teladan dan berprestasi.

Ke-15 sosok dan lembaga teladan dan berprestasi diundang ke Jakarta dalam rangkaian peringatan HUT Kemerdekaan RI ke-72, yang merupakan hasil seleksi ketat yang dilakukan oleh Badan Penyuluhan dan Pengembangan SDM Pertanian (BPPSDMP) Kementan.

Ketiga petani teladan adalah Asep Halim Jamaludin dari Kabupaten Ciamis, Provinsi Jawa Barat; Mursidin dari Kabupaten Lombok Barat, Nusa Tenggara Barat (NTB); dan Karel P dari Kota Jayapura, Provinsi Papua.

Kelembagaan ekonomi petani berprestasi adalah Koperasi Tani Margo Dadi di Kabupaten Gunung Kidul, Provinsi DI Yogyakarta' Koperasi Tani Syariah Harapan Bersama di Kabupaten Lombok Barat, Provinsi NTB; dan Koperasi Tani Teobromo di Kabupaten Sigi, Provinsi Sulawesi Tengah.

Para penyuluh pertanian teladan adalah Nurul Aida dari Kabupaten Aceh Besar, Provinsi Aceh; Rudi Efendi Hasibuan, THLTBPP dari Kabupaten Serdang Bedagai, Provinsi Sumatera Utara, dan Herlina dari Kabupaten Lampung Timur, Provinsi Lampung.

Sementara penghargaan untuk BPP kecamatan berprestasi diberikan kepada BPP Medan Krio di Provinsi Sumatera Utara; BPP Sungai Kunyit di Kabupaten Mempawah, Provinsi Kalimantan Barat; BPP Marioriwawo di Kabupaten Soppeng, Provinsi Sulawesi Selatan.
Jakarta (B2B) - 15 best agricultural sector figures and institutions are awarded by Indonesian government for their contribution to the increase of national food production, and the award was handed over by Agriculture Minister Andi Amran Sulaiman to them and representatives here today.

"Indonesian agriculture is getting better, no more rice and maize imports because production increases. "Indonesia is currently ranked 16th in the sustainable category, above the United States ranked 19th," said Minister Sulaiman in his speech after handed over the rewards and prize money each 20 million rupiah.

The award is given in a series of activities to mark Independence Day on Thursday, which are selected by Director General of Agency for Agricultural Extension and Human Resources Development (BPPSDMP).

The best farmers are Asep Halim Jamaludin from Ciamis district of West Java province; Mursidin from West Lombok district of West Nusa Tenggara province; and Karel P from Jayapura city of Papua province.

The best agricultural economic institution is Margo Dadi Farmer Cooperative in Gunung Kidul district of Yogyakarta province, Harapan Bersama Sharia Cooperative in Lombok Barat district of West Nusa Tenggara province, and Teobromo Farmer Cooperative in Sigi district of Central Sulawesi province.

The best agricultural extensionists are Nurul Aida from Aceh Besar District of Aceh province; Rudi Efendi Hasibuan from Serdang Bedagai district of North Sumatra province, and Herlina from Lampung Timur district of Lampung province.

While the award for best agricultural extension agency subdistrict level are Medan Krio in North Sumatra province; Sungai Kunyit in Mempawah district of West Borneo province; and Marioriwawo in Soppeng district of South Sulawesi province.