Mentan Sesalkan Potensi Kelapa dan Pala di Konawe Kepulauan Terbengkalai
Indonesian Minister Regrets Potential of Plantations in Southeast Sulawesi Abandoned
Editor : M. Achsan Atjo
Translator : Dhelia Gani

PUBLISHED: Rabu, 02 Agustus 2017 , 23:57:00 WIB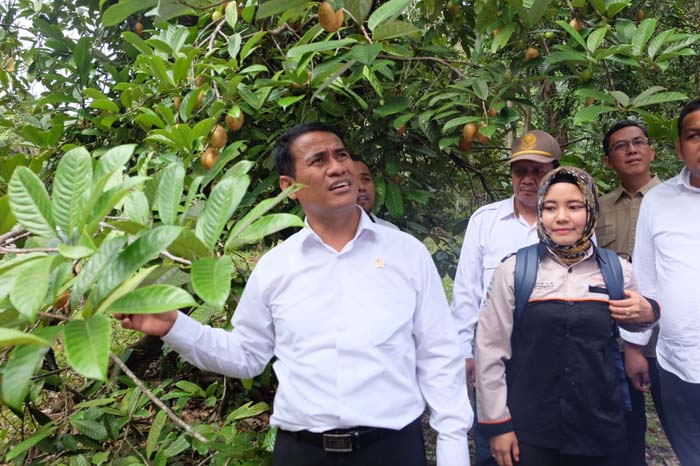 Mentan Andi Amran Sulaiman mengamati buah pala di Kabupaten Konawe Kepulauan (Foto: Humas Kementan/Makmur H)
Jakarta (B2B) - Menteri Pertanian RI Andi Amran Sulaiman menyesalkan terbengkalainya perkebunan kelapa dan pala di Kabupaten Konawe Kepulauan, yang dibiarkan tumbuh liar padahal berpotensi mendulang devisa jutaan dolar AS dari hasil ekspor, dan Mentan berjanji akan membangkitkan potensi hasil perkebunan dari pulau terluar Sulawesi di Provinsi Sulawesi Tenggara tersebut.

Mentan Amran Sulaiman seraya menggeleng-gelengkan kepalanya mengatakan kepada jurnalis bahwa Konawe Kepulauan berpeluang menjadikan Indonesia sebagai pengekspor kelapa dan pala terbesar di dunia, hasil ekspor akan menunjang pemasukan negara dari devisa dan meningkatkan kesejahteraan petani dan masyarakat setempat.

"Jangan biarkan lahan tidur. Harus ditanami dengan komoditas perkebunan unggulan bernilai ekspor sehingga masyarakat sejahtera. Komoditas kelapa dan pala di Konawe Kepulauan harus diangkat kembali sebagai komoditas ekspor," kata Mentan Amran Sulaiman di Konawe Kepulauan, Rabu (2/8), didampingi Bupati Amrullah dan Kapolda Sultra Brigjen Pol Andap Budhi Revianto.

Dia menawarkan solusi bagi Konawe Kepulauan melalui Kementerian Pertanian RI akan menyediakan bantuan gratis seperti benih, pupuk dan alat mesin pertanian (Alsintan), dan dia mengharapkan pemerintah daerah masyarakat mulai serius mengembangkan tanaman kelapa dan pala sebagai tanaman unggulan kabupaten.

Dalam kunjungan kerja tersebut, Mentan memberikan bantuan benih jagung untuk lahan 1.000 hektar, benih kelapa untuk 3.000 hektar, dan Alsintan berupa dua unit mesin traktor roda dua, 10 unit pompa air dan satu unit eskavator.
Jakarta (B2B) - Indonesian Agriculture Minister Andi Amran Sulaiman regretted the abandonment of coconut and nutmeg plantations in Konawe Islands district, which is allowed to grow wild while potentially gain millions of dollars of foreign exchange from exports, and he promised support development of plantation potential from Sulawesi's outlying island in Southeast Sulawesi province.

Minister Sulaiman shook his head as he talked with journalists about Konawe Islands has the opportunity to make Indonesia as the world's largest exporter of coconut and nutmeg, export revenue will bolster state revenue from foreign exchange and improve the welfare of farmers and local communities.

"Do not leave farmland abandoned. Plant with exports of prime plantation commodities so that the people are prosperous, the coconut and nutmeg commodities here must return to export commodities," he said in in Konawe Islands on Wednesday (August 2) accompanied by province's officials.

He offers solutions for Konawe Islands through the agriculture ministry will provide free assistance such as seeds, fertilizers and agricultural machinery, and he expects the local government to start seriously developing coconut and nutmeg plants as the district's superior plants.

During the working visit, Minister Sulaiman provided corn seeds for 1,000 hectares, coconut seeds for 3,000 hectares, two tractor engines, 10 water pumps and one excavator.