Pertanian 4.0, UPT Kementan di Seluruh RI Diwajibkan Optimalisasi Lahan Tidur
Indonesian Agriculture Ministry Requires to Develop Agriculture in Abandoned Land
Reporter : Gusmiati Waris
Editor : Cahyani Harzi
Translator : Dhelia Gani

PUBLISHED: Selasa, 28 Mei 2019 , 02:37:00 WIB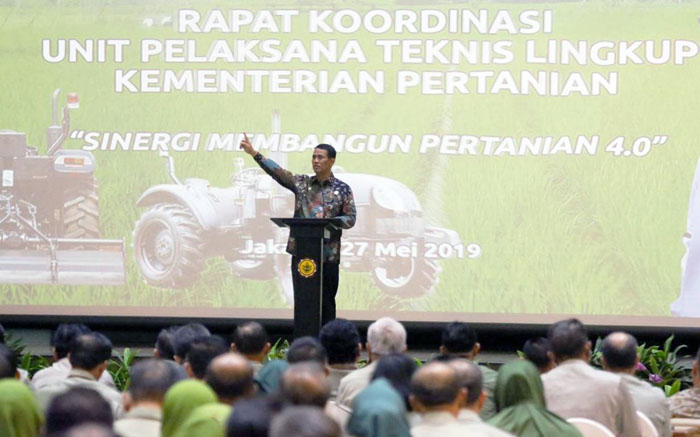 RAKOR UPT: Mentan Andi Amran Sulaiman memberikan arahannya kepada lebih dari 85 UPT Kementan di seluruh Indonesia [Foto: Biro Humas Kementan/Rizki]
Jakarta [B2B] - Lebih dari 85 unit pelaksana teknis [UPT] Kementerian Pertanian RI di seluruh Indonesia diinstruksikan oleh Menteri Pertanian RI Andi Amran Sulaiman, untuk mengoptimalkan lahan tidur yang berada lingkup setiap UPT mengembangkan satu paket bercocok tanam berstandar pertanian 4.0 sehingga dapat menjadi contoh bagi pembangunan pertanian di wilayah kerja masing-masing UPT, sementara pejabat eselon satu dan dua diwajibkan melaporkan hasil dan evaluasinya kepada Mentan secara berkala.
"Ini bukan sekadar instruksi, tapi harus dilaksanakan dan akan dievaluasi oleh pejabat eselon satu dan dua untuk dilaporkan kepada kami. Para kepala UPT yang hadir hari ini, pulang nanti harus berbuat. Tidak boleh ada lahan di sekitar UPT yang mengganggur, jadikan sebagai model atau contoh pertanian 4.0 yang sukses," kata Mentan Amran Sulaiman dalam arahannya pada rapat koordinasi pelaksana teknis UPT [Rakor UPT] di Jakarta, Senin [27/5].
Mentan mengingatkan para kepala UPT harus mampu membangunkan atau mengoptimalkan lahan pertanian dan kebun percobaan, sehingga menjadi contoh dalam membangun pertanian 4.0. Dengan demikian, sektor pertanian Indonesia akan semakin maju dan menjadi lumbung pangan dunia semakin optimis diwujudkan.
"Bapak dan ibu, kenapa tiba-tiba kami panggil, karena kami sudah keliling ke seluruh Indonesia. Kami ingin Anda menjadi agen pembaharu di tempat Anda mengabdi sehingga dapat menjadi teladan," kata Amran Sulaiman pada Rakor UPT bertema ´Sinergi Membangun Pertanian 4.0.´
Dia memberi contoh sukses pengembangan pertanian di Provinsi Kalimantan Selatan, menanam jagung dengan model tanam yang berbeda, produksinya mencapai 20 hingga 24 ton padahal sebelumnya merupakan lahan tidur.
Contoh lain adalah Balai Besar Penelitian Veteriner -Balitbangtan di Bogor sukses mengembangkan sapi unggulan Belgian Blue setidaknya lima ekor. UPT di lingkup BPPSDMP kemudian mengadopsi keberhasilan tersebut seperti Politeknik Pembangunan Pertanian Yogyakarta - Magelang [Polbangtan YoMa] bertepatan dengan Hari Pahlawan 10 November 2018 lahir sapi unggulan Belgian Blue melalui sectio caesar [SC] di kampus jurusan peternakan Magelang.
"Keberhasilan akan mendorong masyarakat berbondong-bondong datang untuk mengadopsi sapi unggul Belgian Blue. Begitu pula pengembangan ternak ayam kampung harus menjadi contoh dan memberikan nilai tambah bagi masyarakat sekitarnya," kata Mentan.
Amran Sulaiman menambahkan bahwa Pertanian 4.0 mengusung konsep bertani dengan cerdas, mengaplikasikan teknologi berbasis digital maka yang bekerja adalah robot. "Misalnya tanam jagung dilakukan oleh robot, ini harus mampu kita wujudkan di daerah masing-masing UPT."
Tampak hadir Kepala BPPSDMP Kementan, Momon Rusmono; Kepala Balitbangtan Fadjri Djufry; dan Dirjen Perkebunan Kasdi Subagyono; dan Kepala Biro Organisasi dan Kepegawaian Kementan, Abdul Halim.
Jakarta [B2B] - More than 85 technical implementation units [UPT] of Indonesian Agriculture Ministry across the country were instructed by Agriculture Minister Andi Amran Sulaiman, to optimize abandoned land around the UPT by developing agricultural industrialization standards 4.0 so that it can be an example for agricultural development in the work area of each UPT, while the first and second echelon officials are required to report the results and evaluation to minister routinely.
"This is not just an instruction, but it must be implemented and will be evaluated by senior ministry officials and then reported to me. There should be no abandoned land around the UPT, make it a model or example of a successful 4.0 farm," said Minister Sulaiman here on Monday [27/5] at the UPT technical executive coordination meeting.