Mentan Motivasi Mahasiswa Palangkaraya Terjun ke Sektor Pertanian
Indonesian Minister Motivation Young People to Develop the Agricultural Sector
Reporter : Gusmiati Waris
Editor : Cahyani Harzi
Translator : Dhelia Gani

PUBLISHED: Rabu, 15 November 2017 , 02:38:00 WIB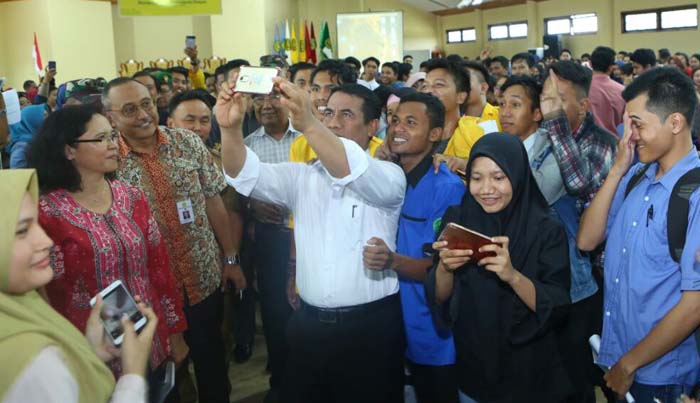 Foto: Humas Kementan
Jakarta (B2B) - Mentan Amran Sulaiman mengajak para pemuda dan mahasiswa untuk menggeluti sektor pertanian, yang terbukti menjadi sektor ekonomi kedua yang paling berpengaruh pada triwulan kedua 2017 terhadap pertumbuhan ekonomi setelah industri pengolahan, kontribusi sektor pertanian mencapai 13,92% sementara pada triwulan pertama berkontribusi 13,59%.

"Indonesia membutuhkan regenerasi SDM berkelanjutan di sektor pertanian, kita punya kebijakan mekanisasi mulai dari mengolah tanah, menanam, hingga panen dengan mesin pertanian," kata Mentan pada kuliah umum di Universitas Palangkaraya, Selasa (14/11).

Mentan memberi motivasi kepada para mahasiswa untuk menjadi tulang punggung harapan bangsa, "karena negeri ini milik kalian, yang akan melanjutkan. Mau sukses? Harus jujur, disiplin dan mau kerja keras."
Jakarta (B2B) - Indonesian Agriculture Minister Andi Amran Sulaiman invites youth and students to develop national agriculture, which became the most influential sector in the second quarter of 2017 on economic growth under the processing industry, agricultural contribution reached 13.92% while in the first quarter reached 13.59%.

"Indonesia needs regeneration of human resources in the agricultural sector, we have a mechanization policy such as from tillage, planting and harvesting with agricultural machinery," Minister Sulaiman said at the public lecture in Palangkaraya University on Tuesday (November 14).

He motivated the students to become the backbone of national development, "because Indonesia belongs to you as the next generation. Want to success? Must be honest, disciplined and willing to work hard."