BKP Kementan Tetapkan FSVA sebagai Basis Bangun Sistem Pangan
Indonesia Utilizes Food Security and Vulnerability Atlas as a Base Food Security
Editor : M. Achsan Atjo
Translator : Dhelia Gani

PUBLISHED: Jum'at, 15 September 2017 , 02:39:00 WIB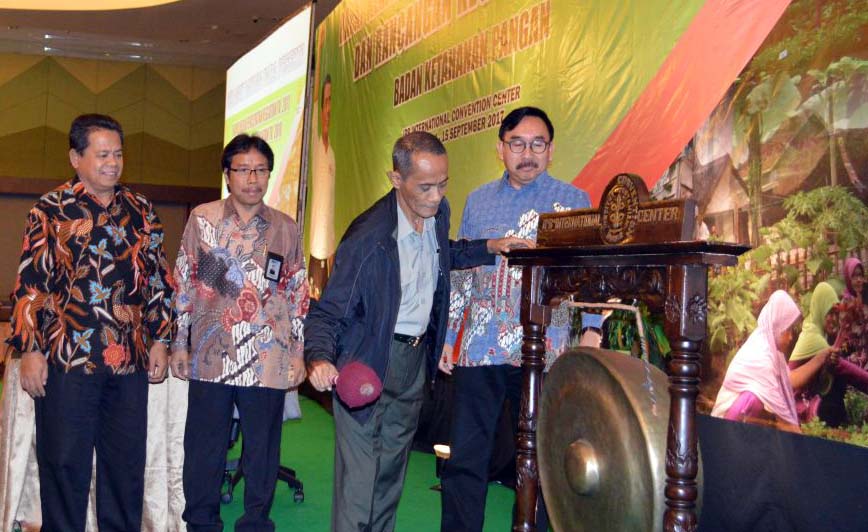 Kepala BKP Kementan Agung Hendriadi Sulaiman memukul gong untuk membuka rapat kerja didampingi Staf Ahli Mentan Gardjita Budi (belakang kanan) Foto: Humas BKP Kementan
Jakarta (B2B) - Badan Ketahanan Pangan (BKP) akan menjadikan Peta Ketahanan dan Kerentanan Pangan atau Food Security and Vulnerability Atlas (FSVA) dalam penetapan lokasi kegiatan sebagai basis membangun sistem pangan yang kokoh, yang akan didukung Kementerian Pertanian, Kementerian Perdagangan, Kementerian Desa - Pembangunan Daerah Tertinggal dan Transmigrasi, dan Kementerian Kesehatan.

"Melalui raker pertama BKP Kementan dalam 10 tahun terakhir, peta FSVA dijadikan sebagai basis dalam penetapan lokasi kegiatan BKP," kata Kepala BKP Kementan Agung Hendriadi dalam sambutannya di Bogor, Kamis (14/9) usai membuka rapat kerja BKP Kementan mewakili Mentan Andi Amran Sulaiman yang berhalangan hadir.

Menurutnya, pengembangan FSVA oleh Kementan didukung lembaga bantuan kemanusiaan PBB, World Food Program (WFP) sejak 2002 saat ini menjadi dasar bagi Kementerian Desa, Pembangunan Daerah Tertinggal dan Transmigrasi (Kemendes), Kementerian Sosial (Kemensos), Kementerian Kesehatan (Kemenkes), Kementerian Pendidikan dan Kebudayaan (Kemendikbud) untuk menentukan lokasi program dan kegiatan pemberdayaan masyarakat untuk pengentasan kemiskinan, dan rawan pangan.

"Dapat kami sampaikan pula bahwa organisasi pangan dunia FAO menyampaikan apresiasi kepada Indonesia sebagai salah satu negara pertama di dunia yang mengadopsi parameter SDGS, khususnya target SDGs kedua, dengan indikator angka rawan pangan atau prevalence of undernourishement atau PoU," katanya.

Momen Strategis
Raker dua hari yang berlangsung hingga hari ini, menjadi momen strategis BKP Kementan dalam sinergi program dan kegiatan baik pemerintah, lintas kementerian/lembaga maupun sektor swasta, untuk bersama-sama menyukseskan program ketahanan pangan.

Menurut Agung, raker ini mempertemukan dan mengonsolidasikan seluruh mitra kerja BKP Kementan dengan melibatkan empat kementerian (perdagangan, desa - pembangunan daerah tertinggal dan transmigrasi), unsur pemerintah dan BUMN, perusahaan swasta, dan lintas eselon satu lingkup Kementan, dan partisipasi unit kerja dinas ketahanan pangan provinsi dari seluruh Indonesia.

"BKP Kementan juga memberi apresiasi dan mendukung kinerja Dinas Ketahanan Pangan Maluku dan Maluku Utara sebagai pelaksana kegiatan Smallholder Livelihood Development Project in Eastern Indonesia atau SOLID," kata Agung Hendriadi.

Dia menambahkan, kegiatan raker BKP Kementan akan ditindaklanjuti dengan workshop upaya-upaya percepatan pelaksanaan program/kegiatan 2017 dan refocusing rancangan alokasi kegiatan 2018.
Bogor, West Java (B2B) - Indonesia Agriculture Ministry's Food Security Agency (BKP) will make the Food Security and Vulnerability Atlas or the FSVA in establishing the location as the basis for establishing the food system, supported by agriculture ministry, trade ministry, the ministry of village, development of underdeveloped regions and transmigration, and health ministry.

"Through the first working meeting in the last 10 years, the FSVA became basis for determining location of key activities," Director General of the BKP in his speech here on Thursday (September 14).

According to him, the development of FSVA supported by World Food Program (WFP) since 2002 in particular the FSVA currently used by several ministries in Indonesia such as the ministry of village, development of underdeveloped regions and transmigration, social ministry, health ministry, education and culture ministry for community empowerment activities, poverty alleviation, and food insecurity.

"We can also state that the world food organization FAO expressed its appreciation to Indonesia as one of the first countries in the world to adopt SDGs parameters, with indicators of prevalence of undernourishement or PoU," he said.

Strategic Moment
The two-day work meeting to date, is a strategic moment for BKP in the synergy of programs and activities of the government, across ministries/agencies and the private sector, to succeed the food security program.

According to Hendriadi, the meeting will bring together and consolidate all of BKP's partners by involving four ministries, government and state-owned enterprises, private companies, senior ministry officials and provincial food resilience service units from all over Indonesia.

"The government also appreciates and supports performance of Moluccas and North Moluccas's Food Security Agency for Smallholder Livelihood Development Project in Eastern Indonesia or SOLID," he said.

Hendriadi said working meeting of his agency will be followed up with workshop of acceleration 2017 program, and refocusing 2018 activities.