Peta FSVA, Pemutakhiran Acuan Pengentasan Daerah Rentan Rawan Pangan
Indonesia Updates Data of the Food Security and Vulnerability Atlas
Reporter : Gusmiati Waris
Editor : Cahyani Harzi
Translator : Dhelia Gani

PUBLISHED: Minggu, 28 Juli 2019 , 02:06:00 WIB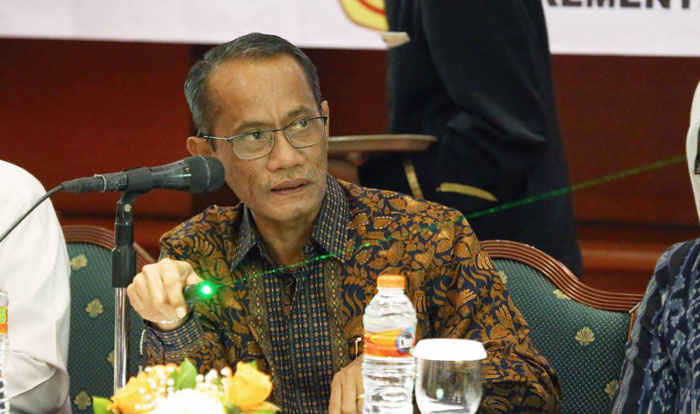 FOCUS GROUP DISCUSSION: Kepala BKP Kementan, Agung Hendriadi [Foto: Biro Humas Kementan]
Jakarta [B2B] - Kementerian Pertanian RI melakukan pemutakhiran peta tematik, Peta Ketahanan dan Kerentanan Pangan/Food Security and Vulnerability Atlas [FSVA] mencakup kabupaten/kota di seluruh Indonesia, yang menggambarkan visualisasi geografis hasil analisa data indikator kerentanan terhadap kerawanan pangan.
Kepala Badan Ketahanan Pangan [BKP Kementan] Agung Hendriadi mengatakan FSVA disusun menggunakan sembilan indikator yang mewakili tiga aspek: ketahanan pangan, yaitu ketersediaan, keterjangkauan dan pemanfaatan pangan, sehingga dapat digunakan kementerian/lembaga terkait dalam penyusunan program intervensi kerawanan pangan dan gizi.
"Hasil FSVA 2018 menunjukkan 335 kabupaten sekitar 81 persen berada dalam status tahan pangan dan 91 kota atau 93 % dikategorikan tahan pangan," kata Agung Hendriadi di Jakarta saat membuka Focus Group Discussion (FGD) ´Sinergi Program Pengentasan Daerah Rentan Rawan Pangan´ di Jakarta, belum lama ini.
Dia mengharapkan hasil FSVA dapat dimanfaatkan instansi terkait sebagai acuan penetapan lokus wilayah intervensi, sehingga kita dapat bersama-sama menyelesaikan tugas besar mengentaskan daerah rentan rawan pangan dan kemiskinan.
Guna mewujudkan ketahanan pangan dan gizi mensyaratkan adanya kerja sama, sesuai dengan tugas dan fungsi masing-masing, maka komitmen menjadi kata kunci keberhasilan kerjasama lintas sektor.
Sependapat dengan Agung, Direktur Kesehatan Masyarakat Kemenkes, Kirana Pritasari mengatakan pentingnya dilakukan sinergi.
"Sinergi kementerian dan lembaga terkait sangat tepat untuk mengatasi masalah pangan dan gizi, terutama penanganan stunting," ujar Kirana.
Dirjen Fakir Miskin - Kementerian Sosial RI, Andi Dulung menyatakan mendukung Peta FSVA yang disusun BKP Kementan. Daerah yang peta FSVAnya masih merah, harus diintervensi bahu membahu dengan kementerian/lembaga lain, untuk menangani daerah rentan rawan pangan. "Nanti kita sinergikan dan kami punya lokasi-lokasi detilnya,"
Direktur Pelayanan Sosial Dasar Kemendes PDT Transmigrasi, Bito Wikantoso, mengatakan, sejak 2019 dana desa diprioritaskan untuk pencegahan stunting.
"Pencegahan stunting ini sangat penting untuk membangun ketahanan pangan. Kalau empat tahun lalu fokus kepada infrastruktur desa, sekarang kami juga fokus pada perbaikan gizi masyarakat dan pencegahan stunting," kata Bito Wikantoso.
Rektor Universitas Yarsi Jakarta sebagai pembahas dalam FGD ini mengapresiasi Kementan telah menyusun FSVA.
"Ini langkah strategis bersama yang harus dilakukan, untuk itu harus ada data by name dan by address stunting dan kemiskinan sampai di tingkat rumah tangga. Kalau ini bisa dilakukan, masalah kerentanan pangan, gizi dan stunting akan cepat teratasi secara nasional," kata Fasli Jalil.
Melalui FGD, Agung berharap Bappenas membuat program bersama sebagai acuan dalam penanganan daerah rentan rawan pangan sesuai FSVA.
Hadir perwaklian dari lintas sektor yaitu Bappenas, Kemendes PDT dan Transmigrasi, Kementerian Dalam Negeri, Kementerian Kesehatan, Kementerian PUPR, Kemendikbud, Kementerian Sosial, Lembaga Ketahanan Nasional [Lemhanas], Badan Pusat Statistik [BPS], TNP2K, WFP dan undangan lainnya.
Jakarta [B2B] - Indonesian Agriculture Ministry has updated the Food Security and Vulnerability Atlas data [FSVA] covering districts/cities across the country, which describes geographical visualization as a result of analysis of indicators of vulnerability indicators for food insecurity.