Mitigasi Kekeringan, Ditjen PSP Kementan Gandeng Kementerian PUPR
Indonesian Public Works Ministry Support the Water Supply of Agricultural Land
Editor : M. Achsan Atjo
Translator : Dhelia Gani

PUBLISHED: Senin, 29 Juli 2019 , 02:07:00 WIB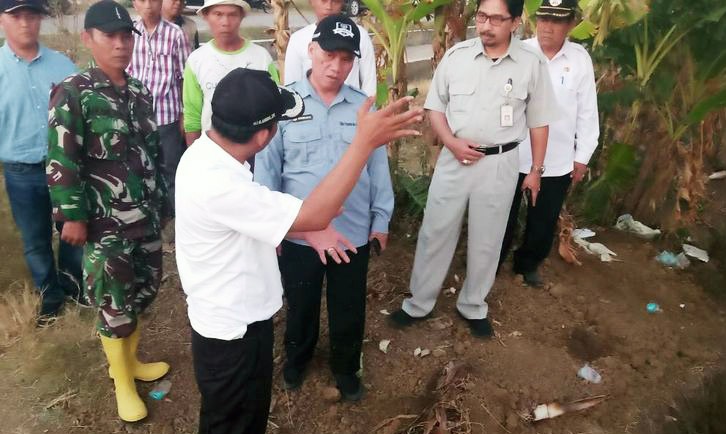 KOORDINASI LAPANGAN: Dirjen PSP Kementan, Sarwo Edhy [ke-2 kanan] dan Direktur Irigasi - Ditjen PSP Kementan, Rahmanto [ke-3 kiri] koordinasi dengan pemerintah daerah terkait pengadaan air [Foto: istimewa]
Jakarta [B2B] - Berbagai upaya dilakukan Kementerian Pertanian RI untuk mengatasi kekeringan pada musim kemarau tahun ini, dengan mendorong petani untuk memanfaatkan segala sumber air dan menggandeng Kementerian Pekerjaan Umum dan Perumahan Rakyat [PUPR] serta membangun dan memperbaiki sarana dan prasarana pertanian untuk menjamin produksi pangan nasional tidak terganggu.
Dirjen PSP Kementan, Sarwo Edhy mengatakan pihaknya mengalokasikan anggaran untuk rehabilitasi jaringan irigasi tersier seluas 67.037 hektar. Sementara irigasi perpompaan mencapai 467 unit, irigasi perpipaan 138 unit, pembangunan embung/dam parit/long storage sebanyak 400 unit, dan cetak sawah 6.000 hektar.
"Kementan juga mengantisipasi musim kemarau 2019 melalui penyebaran informasi Prakiraan Iklim Musim Kemarau 2019 disertai peningkatan kewaspadaan terhadap kekeringan kepada seluruh gubernur dan dinas provinsi terkait," kata Dirjen Sarwo Edhy melalui pernyataan tertulis, belum lama ini.
Komitmen Kementerian PUPR pada petani dikemukakan Dirjen Sumber Daya Air, Hari Suprayogi dengan mengoperasikan 231 waduk, 16 waduk berkapasitas tampung di atas 50 juta meter kubik dan 215 waduk kapasitas kurang dari 50 juta meter kubik.
Dari 16 waduk utama, delapan waduk memiliki tinggi muka air normal: Cirata, Saguling, Betutegi, Wadaslintang, Bili-Bili, Kalola, Way Rarem, dan Ponre-Ponre. Sementara delapan waduk lain, tinggi muka air di bawah normal: Jatiluhur, Kedungombo, Wonogiri, Sutami, Wonorejo, Cacaban, Selorejo, dan Batu Bulan.
Per 30 Juni 2019, volume ketersediaan air dari 16 waduk utama mencapai 3,858 juta m3 dari tampungan efektif 5,931 juta m3. Luas area yang dilayani adalah 403.413 ha dari total 573.367 ha.
"Waduk dengan kondisi di bawah tinggi muka air normal akan mengalami penyesuaian pola tanam, yang ditentukan oleh perkumpulan petani pengguna air atau P3A," kata Hari Suprayogi.
Selain waduk, Hari S memastikan ketersediaan air dari 1.922 embung, rinciannya 1.214 embung berfungsi normal [63,2%] dan 708 embung mengalami penurunan fungsi [36,8 persen]. Rata-rata seluruh embung mampu menyediakan air hingga dua sampai tiga bulan ke depan dengan total ketersediaan air 208 juta m3.
Kementerian PUPR juga menyiapkan pompa sentrifugal berkapasitas 16 liter per detik untuk menjaga ketersediaan air bersih konsumsi masyarakat. Pompa yang disiapkan mencapai 1.000 unit yang tersebar di 34 provinsi. Sementara untuk daerah yang curah hujannya relatif sedikit sehingga cadangan air terbatas seperti di Gunung Kidul, maka PUPR membuat sumur bor. Optimalisasi pemanfaatan sumur bor yang telah tersedia sebanyak 7.471 sumur bor tersebar di 34 provinsi juga akan dilakukan.
"Tentunya apabila di situ memang ada air, baik dari tanah maupun sungai yang memang masih ada," kata Hari Suprayogi. [Sur]
Jakarta [B2B] - Various efforts have been made by the Indonesian Agriculture Ministry to overcome the drought in dry season this year, by encouraging farmers to use all sources of water and cooperation with the Public Works and Public Housing Ministry and developing and improving agricultural infrastructure and facilities to ensure that national food production is not disturbed.