Harga Ayam Melorot, Peternak Unggas Jateng `Curhat` pada Dirjen Peternakan
Indonesian Poultry Frmers Complain to the Government
Reporter : Gusmiati Waris
Editor : Cahyani Harzi
Translator : Dhelia Gani

PUBLISHED: Jum'at, 06 Oktober 2017 , 02:08:00 WIB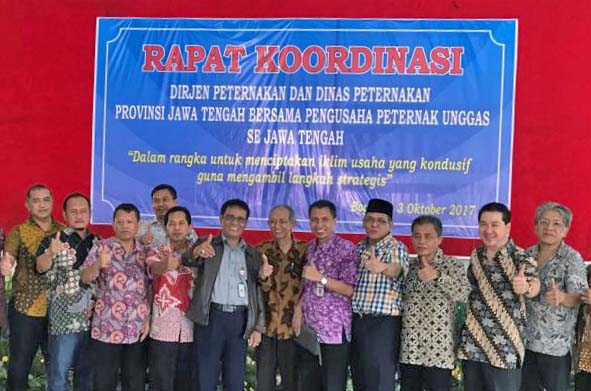 Dirjen Peternakan dan Kesehatan Hewan, I Ketut Diarmita (ke-6 kiri) bersama para peternak dan pengusaha unggas Jawa Tengah (Foto: Humas Ditjen PKH)
Jakarta (B2B) - Sejumlah peternak unggas di Provinsi Jawa Tengah menyampaikan keluhan tentang harga jual ayam yang terus merosot kepada Dirjen Peternakan dan Kesehatan Hewan (PKH) I Ketut Diarmita dalam rapat koordinasi perunggasan di Kabupaten Boyolali yang difasilitasi oleh dinas pertanian dan perikanan setempat.

Dirjen Ketut mengakui tidak kaget atas 'curhat' dari para peternak unggas lantaran setiap memasuki bulan Safar dan Suro - Oktober dan November - di provinsi tersebut terjadi fenomena berulang setiap tahun, yakni harga live bird cenderung menurun akibat menurunnya permintaan pasar.

"Selalu terjadi seperti itu, karena permintaan unggas menurun sehingga dampaknya akan ada kelebihan produksi. Itu sudah lagu lama. Kita akan ambil sikap bersama agar peternak tidak rugi. Apa keluhan peternak akan saya carikan jalan keluar," kata Ketut Diarmita.

Menurutnya, Pemerintah RI melalui Kementerian Pertanian telah mengeluarkan sejumlah kebijakan, dan mengajak para pengusaha besar untuk memikirkan nasib para peternak kecil.

"Sudah ngobrol dengan salah satu integrator, akan membuka ekspor ke Korea Selatan. Saya berfikir lebih baik kelebihan produksi di Indonesia diekspor. Masalahnya kembali ke biaya produksi, bagaimana mencari solusi agar biaya produksi itu turun, sehingga bisa bersaing," katanya.
Jakarta (B2B) - A number of poultry farmers in Central Java Province complained about the price of chicken to the Director General of Animal Husbandry and Animal Health, I Ketut Diarmita in coordination meeting of poultry in Boyolali district.

Mr Diarmita acknowledge the complaint was not surprised because every October and November in the province annually recurring phenomenon, the price of live bird tends to fall due to market demand.

"It always happens like that, because the demand for poultry drops has an impact on overproduction. We will act quickly so that poultry farmers do not lose money," Diarmita said.

According to him, the Indonesian government through the agriculture ministry has issued a number of policies, and invites the entrepreneurs to help overcome the constraints of poultry farmers.

"Having talked to one of entrepreneurs, it will open exports to South Korea, I think it is better to overproduce exports in Indonesia, the cost of production, how to be pressed so that it can compete," he said.