Indeks Pertanaman Padi Meningkat Didukung Irigasi Perpompaan Kementan
Indonesian Govt Supports Pumping Irrigation for Farmers across the Country
Editor : M. Achsan Atjo
Translator : Dhelia Gani

PUBLISHED: Minggu, 06 Oktober 2019 , 02:09:00 WIB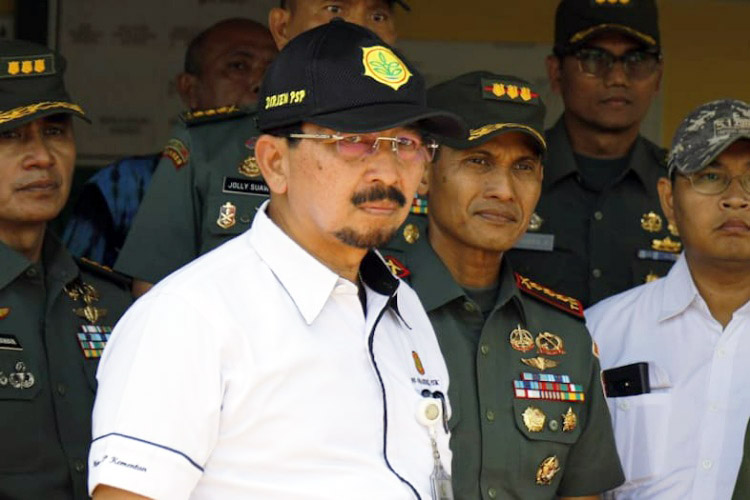 KOORDINASI DAERAH: Dirjen PSP Kementan Sarwo Edhy mengedepankan koordinasi, dan sinkronisasi dengan pemerintah daerah untuk mendukung peningkatan produktivitas dan kualitas hasil pertanian [Foto: Humas]
Jakarta [B2B] - Dalam tiga tahun terakhir, Direktorat Jenderal Prasarana dan Sarana Pertanian - Kementerian Pertanian RI [Ditjen PSP Kementan] giat membangun irigasi perpompaan, untuk mendukung kebutuhan tanaman pangan, hortikultura maupun peternakan, salah satunya di Kecamatan Panumbangan, Kabupaten Ciamis, Provinsi Jawa Barat yang terbukti meningkatkan indeks pertanaman padi [IP] dari 2,5 menjadi IP3.
Dirjen PSP Sarwo Edhy mengatakan dampak dari pembangunan irigasi perpompaan untuk mendukung tanaman pangan diharapkan dapat meningkatkan indeks pertanaman (IP) 0,5.
Sebagaimana diketahui, selama tiga tahun atau sejak 2016 hingga 2019, irigasi perpompaan untuk tanaman pangan telah dibangun 2.358 unit. Sementara untuk kebutuhan tanaman hortikultura dan peternakan masing-masing telah dibangun 429 unit dan 322 unit. Dari 2.358 unit irigasi perpompaan yang telah dibangun, bila masing-masing unit dapat mengairi seluas 10 hektar, maka luas lahan yang dapat diairi saat musim kemarau seluas 47,16 ribu hektar.
"Apabila peningkatan IP 0,5 dapat dicapai maka akan didapat penambahan luas tanam 29.780 hektar. Dampak selanjutnya diperoleh peningkatan produksi sebanyak 154.850 ton," kata Dirjen Sarwo Edhy.
Hal itu terbukti di Kabupaten Ciamis, tepatnya di Kecamatan Panumbangan, irigasi perpompaan dikelola Kelompok tani Sukamukti II di Desa Kertaharja yang memanfaatkan sumber air Sungai Citanduy untuk mengairi luas lahan 40 hektar.
"IP sebelum ada kegiatan irigasi perpompaan 2,5 setelah ada bantuan irigasi perpompaan IP menjadi tiga," kata Kasie Lahan dan Irigasi Ditjen PSP Kementan, Titin Kartini.
Irigasi perpompaan digunakan untuk mengairi lahan yang ditanami padi. Pengembangan irigasi perpompaan sumber anggaran APBN TA. 2018 sebesar Rp107,6 juta.
"Saat ini kelompok tani sedang membahas terkait managemen pengelolaan, karena irigasi perpompaan ini baru percobaan pengoperasian tahun ini," kata Titin.
Hortikultura dan Peternakan
Sarwo Edhy memaparkan irigasi perpompaan juga dibangun untuk mendukung komoditas hortikultura sebanyak 429 unit. Apabila masing-masing unit mampu mengairi 10 hektar, maka dari seluruh irigasi perpompaan yang dibangun akan mengairi lahan hortikultura saat musim kemarau seluas 4.290 hektar.
Ditjen PSP Kementan juga telah membangun irigasi perpompaan untuk mendukung kebutuhan ternak ruminansia sebanyak 322 unit.
"Dengan estimasi satu unit mampu melayani air sebanyak 10 ekor ternak, maka terdapat 3.220 ekor ternak yang terjamin ketersediaan air minum dan sanitasi kandangnya," ujarnya.
Irigasi perpompaan merupakan sistem irigasi dengan menggunakan pompa air yang pendistribusiannya melalui saluran terbuka maupun tertutup.
"Irigasi perpompaan ini mencangkup tiga komponen utama yaitu pompa air dan kelengkapannya, bak penampung sebagai reservoir untuk mendekatkan jarak dari sumber air ke lahan. Kemudian jaringan distribusi baik tertutup maupun terbuka yang berfungsi untuk membawa dan atau membagi air ke lahan yang akan diairi," kata Sarwo Edhy. [Sur]
Jakarta [B2B] - In the last three years, the Indonesian Agriculture Ministry is actively building pumping irrigation, to support the needs of food crops, horticulture and livestocks, one of them is in Panumbangan sub-district, Ciamis district in West Java province which has been proven to increase the rice planting index from 2.5 to 3, according to the senior official of agriculture ministry.