BPPSDMP Kementan Dukung Penemu Muda Berinovasi pada Agriventor 2017
Indonesian Govt Supports Agricultural Technology Innovation by Young Inventors
Reporter : Gusmiati Waris
Editor : Cahyani Harzi
Translator : Dhelia Gani

PUBLISHED: Kamis, 14 September 2017 , 03:42:00 WIB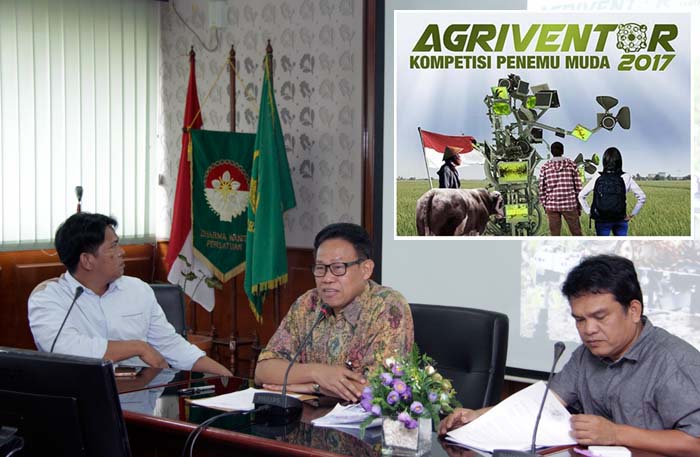 Kiri ke kanan: Koordinator Nasional Gempita, Mohammad Riyada; Kepala BPPSDMP Kementan, Momon Rusmono; dan Tenaga Ahli Menteri Pertanian, Afnan Malay (Foto2: Humas BPPSMP/Eko)
Jakarta (B2B) - Kementerian Pertanian RI mendorong penemu muda dalam pengembangan teknologi pertanian, karena berperan strategis mendukung peningkatan produksi pertanian, khususnya untuk peningkatan nilai tambah produk pertanian dan pelaku usaha pertanian melalui kegiatan Kompetisi Penemu Muda: Agriventor 2017, yang membidik peserta dari kalangan mahasiswa dan setiap universitas diberi kesempatan mengutus satu kelompok terpilih untuk berpartisipasi.

Kegiatan Agriventor 2017 yang dijadwalkan berlangsung pada akhir tahun ini didukung oleh Badan Penyuluhan dan Pengembangan Sumberdaya Manusia Pertanian (BPPSDMP), Badan Penelitian dan Pengembangan Pertanian (Balitbangtan), dan Program Gerakan Pemuda Tani Indonesia (Gempita).

"BPPSDM Kementan sangat mendukung kegiatan Agriventor 2017 sehingga peningkatan kapasitas SDM dalam pengembangan teknologi pertanian harus dilakukan secara intensif sebagai ajang memperkaya inovasi teknologi pertanian," kata Kepala BPPSDMP Kementan, Momon Rusmono kepada pers di Jakarta pada Rabu (13/9).

Dia menegaskan dukungan penuh BPPSDMP Kementan pada Agriventor 2017 yang digagas oleh Gempita, dengan harapan berdampak pada penguatan teknologi pertanian, peran serta generasi muda mendukung pembangunan pertanian nasional, perluasan areal tanam, dan peningkatan produksi pangan.

Sekretaris Badan Litbang Pertanian, Muhammad Prama Yufdy mengharapkan inovasi teknologi pertanian modern mampu menghasilkan berbagai rekayasa teknologi pertanian yang efisien, efektif dan nilai tambah produk pertanian sehingga dapat mendukung pencapaian swasembada pangan dan Lumbung Pangan Dunia 2045.

Koordinator Nasional Gempita, Mohammad Riyada mengatakan peserta Agriventor 2017 ditargetkan dari kalangan mahasiswa, dan universitasnya dapat mengutus satu tim untuk berpartisipasi, yang mewajibkan setiap tim harus mengembangkan inovasi teknologi pertanian. Ada lima kategori Agriventor 2017 antara lain inovasi teknologi tepat guna, produk dalam negeri, alat dan mesin pertanian, dan sarana pertanian. Informasi lebih lanjut dapat mengakses gempita.pertanian.go.id/agriventor.

"Persiapan Agriventor 2017 meliputi pembuatan proposal, undangan ke universitas, koordinasi intensif hingga September 2017, kegiatan penjurian dilakukan pada 14-15 Desember 2017 sementara pengumuman pemenang dan penyerahan hadiah dilakukan pada 16 Desember 2017," kata Riyada.
Jakarta (B2B) - The Indonesian Agriculture Ministry encourages young inventors in development of agricultural technology to support increased agricultural production, in particular the increased value-added of agricultural products and the welfare of farmers through the Young Inventor Competition: Agriventor 2017, by targeting students by forming teams from each university to participate, according to senior ministry official.

Agriventor 2017 activities scheduled to take place at the end of this year are supported by Indonesia Agriculture Ministry´s Agency for Human Resource Development of Agricultural (BPPSDMP), Indonesian Agency for Agricultural Research and Development of Agriculture Ministry (IAARD), and the Indonesian Young Farmers Movement Program (Gempita).

"The ministry supports Agriventor 2017 activities to improve human resource capacity in the development of agricultural technology as an arena to multiply agricultural technology innovation," Director General of the BPPSDMP, Momon Rusmono told the press here on Wednesday (September 13).

He confirmed the ministry's support to Agriventor 2017 initiated by Gempita, which is expected to support the strengthening of agricultural technology, youth participation supports the development of national agriculture, extensification, and increased food production.

Secretary of the IAARD Muhammad Prama Yufdy expects modern agricultural technology innovation to encourage the engineering of agricultural technology so as to support the achievement of food self-sufficiency and 2045 world food barns.

National Coordinator of the Gempita, Mohammad Riyada said Agriventor 2017 targets students, or one team from each university. There are five categories of Agriventor 2017 including technological invoices, domestic products, and agricultural machinery. More information can access gempita.pertanian.go.id/agriventor.

"Preparation Agriventor 2017 includes proposals, university invites, intensive coordination until September 2017, judging activities on December 14 and 15, 2017 while announcing the winners and awarding prizes on December 16, 2017," Riyada said.