Spudnik Sujono Pastikan Produksi Aneka Cabai Surplus Hingga Oktober 2017
Indonesian Chilli Production is Estimated Surplus until October 2017
Reporter : Gusmiati Waris
Editor : Cahyani Harzi
Translator : Dhelia Gani

PUBLISHED: Kamis, 17 Agustus 2017 , 04:44:00 WIB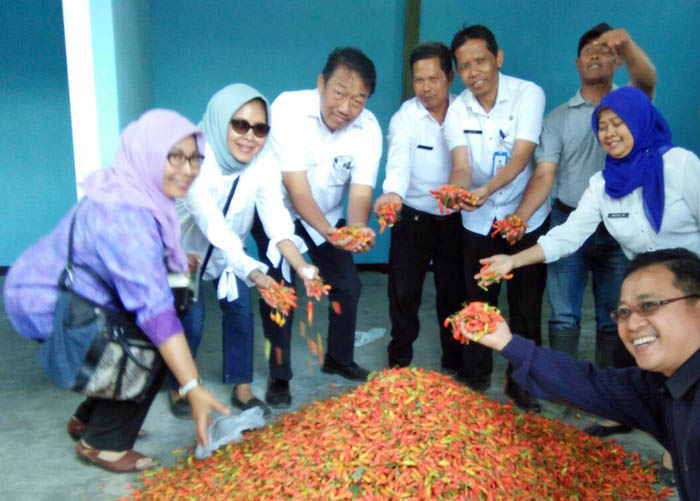 Dirjen Hortikultura Spudnik Sujono (ke-3 kiri), Kadistanhorti Kabupaten Malang M Nasri Abdul Wahid (ke-4 kanan) dan Kasubdit Aneka Cabai dan Sayuran Buah, Agung Sunusi (kanan) Foto: B2B/Gusmiati Waris
Malang, Jawa Timur (B2B) - Kementerian Pertanian RI memastikan suplai kebutuhan komoditas cabai menjelang Idul Adha 1438 H mencukupi bahkan hingga Oktober 2017 dan diperkirakan produksi surplus, setelah Dirjen Hortikultura Spudnik Sujono meninjau sentra produksi cabai di Kabupaten Malang, Jawa Timur pada Rabu (16/8).

"Pasokan cabai dari petani Malang dan sentra produksi lain di seluruh Indonesia mencukupi untuk kebutuhan Idul Adha, bahkan untuk September hingga Oktober," kata Spudnik Sujono kepada pers di Desa Ngantru, Kecamatan Ngantang.

Di tengah hamparan kebun cabai di Malang, Dirjen Spudnik pun mengelaborasi pasokan cabai rawit merah untuk Agustus sekitar 81.864 ton sementara kebutuhan konsumen 73.197 ton sehingga terjadi surplus 8.667 ton.

Pasokan dari petani untuk September diperkirakan 78.606 ton dengan kebutuhan konsumen 69.615 ton atau surplus 8.991 ton. Sementara Oktober diperkirakan surplus 8.669 ton karena kebutuhan konsumen sekitar 69.314 ton dan pasokan petani 77.983 ton.

"Cabai besar juga diperkirakan surplus hingga Oktober. Pasokan untuk Agustus mencapai 104.148 ton dari kebutuhan 95.328 ton atau surplus 8.820 ton. Pada September, pasokan 100.378 ton dari kebutuhan 91.469 ton sehingga surplus 8.904 ton. Sedangkan untuk Oktober, produksi petani diperkirakan mencapai 100.373 ton di atas kebutuhan yang hanya 91.468 ton atau surplus 8.905 ton," kata Spudnik.

Sentra Cabai
Saat ini sentra produksi cabai tersebar di enam provinsi dan 14 kabupaten: Temanggung dan Magelang di Jawa Tengah; Jawa Barat di Garut, Sumedang, Cianjur, Tasikmalaya, dan Bandung; Jawa Timur di Banyuwangi, Kediri, dan Malang; Lombok Timur dan Mataram di Nusa Tenggara Barat (NTB), Enrekang di Sulawesi Selatan; dan Minahasa di Sulawesi Utara.

"Dari 14 sentra produksi di enam provinsi, Kementan secara cermat menghitung sebaran produksi berdasarkan geospasial dan dimensi waktu sehingga dapat menjamin pasokan setiap hari, bahkan telah dirancang kesiapan produksi harian hingga mingguan hingga akhir 2017," kata Spudnik.

Menurutnya, Kementan juga melakukan pengaturan kontinuitas pasokan antarwilayah sentra cabai mengingat karakteristik berbeda dari jenis cabai. Cabai besar untuk industri berkontribusi 20% dari total produksi, harganya relatif stabil; cabai keriting berkontribusi 50% dari total produksi agak berfluktuasi, dan cabai rawit kontribusi 30% dari total produksi, ini harganya berfluktuasi.

Ditjen Hortikultura juga membuat terobosan mengembangkan cabai di luar musim (off season) untuk mengantisipasi keterbatasan pasokan pada November - Maret, yang dilengkapi dengan pompa air dan irigasi tetes, yang dipusatkan di Jawa Barat dan Banten untuk memenuhi kebutuhan Jabodetabek secara berkelanjutan.

Turut mendampingi Dirjen Spudnik Sujono adalah Kasubdit Aneka Cabai dan Sayuran Buah, Agung Sunusi; dan Kasubbag Humas Ina Ngana. Sementara dari Pemkab Malang tampak hadir Kepala Dinas Tanaman Pangan Hortikultura dan Perkebunan, M Nasri Abdul Wahid bersama sejumlah stafnya.
Malang, East Java (B2B) - The Indonesian government ensures more than enough supply of chili to meet the needs of consumers in Eid al-Adha, after the Director General of Horticulture Spudnik Sujono visited Malang district of East Java province on Wednesday (August 16).

"The supply of chili from Malang farmers and other production centers across the country is sufficient for Idul Adha, even for September to October," Mr Sujono told the press in Ngantru village of Ngantang subdistrict.

Mr. Sujono elaborated the supply of red chili in August around 81,864 tons while the consumer needs 73,197 tons or surplus of 8,667 tons.

Production of chilli farmers for September is estimated at 78,606 tons, consumers need 69,615 tons or surplus of 8,991 tons. While the October surplus estimate is about 8,669 tons, consumer demand is 69,314 tons and production is 77,983 tons.

"Big chili also estimated surplus until October, August production reached 104,148 tons above 95,328 tons consumer need, surplus 8,820 tons. Production estimate of September about 100,378 tons from 91,469 tons consumer need or surplus of 8,904 tons. As for October, production is estimated 100,373 tons above 91.468 tons or surplus 8,905 tons," Mr Sujono said.

Chilli Production Center
Currently chili production centers are spread across six provinces and 14 districts: Temanggung and Magelang in Central Java; West Java in Garut, Sumedang, Cianjur, Tasikmalaya, and Bandung; East Java in Banyuwangi, Kediri and Malang; East Lombok and Mataram in West Nusa Tenggara (NTB), Enrekang in South Sulawesi; And Minahasa in North Sulawesi.

"Of the 14 production centers in six provinces, the ministry calculates the distribution of production based on geospatial and time dimensions so as to ensure daily supply, even designed production per day and per week until the end of 2017," he said.

According to him, the ministry also arranges supply continuity between chilli center areas considering the different characteristics of chili type. Big chili for industry contributes 20% of total production, the price is relatively stable; Curly chilli contribute 50% of total production rather fluctuate, and chili pepper contribute 30% of total production, the price fluctuates.

The Directorate General of Horticulture also made a breakthrough to develop off-season chilli to anticipate supply constraints in November - March, equipped with water pumps and drip irrigation, centered on West Java and Banten for consumer needs in Jakarta and surrounding areas.

Working visit was followed by Head of sub directorate of chilli and vegetable commodities, Agung Sunusi; Head of public relations subsections, Ina Ngana. While from Malang district government is the head of local of food crops and horticulture, M Nasri Abdul Wahid with his staff.