BPTP Kaltim Kenalkan Varietas Padi Inpago 5 pada Suku Dayak di Mahakam Ulu
Indonesia`s Dayak Tribe in East Borneo Learns Modern Farming
Editor : M. Achsan Atjo
Translator : Dhelia Gani

PUBLISHED: Jum'at, 10 November 2017 , 04:53:00 WIB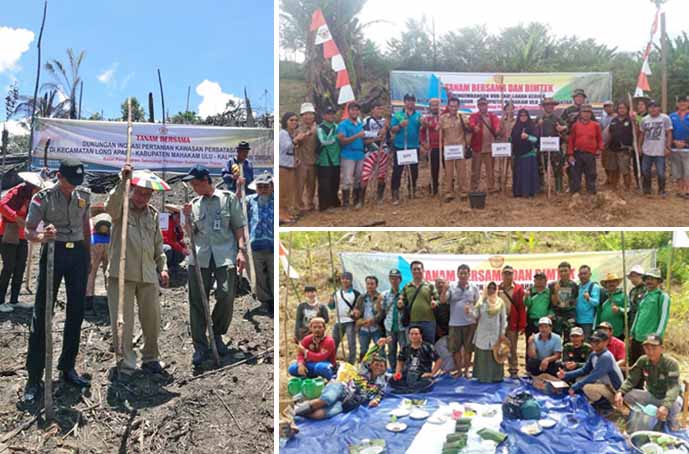 Padi VUB Inpago 5 memiliki keunggulan bersifat amfibi, dapat ditanam di lahan basah dan kering dengan potensi hasil enam ton gabah kering panen (GKP) per hektar (Foto2: Humas BPTP Kaltim)
BADAN Pengkajian Teknologi Pertanian (BPTP) Kalimantan Timur memperkenalkan varietas unggul baru (VUB) Inpago 5, yang dapat ditanam di lahan kering kepada masyarakat lokal, yakni suku Dayak setempat yang dikenal sebagai petani padi ladang di Kabupaten Mahakam Ulu.

Tahun ini, BPTP Kaltim menggelar demonstration plot (demplot) untuk mengenalkan teknologi pertanian yang berorientasi pada peningkatan produksi padi. Demplot VUB Inpago 5 dilakukan di Kampung Long Kerioq, Kecamatan Long Apari dan Kampung Ujoh Bilang serta Kampung Long Bagun Ulu, Kecamatan Long Bagun, belum lama ini.

"Kegiatan tanam bersama dirangkaikan dengan bimbingan teknis pengelolaan lahan kering dan teknologi budidaya padi lahan kering secara organik," kata Kepala BPTP Kaltim Mohammad Amin melalui pernyataan tertulis kepada B2B.

Menurutnya, petani lokal dari suku Dayak sangat antusias terhadap introduksi VUB Inpago 5, sehingga pengenalan dan sosialisasi pertanian modern dari hasil inovasi Badan Penelitian dan Pengembangan Pertanian (Balitbangtan) di kawasan perbatasan dapat mewujudkan kemandirian pangan setiap rumah tangga tani dari warga Dayak.

"Ketergantungan pada beras dari Samarinda dapat dikurangi, yang harganya mahal hingga Rp800 ribu per 25 kg pada musim kemarau atau banjir di Ulu Riam di wilayah Kecamatan Long Pahangi dan Long Apari," kata Mohammad Amin.

14 Jenis Varietas
Padi VUB Inpago 5 memiliki keunggulan bersifat amfibi, dapat ditanam di lahan basah dan kering dengan potensi hasil enam ton gabah kering panen (GKP) per hektar.

Mohammad Amin mengatakan ada 14 jenis varietas amfibi yang telah diluncurkan Balai Besar Penelitian Tanaman Padi (BB Padi) antara lain Limboto, Batutegi, Towuti, Situ Patenggang, Situ Bagendit, Inpari 10 Laeya, Inpago 4, Inpago 5, Inpago 6, Inpago 7, Inpago 8, Inpago 9, Inpari 38 Agritan, Inpari 39 Agritan.

Dia menambahkan, sekitar 98% kebutuhan beras di Kabupaten Mahakam Ulu berasal dari padi ladang, dengan pola tanam ladang balik, kebiasaan petani Dayak setelah tiga sampai empat tahun akan kembali membuka lahan padi ladang di lokasi lahan yang pertama mereka garap.

Sistem tani berpindah di padi ladang mengakibatkan hasil produksi padi ladang kurang maksimal, produksi rata-rata dihitung dalam 50 hingga 80 kaleng atau setara 600 hingga 960 kg gabah kering giling (GKG) per hektar.

"Meskipun ada lahan padi ladang di daerah tertentu dengan kesuburan tanah alami hasilnya lebih tinggi, 120 kaleng atau setara 1,4 ton tetap belum maksimal untuk memenuhi kebutuhan pangan apalagi untuk diperdagangkan," kata Mohammad Amin.
EAST BORNEO'S Assessment Institute for Agricultural Technology called the BPTP Kaltim, introduced new Inpago 5 superior varieties, which can be grown on dry land to local communities, Dayak tribes, known as dry rice farmers in Mahakam Ulu District.

This year, the BPTP Kaltim held a demonstration plot to introduce agricultural technology oriented to increase rice production. Inpago 5 seed planting demonstration was conducted in Long Kerioq village, Long Apari subdistrict and Ujoh Bilang and Long Bagun Ulu village, Long Bagun subdistrict, recently.

"The planting activity is supported by technical guidance of dry land management and organic dry rice cultivation technology," said Director of the BPTP Kaltim, Mohammad Amin through written statement to the B2B.

According to him, local farmers from the Dayak tribe are very enthusiastic on the seeds of Inpago 5, so the introduction and socialization of modern agriculture from innovation Indonesia's Agency for Agricultural Research and Development, or Balitbangtan, in the border region can realize food self-sufficiency every farmer's household from Dayak people.

"Dependence on Samarinda rice can be reduced, it costs about 800 thousand rupiah per 25 kg during the dry season or flood in Ulu Riam, Long Pahangi and Long Apari subdistrict areas," said Mohammad Amin.

14 Types of Varieties
Inpago 5 seeds are amphibians, can be grown in wet and dry fields with potential harvest of six tons of dry grain harvest per hectare.

Mohammad Amin said there are 14 types of amphibian varieties that have been launched by Rice Research Institute among others Limboto, Batutegi, Towuti, Situ Patenggang, Situ Bagendit, Inpari 10 Laeya, Inpago 4, Inpago 5, Inpago 6, Inpago 7, Inpago 8, Inpago 9, Inpari 38 Agritan, Inpari 39 Agritan.

He added that about 98% of the rice needed in Mahakam Ulu district comes from dry fields, with a simple cropping pattern, Dayak farmers' customs after three to four years will re-open rice fields in the first land they cultivate.

The production harvest of the traditional rice cultivation in the dry field is less than optimal, the average production is calculated in 50 to 80 cans or 600 to 960 kg of dried grain per hectare.

"Although there are rice fields with higher production yields, 120 cans or equivalent to 1.4 tons remain not maximized to meet food needs," Mr Amin said.