Berantas Mafia Bendung Kartel Pangan, Kinerja Mentan Diapresiasi Wantimpres
Indonesian Agriculture Ministry Hailed by the Presidential Advisory Board
Reporter : Gusmiati Waris
Editor : Cahyani Harzi
Translator : Dhelia Gani

PUBLISHED: Rabu, 23 Agustus 2017 , 05:00:00 WIB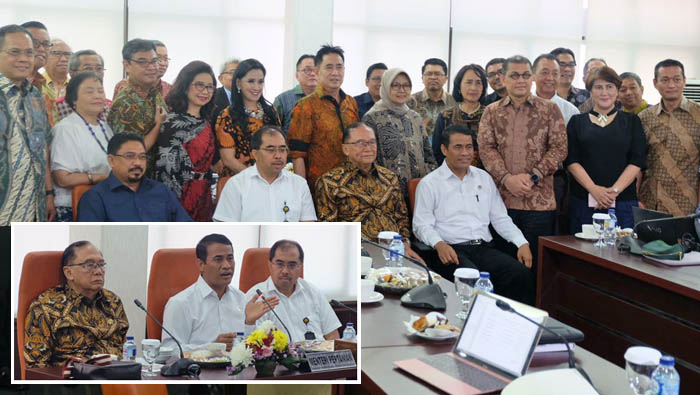 Anggota Dewan Pertimbangan Presiden (Wantimpres) Sidarto Danusubroto (kiri) dan Mentan Andi Amran Sulaiman (tengah) dan bersama panitia pelaksana Rembuknas 2017 (Foto2: Humas Kementan)
Jakarta (B2B) - Indonesia akhirnya mewujudkan impian untuk tidak mengimpor komoditas strategis: beras, bawang merah dan cabai pada 2016 meski dihantam El Nino dan dihadang La Nina, tahun ini Kementerian Pertanian RI menargetkan swasembada jagung, swasembada bawang putih dan gula 2019, swasembada kedelai 2020, dan swasembada daging sapi 2026 setelah Menteri Pertanian Andi Amran Sulaiman tiada jeri bergerak memberantas mafia dan membendung ruang gerak praktik kartel pangan.

Capaian strategis yang menyangkut hajat hidup orang banyak oleh Kementan di bawah kendali Menteri Pertanian RI Andi Amran Sulaiman diapresiasi oleh Anggota Dewan Pertimbangan Presiden (Wantimpres) Sidarto Danusubroto dan Tenaga Ahli Badan Ekonomi Kreatif (Barekraf) Sys NS setelah dinilai sukses mencapai target Presiden RI Joko Widodo untuk mencapai swasembada pangan dan menumpas mafia pangan dan membendung praktik kartel.

"Presiden sangat concern untuk memberantas mafia di segala bidang, khususnya masalah pangan. Tidak boleh lagi ada celah untuk mafia. Saya apresiasi apa yang dilakukan Mentan selama tiga terakhir mewujudkan swasembada pangan, melawan mafia pangan dan membendung praktik kartel," kata Sidarto kepada Mentan Amran Sulaiman di Jakarta, Selasa (22/8) pada rapat keempat persiapan Rembuk Nasional 2017 yang akan diadakan pada September mendatang di Jakarta.

Sidarto Danusubroto yang juga mantan Ketua MPR RI ini juga mengapresiasi kesuksesan Mentan Amran Sulaiman mendorong peningkatan produksi empat komoditas strategis sejak akhir 2014 hingga 2017 sehingga berhasil memenuhi kebutuhan pangan nasional, dan surplus produksi dimanfaatkan untuk ekspor.

Pernyataan senada dikemukakan Sys NS yang mengapresiasi kinerja Amran Sulaiman. "Fair saja, saya tidak di pemerintahan, tapi menurut saya kinerjanya bagus. Itu hebat, dari dulu kita impor tapi sekarang ekspor," kata pendiri Partai Demokrat yang bernama lengkap RM Aryo Heroe Syswanto Ns Soerio Soebagio.

Menurutnya, tugas utama pemerintah untuk rakyat adalah mengenyangkan perut, menenangkan hati dan pikiran. "Kan kenyangkan perut dulu, nah sekarang sudah mulai. Ya Jalan terus."

Rembuk Nasional 2017
Terkait kegiatan Rembuknas pada September 2017, Mentan menyatakan Kementan akan memaparkan tentang program, capaian kebijakan pembangunan pertanian, dan target Indonesia berdasarkan roadmap menjadi Lumbung Pangan Dunia 2045.

Kementan telah meluncurkan berbagai kebijakan/regulasi dan program terobosan diantaranya penyediaan alsintan, perbaikan infrastruktur irigasi, pembuatan embung/dam parit, pengendalian impor padi, jagung, kedelai, cabai, bawang, dan daging, serta percepatan pembangunan pertanian di perbatasan.

"Hasil dari kebijakan dan program terobosan ini menunjukkan secara signifikan bahwa berbagai produksi pangan strategis meningkat tinggi, tata niaga pangan semakin efisien, impor pangan menurun dan meningkatnya kepuasan dan kesejahteraan petani," kata Mentan.
Jakarta (B2B) - Indonesia has finally realized its dream of not importing strategic commodities: rice, onion and chili in 2016 despite being hit by El Nino and La Nina, his year the Indonesian agriculture ministry is targeting maize self-sufficiency, garlic and sugar self-sufficiency in 2019, soybean self-sufficiency in 2020, and beef self-sufficiency 2026, after Agriculture Minister Andi Amran Sulaiman moves to eradicate mafia and limit movement of cartel food.

A strategic achievement for benefit of Indonesian people by Agriculture Minister Andi Amran Sulaiman was appreciated by members of the Indonesian Presidential Advisory Board, Sidarto Danusubroto dan and expert staff of the Creative Economy Agency, Sys NS after being considered successful in achieving food self-sufficiency target set by President Joko Widodo.

"President Widodo is very concerned about eradicating all kinds of mafias, especially food, no longer giving mafia a chance, I appreciate the performance of agriculture minister for the last three years to achieve food self-sufficiency, to crush food mafia and stem the practice of cartel," Sidarto Danusubroto told to Minister Sulaiman here on Tuesday (August 22).

Mr. Danusubroto who is also the former Chairman of the People's Consultative Assembly also appreciated the success of Minister Sulaiman encouraged the increase of strategic commodity production from the end of 2014 until 2017 so as to successfully meet the national food demand, and surplus production for export.

A similar statement was made by Sys NS who appreciated Amran Sulaiman's performance. "Fair, I'm not in government, but I think it's good performance, that's great, we always import but now export," said the founder of the Democratic Party, whose full name is RM Aryo Heroe Syswanto Ns Soerio Soebagio.

According to him, the main task of the government for the people is to meet the needs of food, justice and comfort.

National Consensus
Related to the national consensus activities in September 2017, Minister Sulaiman said the ministry would present the program, the achievement of agricultural development policy, and the target of Indonesia to be 2045 world food barn.

He said the ministry has launched various policies/regulations and programs such as agricultural machinery, irrigation improvements, retention basin development, strategic food import control, and acceleration of agricultural development in border areas.

"This breakthrough policy and program show that increase of strategic food production, efficiency of the food trade, food imports are declining, and welfare of farmers," Mr Sulaiman said.