Studi Banding Polbangtan ke Akmil, Ini Berita Foto Sesba BPPSDMP di Magelang
Indonesia Senior Ministry Official Visited the Magelang`s Military Academy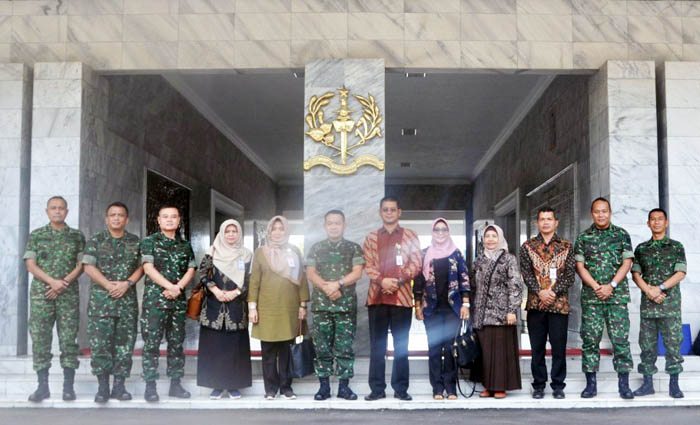 SEKRETARIS Badan Penyuluhan & Pengembangan SDM Pertanian (BPPSDMP) Kementarian Pertanian RI, Andriko Noto Susanto mengunjungi Akademi Militer (Akmil) Magelang di Provinsi Jawa Tengah, belum lama ini.
Tujuan kunjungan adalah studi banding sarana dan prasarana pendidikan di Akmil Magelang, untuk mendukung pengembangan fasilitas pendidikan dan pengajaran di enam kampus Politeknik Pembangunan Pertanian (Polbangtan) sesuai instruksi Menteri Pertanian RI Andi Amran Sulaiman dan arahan Kepala BPPSDMP Momon Rusmono.
Kunjungan Andriko NS selaku Pelaksana Tugas (Plt) Kepala Pusat Pendidikan Pertanian - Pusdiktan BPPSDMP Kementan diterima oleh Gubernur Akmil, Brigjen TNI Dudung Abdurachman didampingi sejumlah pejabat Akmil. (Foto2: Sekretariat BPPSDMP/Surahman)
SENIOR Indonesian official at the agriculture ministry, Andriko Noto Susanto visited the Magelang's Military Academy in Central Java province, recently.
The visit aims at comparative studies of infrastructure and educational facilities for army officers to support development of educational and teaching facilities in the Agricultural Development Polytechnic or the Polbangtan as instructed by Agriculture Minister Andi Amran Sulaiman, and direction of Director General of Agricultural Human Resource Development, Momon Rusmono.
Mr Susanto's visit was received by Governor of Magelang's Military Academy, Brigadier General Dudung Abdurachman.